How BTS Made YouTube History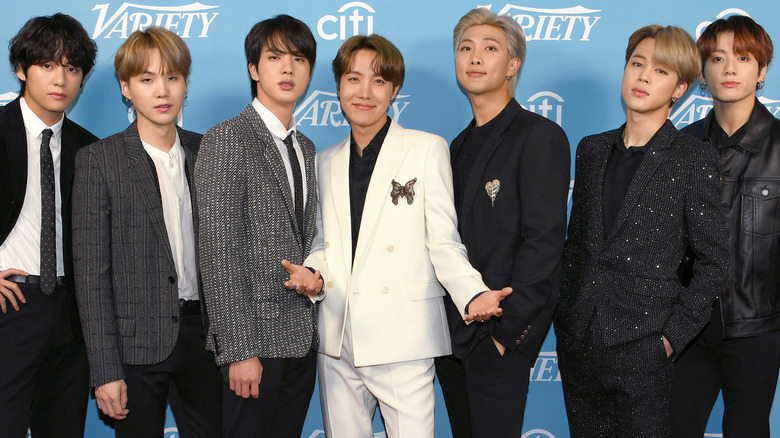 Jon Kopaloff/Getty Images
BTS is arguably the biggest crossover group in K-pop history, considering that even those who know nothing about the genre know who they are. They may be seven ordinary guys from Seoul, South Korea, but BTS breaks records with each new release. 
As Forbes reported in May 2021, within the first week of release for their single "Butter," the band had already collected four new Guinness World Records. The premiere of the song's accompanying music video attracted a whopping 3.9 million views, breaking their own previously held record of 3 million views for "Dynamite." Likewise, the "Butter" video subsequently broke the record for most views in a 24-hour period, achieving an eye-watering 108.2 million in its first day of release — and again breaking BTS's own record in the process. 
It was also the most-streamed song on Spotify in a day, nabbing over 11 million streams in just 24 hours. BTS beat superstar duo Ed Sheeran and Justin Bieber's duet, "I Don't Care," which didn't even break 11 million on its first day. The release of "Butter" also confirmed BTS as the most-streamed group in the history of Spotify. It's unlikely another band will catch up to them any time soon, since BTS has been streamed 16.3 billion times and counting. 
The South Korean stars made YouTube history in another interesting way, however, that has nothing to do with views but everything to do with their ravenous fans. 
The BTS Army is relentless in its dedication
Alberto E. Rodriguez/Getty Images
According to Forbes, although BTS released a new album in 2020 — confusingly titled "Map of the Soul: 7" — a song that dropped in 2017 courted attention on YouTube for a surprising reason. "DNA" broke the record previously held by another South Korean breakout track, Psy's ubiquitous "Gangnam Style," to become the most commented-on music video in the history of the site (via Chart Data). The video racked up 5.07 million comments, while "Gangnam Style" managed 5.04 million in comparison. Obviously, comments aren't as important as views (where BTS also excels, naturally), but they are representative of the unstoppable power of the so-called BTS Army, the group's loyal fan base.
The band has millions of fans all over the world, and the fact that they managed to break a record for commenting on a seemingly random video showcases the incredible engagement BTS has garnered, which is key to their success on the world stage. Fan engagement is imperative to a band's growth since it translates to views, streams, downloads, ticket sales, and everything in between. The same Army that brought attention to an old track also ensured that "Map of the Soul: 7" landed at No. 4 on the Billboard Hot 100, despite an almost complete lack of radio play. 
"DNA," funnily enough, was BTS's first single to chart in the U.S. and was considered a breakthrough moment for the group. Naturally, the video has since broken the 1 billion views barrier, too (via YouTube).