What BTS' Suga Did Before He Was Famous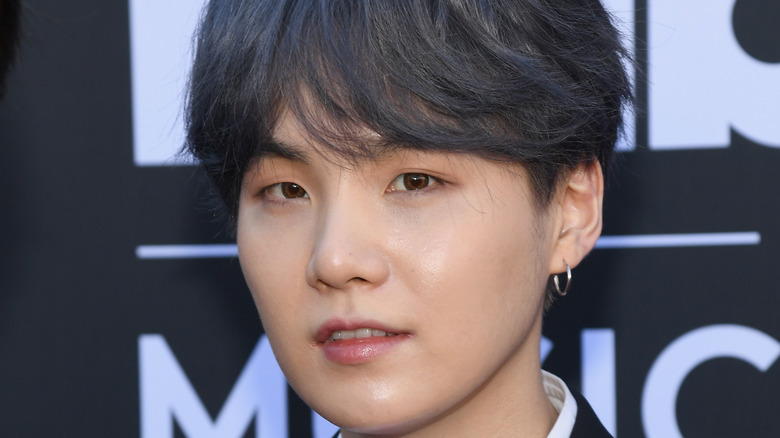 Kevin Mazur/Getty Images
BTS is the busiest band on the planet, with all seven members contributing their own unique flavor to the world-conquering machine. The COVID-19 pandemic forced the K-pop group to take a break for the first time in years, which was difficult for them to get used to. As member J-Hope told CNN, "We're working out, watching Netflix and learning to play instruments. I think we're doing a lot of self-development, and also just trying to stay active." Jimin added sagely, "We're still working very hard." Evidently, slowing down doesn't suit BTS. 
Their meteoric rise caught many K-pop newbies by surprise, but, to hear the guys tell it, they were always primed to be superstars. As group leader RM confirmed simply, "It's our destiny." The seven multitalented young men who make up BTS come from a variety of different backgrounds, each with their own fascinating history. 
In the case of Suga, who used to go by the nickname Gloss, his former career was decidedly less glamorous. 
Suga used to have a far less glamorous job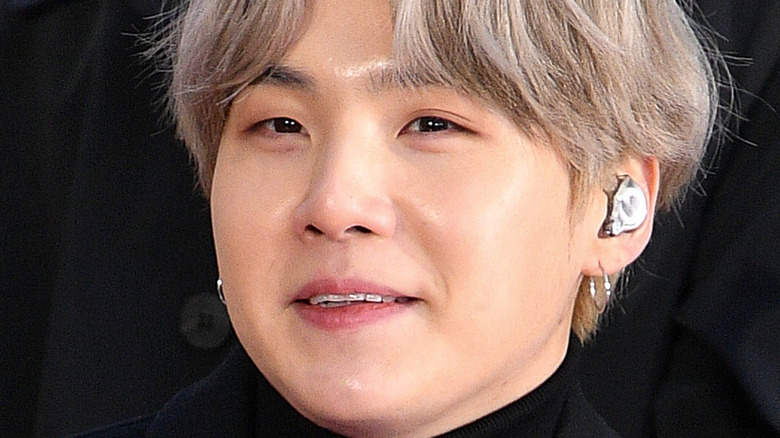 Dia Dipasupil/Getty Images
According to Cosmopolitan, BTS star Suga previously worked as a delivery boy. He was involved in a car accident at one point, dislocating his shoulder in the process. Naturally, Suga's life nowadays is worlds away from that job, but the injury has remained an issue, as the K-pop star acknowledged in a 2021 interview with Rolling Stone. 
The accident occurred when Suga was just 20, and it gradually got worse over time, leading him to get surgery. Physical therapy should further help alleviate the issue, but it's highly impressive that Suga has managed to handle the frequently complex BTS choreography all these years. 
"There were times when I couldn't lift my arms or have a full range of motion in the middle of a concert," he said. "When you are actually performing, because of the adrenaline and whatever, it doesn't really hurt. You sort of experience that the next day, that's when you feel the pain or the discomfort or you can't raise your arms anymore." 
The talented performer is very aware of where he came from, however, arguing that it's "so important to maintain that hunger" in everything you do moving forward. Suga vividly remembers when BTS was still trying to break through, and he reckons, regardless of how big the band gets, they'll remain motivated. "We are still able to draw upon the things that we talked about when we were still hungry, so we can maintain that work ethic," he said.