Meet Ashleigh Lautaha, The Former LuLaRoe Consultant From The LuLaRich Documentary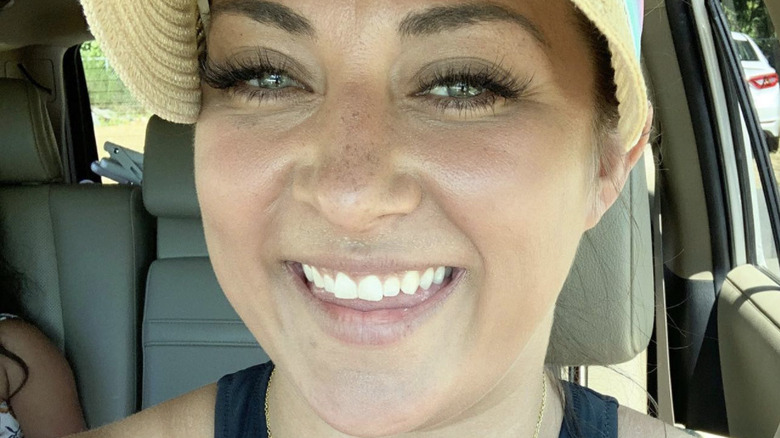 Ashleigh Lautaha/Facebook
Soft and buttery leggings that seem to fit women of any size and shape turned LuLaRoe into a multi-level marketing phenomenon. It promised women they could not only dress colorfully and comfortably but also make a full-time living with part-time work. Interest in LulaRoe products and its promise of big bucks helped it grow astronomically in a few short years. 
Some would say the company even grew out of control, becoming the defendant in countless lawsuits (via BuzzFeed) and spawning an Amazon Prime docuseries, "LulaRich," which tells the story of the company and the retailers who feel they were wronged by what many consider a pyramid scheme. One such woman is Ashleigh Lautaha, one of the few LuLaRoe retailers who made lots of cash fast by getting in early.
Multi-level marketing companies are known for preying on housewives who want to be home with their kids but also want to contribute to their families financially. Women buy products they can sell via home parties and through various social networks (via Investopedia). They also make bonus checks based on the number of other sellers they recruit, earning titles like trainer and mentor, with levels of women selling below them who often don't even make a small profit. 
Lautaha, as she explains in "LulaRich," was one of those rare women who made big bucks with LulaRoe, but she also admitted that the company changed as it grew.
Ashleigh Lautaha made it big with LuLaRoe
The year was 2013, and Ashleigh Lautaha (pictured above, left, with LuLaRoe co-founder DeAnne Stidham) was just 25 years old with a husband, two children, and a third on the way. Like so many women, she wanted to dedicate her time to her children while also bringing in money for the family. 
At the time, LulaRoe was just a new small business getting off the ground, with founders DeAnne and Mark Stidham looking for more people to sell their line of colorful and comfortable maxi skirts. Lautaha saw one of the skirts on social media and asked a friend how she could get one. That's how she learned about LuLaRoe and became just the third retailer to sign up and sell for the company, which first incorporated itself that year, according to Cinemaholic.
Being one of the first retailers gave Lautaha an up-close-and-personal relationship with the Stidhams and allowed her to form her own sprawling network of retailers before LuLaRoe hit its peak, with nearly 100,000 total retailers across the United States. At one point, Lautaha had 5,000 retailers on her team and was taking in six-figure bonus checks each month, as she explained in "LuLaRich." But things started going downhill soon.
Ashleigh Lautaha realized LuLaRoe was no longer for her
In "LuLaRich," Ashleigh Lautaha freely admits she knew she was one of the lucky ones — meaning that she was one of the few LuLaRoe retailers at the top of the pyramid who got into the business early enough to make a substantial profit selling leggings and other uniquely patterned articles of clothing. 
In 2017, things began to change for retailers as the company began giving bonuses for sales rather than recruitment, resulting in less pay, according to Cinemaholic. Women also noticed that the quality of the clothing began to change — including many reports of moldy, wet, and smelly leggings — which, of course, didn't help with sales, according to "LuLaRich."
The drop in bonus amounts and the realization that LuLaRoe was not giving Lautaha what she signed up for — a way to make money and spend time with her kids — prompted her to part ways with the brand. She knew she was dedicating too much time to the business and not enough time to her children and decided to make a change. Since leaving LuLaRoe, her social media accounts seem to have gone quiet as the now-single mom is giving her children the time she said LuLaRoe took away from them.