The Interesting Connection Jojo Siwa Has With The Kardashians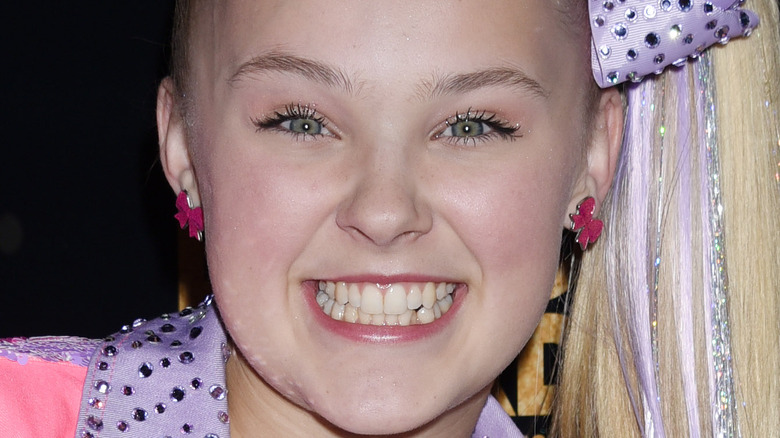 Ga Fullner/Shutterstock
Considering JoJo Siwa has been in the spotlight since she was a little girl, it's no surprise that the influencer has many famous friends. Over the years, she's danced on the hit reality series "Dance Moms," starred in multiple Nickelodeon productions, and launched a wildly successful YouTube channel (via USA Today). The dancer's channel features many of her famous friends, including Zendaya, Iggy Azalea, James Charles, and Kim Kardashian. 
The "Keeping Up with the Kardashians" star tweeted in February of 2019 that her oldest daughter, North West, was obsessed with Siwa. One month later, North starred in Siwa's YouTube video "BABYSITTING NORTH WEST!!!" In the six-minute video, Siwa takes North on a tour of her house, plays hide and seek with the 8-year-old, and even helps her make glitter slime. The high-energy video currently has over 45 million views and was the start of a special relationship between Siwa and Kardashian.
Kim Kardashian is 'always there' for JoJo Siwa
Ever since Kim Kardashian met JoJo Siwa in early 2019, the reality star has kept in touch with the teen star. When Siwa came out as part of the LGBTQ community in early 2020, Kardashian was one of the first people to reach out to the 18-year-old and offer her support (via Entertainment Weekly). She even wrote about the "Dancing With the Stars" performer when she made the Time "100 Most Influential People of 2020" list. In the article, Kardashian wrote, "As a parent, you want your kids to admire positive figures. There's no one more positive than JoJo. You just can't help but smile when you see her rainbow ponytail. She's a great role model for children, and her optimism is more necessary now than ever."
Upon reading Kardashian's kind words, Siwa took to Instagram to express her gratitude. In a post recognizing her accolade, Siwa wrote, "I can't even begin to tell you how much I love and respect Kim and her whole family." She continued, "She has always been there for me and is always the nicest human ever."