The TikTok Nail Trend That You Either Love Or Hate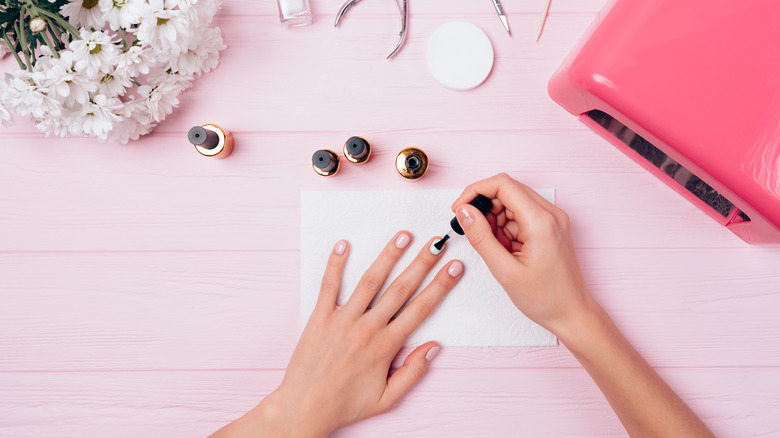 progressman/Shutterstock
When it comes to nail shape, you're probably pretty familiar with almond, coffin, and square-shaped. However, it turns out that there's a whole lot of more unconventional nail shapes out there as well. As Glamour pointed out, duck-shaped nails are the latest TikTok beauty trend, and you're going to either love it or hate it. If you're sick of the same old shape and style, this trend will definitely get you out of your nail rut.
Duck nails are, well, not exactly like how they sound. While you can probably tell what a square shape is just from the sound of it, duck nails are a little more abstract. As Byrdie puts it, the shape of the nail mimics the shape of webbed duck feet. Instead of having a thick base and getting more tapered at the top it does the opposite and flares out. You know, like a good old fashioned pair of flared jeans.
Here's a breakdown of the trend so you can give it a try for yourself. Or, you know, at least weigh your options next time you hit the nail salon.
Duck nails are great for adding charms
Let's be honest here, the same old trends can get a little boring sometimes. Duck nails are a fun way to not stray too far from the traditional but still add something new into your nail routine. The nail shape is, as Allure puts it, the exact opposite of coffin nails.
Duck nails are much larger on the top, which is good for those of you looking to add designs to those tips. "The nice thing about duck tips is they give room for more designs," New York City nail artist Kayla Ouertani tells Allure. "I like to add a slot of 3D charms and paint on some Y2K designs, like pink cheetah print."
It totally makes sense that these flared nails are back in style. As Byrdie points out, the Y2K style is coming back. While some people might not be ready to rock the flared bell-bottoms just yet, the duck nail shape could be a great way to ease back into the style.
Duck nails are actually pretty practical
While these are anything but your traditional nails, they're actually pretty practical. That is, if you don't add all the bells and whistles to the tips — literally. You could easily get this shape in a subtle french tip design and have the nails be totally functional.
This style might look funny, but easing into the trend is the best option, according to nail artist Megan Melissa (via Byrdie). "For someone [who's] new to the duck shape, they can be a bit uncomfortable depending on how flared they are," the nail artist tell Byrdie. "If you're wanting to try this shape, I would say start a bit shorter and grow into them. Give yourself time to adjust."
These might not be the nails you're used to asking for, but there's nothing wrong with trying something new — especially when they're so trendy right now. You never know if you'll like the trend until you try!