Jojo Siwa's Family Connection To Dance Might Surprise You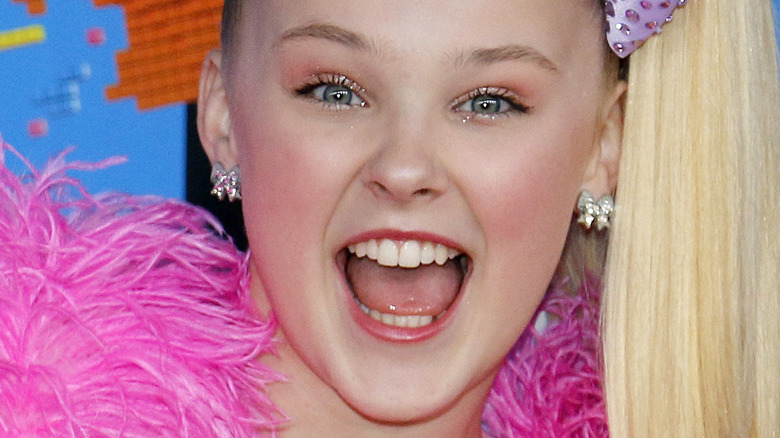 Tinseltown/Shutterstock
JoJo Siwa is one of the biggest teen sensations in the world. The dancer made history as the first contestant on "Dancing with the Stars" to compete with a same-sex partner. Reflecting on this groundbreaking achievement she told the press (via Glamour), "I think it breaks a wall that's never been broken down before. I think it's really special that, not only now do I get to share with the world that you're going to love who you want to love, but also you can dance with who you want to dance with."
The mega-star had humble beginnings on the stage of Abby Lee Miller's short-lived competition series "Abby's Ultimate Dance Competition" (via People). Siwa competed on the series at just 9 years old and later joined the cast of Miller's series "Dance Moms" with her mother Jesselyn Siwa. Though Jesselyn's proved she was a top-tier stage mom, the podcast host has her own impressive dance history, per Bustle.
Jesselyn Siwa is ready to get back in the dance studio
When JoJo Siwa joined the cast of "Dance Moms" in 2015, fans learned a lot more about the firecracker and her mom Jesselyn. Bustle revealed that Jesselyn was the proud owner of the Just Dance Co. studio in her hometown Omaha, Nebraska. At the time her studio's website read, "I have been involved in the dance business for the past 18 years, as a studio owner, instructor, choreographer, competition judge, and most recently a mom." Though Jesselyn no longer runs the Just Dance Co. studio, she has plans to return to the dance world.
According to The Hollywood Reporter, the Siwas are starring in the unscripted series "The Siwa Dance Pop Revolution," which will feature a group of young dancers competing for a spot in a pop group. Jesselyn will serve as the manager while her daughter will work as a choreographer and mentor. The pair are already building hype for the Peacock series with their Instagram accounts @StudioSiwa, which has 14,000 followers, and @SiwaDancePopRevolution which has almost 20,000 followers (as of this writing) and features many behind-the-scenes moments from the upcoming series.