New Book Confirms What We All Assumed About Donald Trump's Temper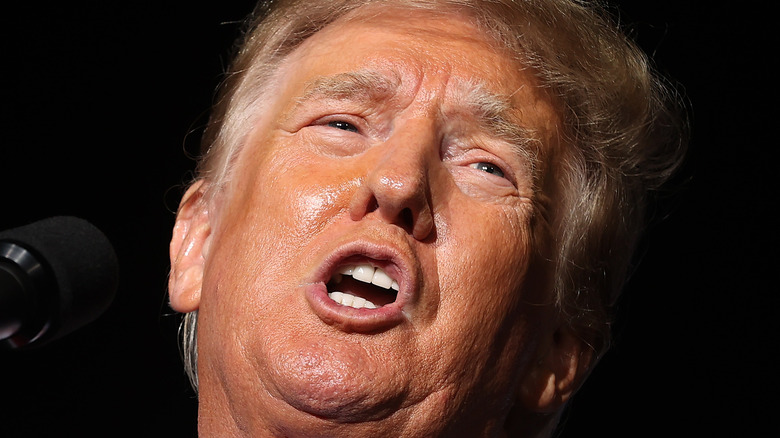 Chip Somodevilla/Getty Images
Former White House press secretary Stephanie Grisham, who later worked for former first lady Melania Trump, has written a tell-all book titled "I'll Take Your Questions Now," which is slated to be released next Tuesday, October 5, 2021. Per The Washington Post, which obtained the manuscript, the book recounts what Grisham witnessed from her front row seat as one of the longest-serving members of the Trump administration.
From the former president's interactions with Russian president Vladimir Putin at the 2019 Group of 20 Summit to Trump's attempts to ban the media for the White House, it's safe to say that Grisham isn't holding back. She even reportedly spills the story about how Melania ended up wearing the now-infamous "I Really Don't Care, Do U?" jacket during a 2018 trip to visit migrant children who had been separated from their parents. 
"Casual dishonesty filtered through the White House as if it were in the air conditioning system," Grisham wrote in one passage, per The Post. But apparently, the former press secretary dishes on Donald Trump's temper, both what he showed the public and how he behaved behind closed doors. 
Stephanie Grisham describes Trump's temper as 'terrifying'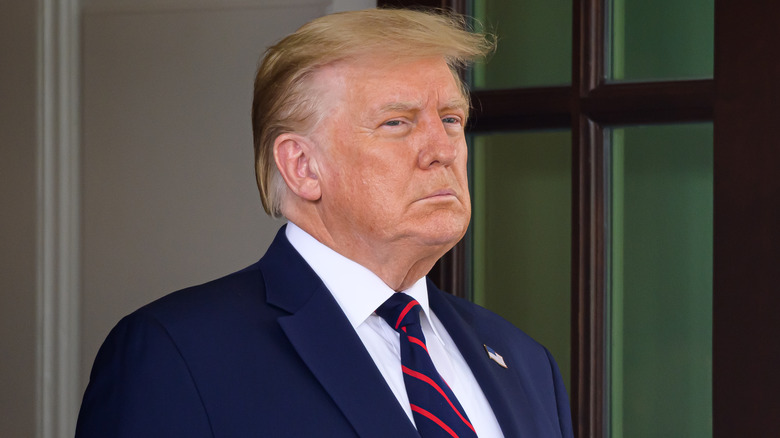 noamgalai/Shutterstock
Donald Trump's candidacy and presidency were characterized by chaos, and it was often caused or perpetuated directly by the former president himself. A 2017 Politico report noted that Trump didn't attempt to hide his hot temper. For example, during a 2017 rally in Alabama, he boasted that he'd spent the week "screaming" at senators. Per Politico, few were spared Trump's wrath and insiders provided accounts of the former president lashing out at national security adviser, H.R. McMaster, and chief of staff John Kelly. A White House spokesperson denied the incident with McMaster.
Stephanie Grisham reportedly addresses Trump's temper in her book, writing that she began to regret her decision to work in the White House after realizing that "[his temper] wasn't just for shock value or the cameras," (via The Hill). According to Grisham, the former president often took out his rage on White House counsel Pat Cipollone. 
"He didn't like them telling him that things he wanted to do were unethical or illegal. So he'd scream at them. But then he'd usually listen. And then yell at them again later," Grisham wrote, per The Hill. She also wrote that one of Trump's aides was assigned the job of playing his favorite songs, like "Memory" from the musical "Cats" in an effort to "pull [Trump] from the brink of rage."
Grisham was an aide during Trump's campaign, a member of the presidential transition team, and didn't leave the White House until after the U.S. Capitol riot on January 6, 2021.