The Personal Meaning Behind Sam Smith's New Tattoo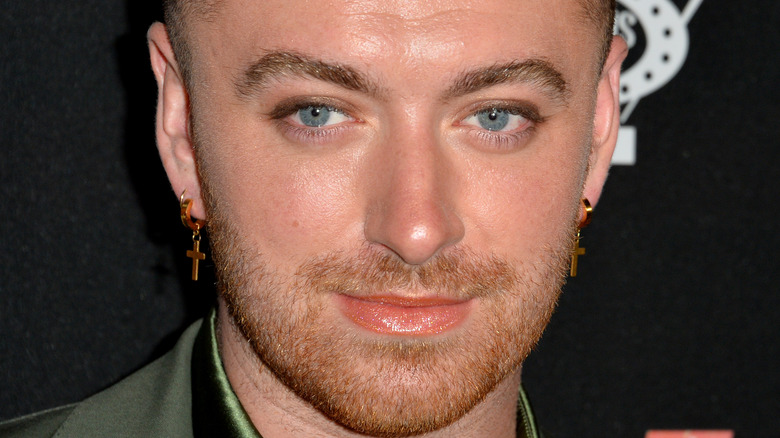 Featureflash Photo Agency/Shutterstock
Now that many people can safely resume certain aspects of their pre-COVID lives, we're seeing countless posts about fresh new haircuts and color, long-awaited travels, and, of course, tattoos. If nothing else, quarantine gave body art lovers seemingly endless hours to dream up their next tat (or ten). And who loves tattoos more than celebrities?
Dove Cameron got a new one only five days into the new year, while Travis Barker has already gotten two different pieces in honor of his PDA bae, Kourtney Kardashian. Cara Delevingne and Paris Jackson are also in on the 2021 tat hype, as they got matching ink right before the Oscars (via Popsugar). Sam Smith also got a new piece done in April, and it's perhaps more meaningful than all the others we've seen so far.
According to Popsugar, Sam Smith got his new ink done on April 21 in London by the talented British tattoo artist Miles Langford who works at The London Social. After their session together, Langford took to Instagram to share a pic of the pair as well as a closeup of the tattoo. "ICON @samsmith," he wrote in the caption. "Thanks for getting tattooed" (via Instagram). The piece, which is a minimalist portrait of someone wearing heels and underwear while looking into a full-length mirror, is located on the singer's inner bicep. Although the artwork is certainly interesting and expertly done, it's the meaning behind it that makes it so significant.
This is what Sam Smith's new ink represents
Sam Smith's captivating new tattoo is representative of their non-binary gender identity, per Popsugar. Back in September of 2019, the "Stay With Me" crooner announced to the world that their pronouns are they/them.
"Today is a good day so here goes," they wrote in a Twitter thread. "I've decided I am changing my pronouns to THEY/THEM. After a lifetime of being at war with my gender I've decided to embrace myself for who I am, inside and out." Another tweet in the thread read, "I'm so excited and privileged to be surrounded by people that support me in this decision but I've been very nervous about announcing this because I care too much about what people think but f*** it!"
After the reveal, Smith experienced an overwhelming amount of support and — unfortunately — quite a bit of backlash. Speaking of the experience, Smith told CBS, "I honestly, I can't express to enough people how much courage it's taken. I wasn't prepared for the amount of ridicule. And bullying, really, that I've experienced." However, after embracing their true self, the four-time Grammy winner added that "I feel such a weight has been lifted" (via People). Hopefully, this new tattoo and tribute can remind the star about the scores of young non-binary individuals who look up to them and admire their bravery.