Khloe Kardashian Opens Up About A Scary Covid-19 Side Effect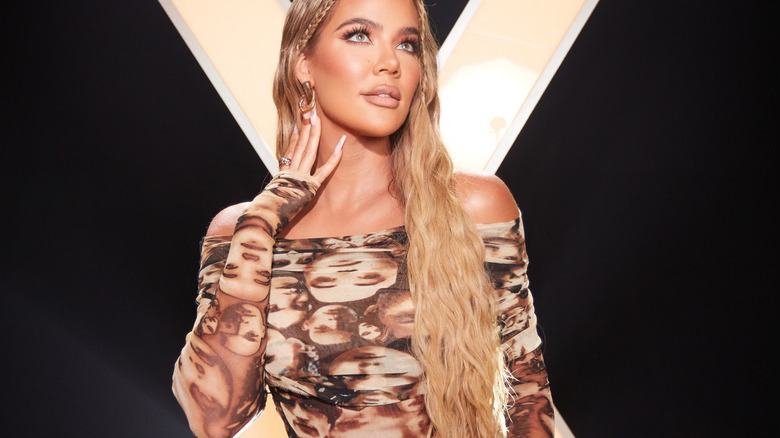 Shein X 100k Challenge 2021/Getty Images
In October of last year, we would learn that reality star and jeans designer Khloé Kardashian was diagnosed with Covid-19 (via CNN). The reveal of her scary news was shared via a trailer for the last season of "Keeping Up With the Kardashians," with the Good American founder saying from her bed, "Just found out that I do have corona. I have been in my room. It's gonna be fine, but it was really bad for a couple days."
At the time, we learned her symptoms were pretty severe, and included coughing, throwing up, hot flashes, shaking, and a burning cough (via AP News). But now, Kardashian is opening up about another upsetting side effect she experienced from the virus.
As People reports, the mom of one talked about her March 2020 illness during a recent Twitter Space chat, admitting, "My hair really fell out with Covid. So after, it was really a struggle for a minute."
There was only one Covid-19 side effect Khloé Kardashian says she didn't experience
Dia Dipasupil/Getty Images
As the American Academy of Dermatology notes, hair loss after a high fever or illness like Covid-19 is actually very normal. The phenomenon, which sees hair shedding at an accelerated rate, even has a name: telogen effluvium.
So how did Kardashian cope with shedding her trademark locks — which have morphed from dark brown to blonde in recent years — in the public eye? As People reports, the star relied on collagen powder. Kardashian told fans during the Twitter chat, "I do the powder, just because that's what we had for so long, and I take so many vitamins a day, it's just so easy for me."
Interestingly, the reality star also revealed that her sense of taste and smell stayed intact while she was sick, with Kardashian saying that was "the only thing I didn't lose." She added about her experience with Covid-19, "But I had everything else — like anything else you can imagine" (via Independent).
As BuzzFeed News reports, Khloé wasn't the only member of her family to test positive for Covid-19, as Kim also contracted the virus, as did Saint and North, as well as her other kids possibly also getting sick.