Why Tucker Carlson Is Sticking Up For Chris Cuomo Amid Calls For Resignation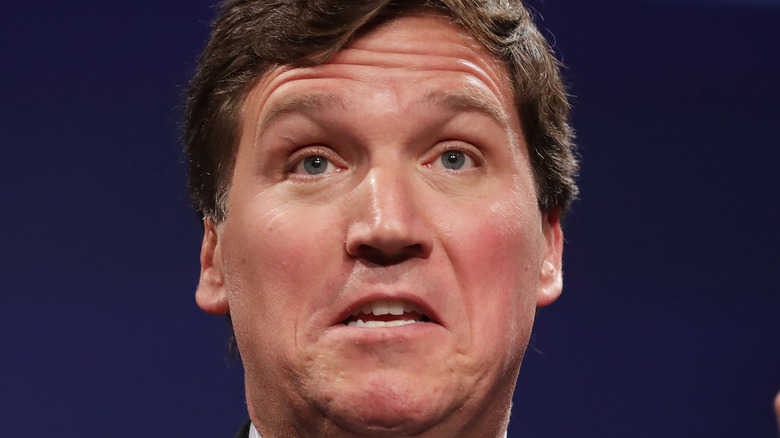 Chip Somodevilla/Getty Images
CNN primetime anchor Chris Cuomo came under intense fire when it was revealed he'd personally advised his brother, beleaguered former New York governor Andrew Cuomo, about the damning sexual harassment allegations swirling around him. As The Guardian reported, Chris subsequently clarified it wasn't a conflict of interest since he had simply offered advice, rather than serving as an official adviser. Nevertheless, Andrew resigned under intense pressure from all sides. In a delicious twist, his lieutenant governor, Kathy Hochul, was positioned to take over as the first female governor of New York. Aside from advising his brother, whether in an official capacity or otherwise, Chris was also criticized for his positive coverage of Andrew on CNN during the COVID-19 pandemic.
He argued, "I said point blank I can't be objective when it comes to my family ... And when [the scandal] happened, I tried to be there for my brother. I'm not an adviser. I'm a brother, I wasn't in control of anything. I was there to listen and offer my take." The CNN anchor further explained that he'd told his brother to do the right thing and resign. Andrew also claimed he, "never misled anyone about the information I was delivering or not delivering ... I never influenced or attempted to control CNN coverage of my family." According to several reports, the Cuomo brothers continued discussing the situation even during an official investigation into Andrew's conduct. There were calls for Chris to be fired as a result but, as far as Fox News' Tucker Carlson is concerned, that's unnecessary.
Family loyalty is everything to the Fox News pundit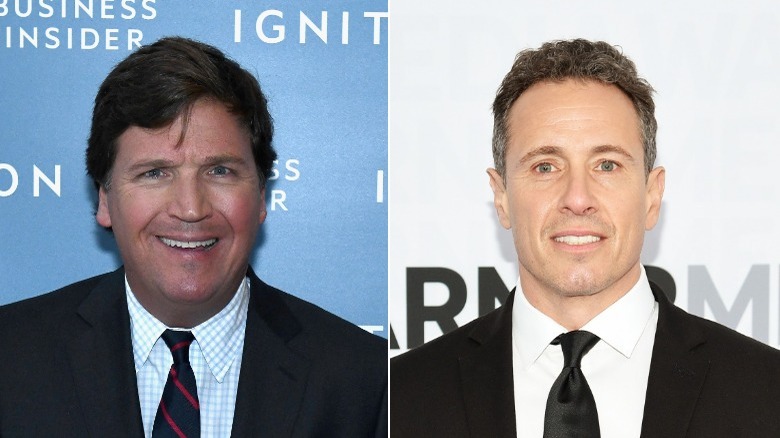 Roy Rochlin, Dimitrios Kambouris/Getty Images
According to Fox News pundit Tucker Carlson, Chris Cuomo has nothing to apologize for when it comes to supporting his brother, former New York governor Andrew Cuomo. As the Daily Beast reported at the time, an openly gleeful Carlson reasoned it was completely "understandable" the CNN anchor would advise his brother on how to handle his sexual harassment scandal. As far as the Fox News host is concerned, your "loyalty should be to your family above all else." Carlson has never been Chris's biggest fan, even describing him as CNN's "chief bodybuilding correspondent." He also noted, not incorrectly, that the CNN anchor took a break at just the right time, right as Andrew was being pressured to give up his position. 
When CNN chief media correspondent Brian Stelter claimed the vacation had been booked well in advance, Carlson quipped, "This is CNN's position. Whenever one of our anchors takes a vacation, it's real. If you work at Fox News, all vacations are Potemkin vacations." However, although Carlson clearly has no time for the Cuomo brothers, he did argue that Chris shouldn't be held responsible for Andrew's misbehavior, only his own. Furthermore, he added, "If your brother calls and says, 'I need help,' if you don't give him help because you're pretending to be an anchor on some stupid cable channel that nobody watches, you're betraying your brother." The Fox News anchor refused to criticize Chris for his stance on that basis.