The Real Reason Carrie Ann Inaba Always Wears A Wig For DWTS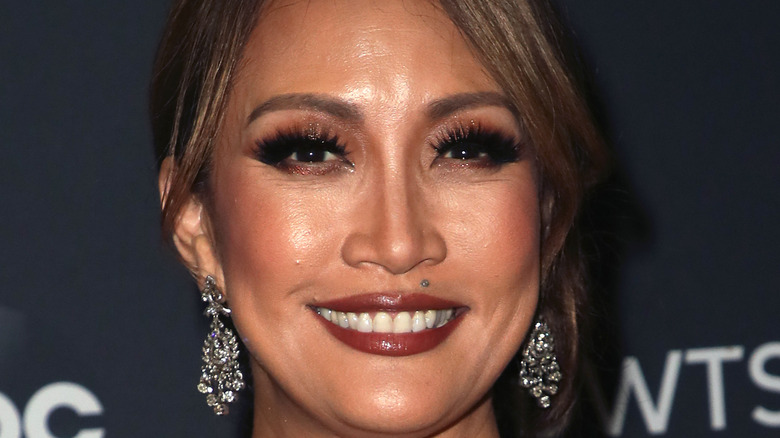 David Livingston/Getty Images
The easiest way to shake up your look is by changing your hair. Dye it, cut it, shave it, or add some bangs. It's amazing what a little — or major — haircut can do. So it's not surprising that fans have noticed the various hairstyles Carrie Ann Inaba has been rocking during "Dancing with the Stars" (DWTS).
Inaba has been open about her struggles with brittle hair as a result of the medications she takes for her autoimmune conditions. The former fly girl and host on "The Talk" has been diagnosed with Sjögren's syndrome, lupus, and fibromyalgia, per Prevention. Although she was able to maintain her mane through the years, the actress went the same route as "Schitt's Creek" matriarch Moira and opted for fun wigs last season.
Another reason her decision to wear wigs raised some eyebrows is that she's previously stated that she does not wear them. "I don't wear wigs as most celebrities do, so my hair goes through a lot of wear and tear from washing and styling," she wrote in an Instagram post.
So why did the choreographer suddenly start wearing a hairpiece? Here is the real reason Carrie Ann Inaba always wears a wig for "DWTS."
Carrie Ann Inaba was on medication that caused hair loss
When questioned why she elected to wear wigs during last season's "Dancing with the Stars," Carrie Ann Inaba blamed medication for the switch up.
"I [had] to take a medication that could cause hair loss, so we planned a season of mostly wigs just in case. When I took the medications, I had too many negative side effects so I had to stop it for a moment but we were already ready with a plan. So we stuck to it," she wrote (via Parade).
Inaba, who initially took a break from "The Talk" to focus on her health before announcing her departure from the show, wore blonde, red, and pink wigs throughout the season (per People). Surprisingly she liked stepping outside her comfort zone and taking a risk with different hairstyles, colors, and texture. She told the outlet, "While I know not everyone loved my wigs, I sure did."
We can't wait to see what Inaba and "DWTS" season 30 has in store for us!