Body Language Expert Shares Details About Kate Middleton And Prince Charles' Relationship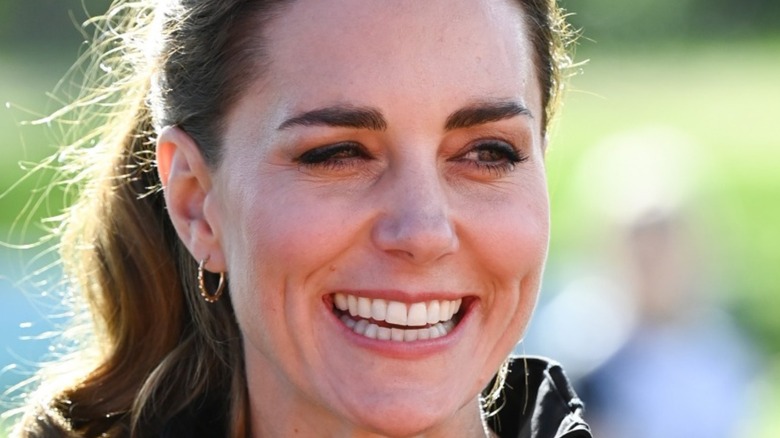 Pool/Getty Images
Prince Charles has been having a tough go of it lately. He's estranged from one of his sons, Prince Harry, who's said some pretty harsh words about him on a very public stage. What's more, he lost his own father a few months back. While he's been trying to step up and help out more with the family business, he's handicapped by the fact that, according to polling data (via Newsweek), many Britons would like to see him passed over for the throne entirely in favor of his own son (the non-estranged one), Prince William. In fact, Charles' popularity rating has been taking quite a hit lately, in large part due to a television series (we're speaking, of course, of Netflix's "The Crown") that documents a tough time in his life and doesn't exactly portray him in the most flattering light.
Well, all is not doom and gloom for the man who will (eventually) be king. He does have one very loyal supporter in the person of his son's wife. According to body language expert Judi James, Kate Middleton and her father-in-law couldn't be any closer (via the Daily Mail).
Kate Middleton is very fond of her father-in-law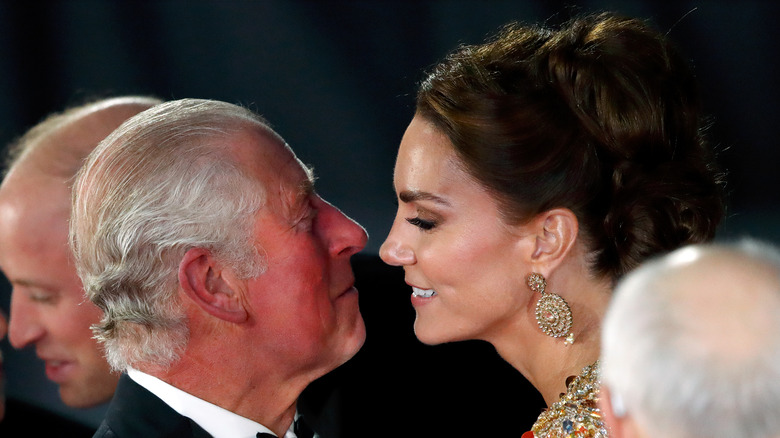 Max Mumby/indigo/Getty Images
Kate Middleton and Prince William joined Prince Charles and Camilla, Duchess of Cornwall, at a recent red-carpet premiere of the latest James Bond movie, "No Time To Die." Body language expert Judi James was struck by the hug and cheek kiss Kate shared with her father-in-law, saying, "Her gesture of placing one arm round his neck and shoulder in public is a very important one as it signals her growing confidence and even sense of status within the family," via the Daily Mail. James then went on to explain, "The body language suggests she is instigating and even controlling this affectionate display in a way that might have been unthinkable a few years ago, when she held a much more passive role."
As to why Kate is displaying this newfound confidence, as well as clearly indicating her support for the embattled Prince of Wales, James has a theory about this. She said Kate has lately been "stepping into a much closer and more emotionally comforting role" with Charles, one in which "their body language suggest[s] some unexpected levels of affection," and said it probably relates to Charles' "very open grief at the death of his father and perhaps the fracturing of his relationship with his youngest son." While Kate the peacemaker may not be able to heal all of the ruptures in the royal family, she's doing her best to make sure the UK-based royals present a united, and very affectionate, front.