Royal Expert Reveals The Impact Prince Philip's Sad Death Has On Queen Elizabeth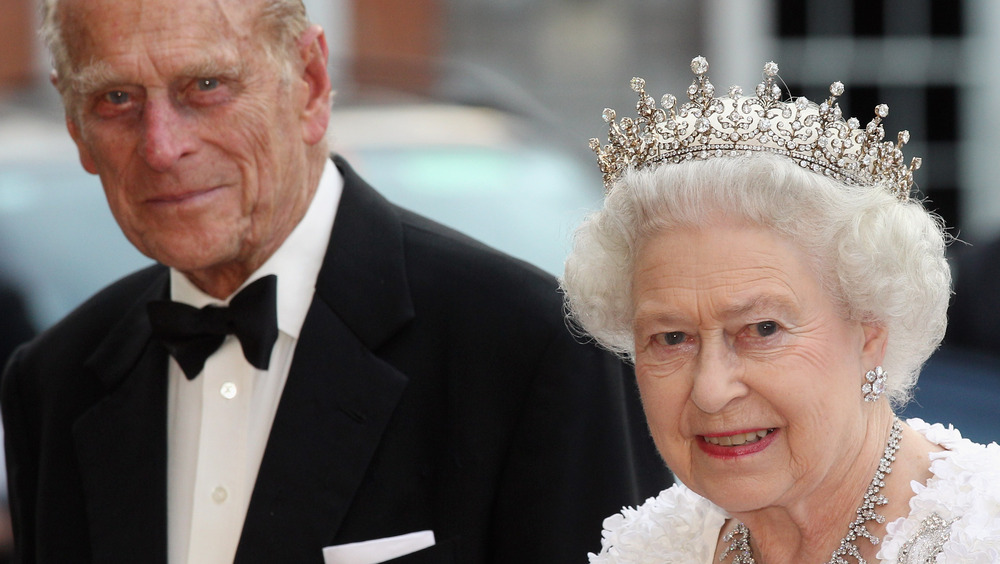 Oli Scarff/Getty Images
While members of the royal family have had some notoriously rocky marriages, Queen Elizabeth II and her husband of 73 years, Prince Philip, had what Country Living calls "a true royal love match." They actually knew each other since they were children, and the queen was "smitten" with him from the time she was 13 years old and he was 18. "He has been my strength and stay all these years," the queen famously said to commemorate the pair's golden anniversary, celebrating 50 years of marriage. 
Although Prince Philip's death at 99 years of age was not unexpected (it's still fairly rare for anyone to reach such an age), it's nonetheless terribly sad, and for the queen herself, downright tragic. She said of him in 1997, "I, and his whole family, and this and many other countries, owe him a debt greater than he would ever claim, or we shall ever know."
How will the queen cope with the loss of the love of her (very long) life? Of the man who on the day of her coronation in 1953, pledged his allegiance to "become your liege man of life and limb and of earthly worship." The List spoke with royal watcher Kinsey Schofield, founder of website To Di For Daily, to get her take on how widowhood is likely to affect the world's longest-reigning monarch. In Schofield's words, "Queen Elizabeth is a strong woman but she will greatly miss her husband and best friend. They still made each other laugh and loved each other's company."
Prince Charles has been stepping up to take his father's place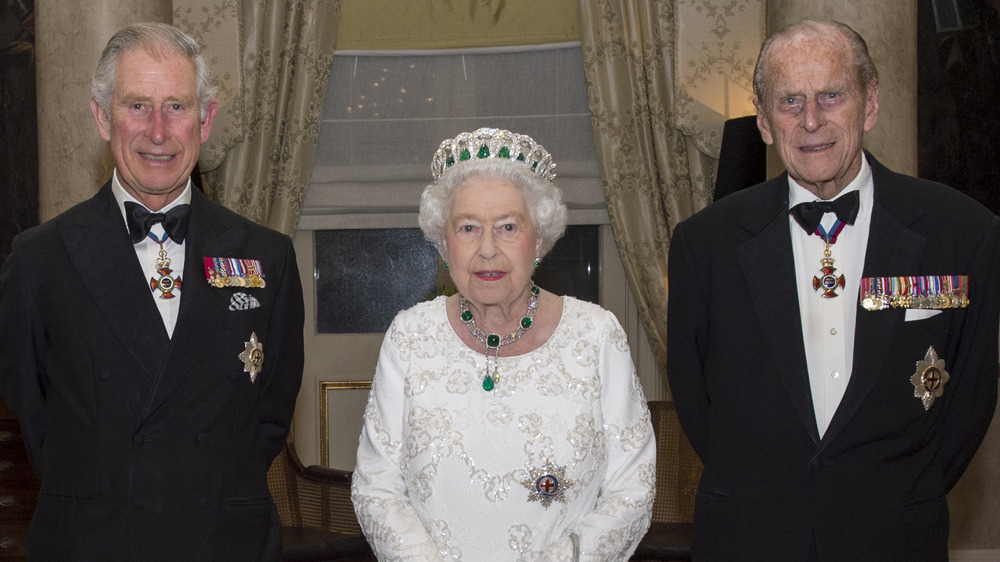 Pool/Getty Images
As Kinsey Schofield explains, Prince Philip had long been Queen Elizabeth's "rock." She went straight from a loving family into an equally loving marriage to a "young, tough, and charming Prince Philip." The prince, in fact, was the one who broke the news to his wife that her father, George VI, had passed away, and then stood by her side as she, still in mourning, abruptly ascended to the throne.
How will the ruler of the British Empire cope now that she is on her own?  "I don't believe that we will have another case of Queen Victoria where Queen Elizabeth disappears forever and wears black for the rest of her life," Schofield says. Instead, she feels that the queen "will continue to shine whenever she can," but notes that the queen herself is getting on in years and her own age, as well as her bereavement, is likely to limit her capacity for carrying out public duties. 
Luckily, Schofield hears that "Prince Charles has slowly and quietly been taking on additional roles to get them off the queen's plate." He's evidently been doing this for some time now, gradually transitioning into his own role as the next monarch and, as Schofield says, "giving him time to learn the trade." Good to know Queen Elizabeth's got her son at her side, as well as grandson William. Still, as Schofield says (and we echo the sentiment), "My heart is incredibly heavy for Queen Elizabeth."
Queen Elizabeth's period of mourning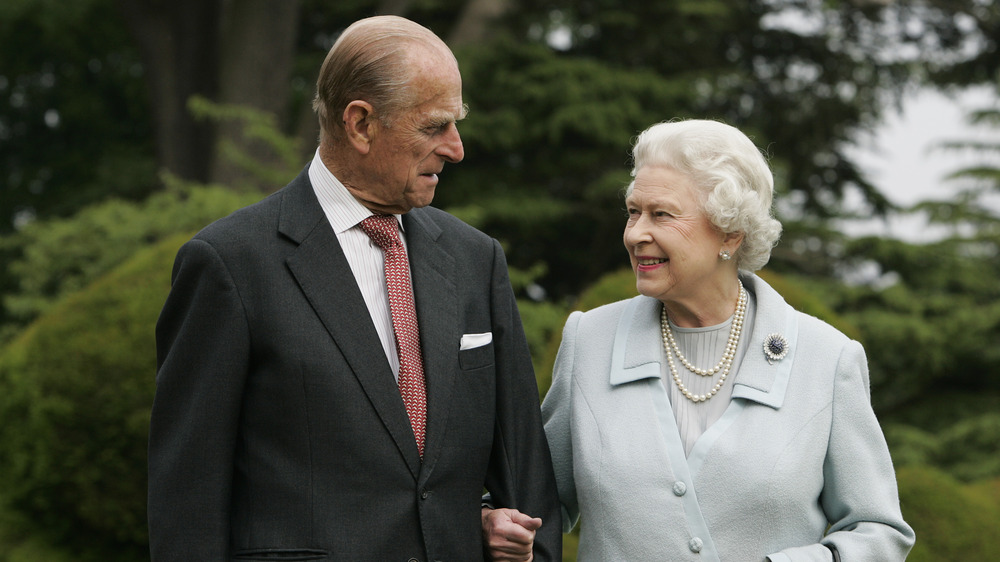 Tim Graham/Getty Images
After the death of her husband, Queen Elizabeth II entered an eight-day mourning period. People reports that during this time, the queen will not perform any of her royal duties and state affairs will be paused. All of Britain is currently in national mourning, a period that will last up until, and include, the day of Prince Philip's funeral on Saturday, April 17 (via Sky News).
In a statement released Friday, the palace stated that due to the coronavirus pandemic "and in light of current government advice and social distancing guidelines, modified funeral and ceremonial arrangements for His Royal Highness The Duke of Edinburgh are being considered by Her Majesty The Queen." The duke is being honored with half-masted Union flags at all royal residences. "The Royal Standard will continue to fly at Windsor Castle where The Queen is in residence," the palace states.
"With the safety and wellbeing of the public in mind, and in accordance with government guidelines, members of the public are asked not to gather in crowds," the statement continued. "Those wishing to express their condolences are asked to do so in the safest way possible, and not to gather at Royal Residences."
The royal family also requested that in lieu of floral tributes to the Duke of Edinburgh, interested members of the public should consider making a donation to charity. They have also set up an online book of condolence for those who wish to leave messages. Queen Elizabeth's daughter-in-law Sophie, the Countess of Wessex, said that Her Majesty was "thinking of others before herself" at this time (via The Associated Press).