What Jared Kushner's Family Really Thought About His Involvement In The Trump Campaign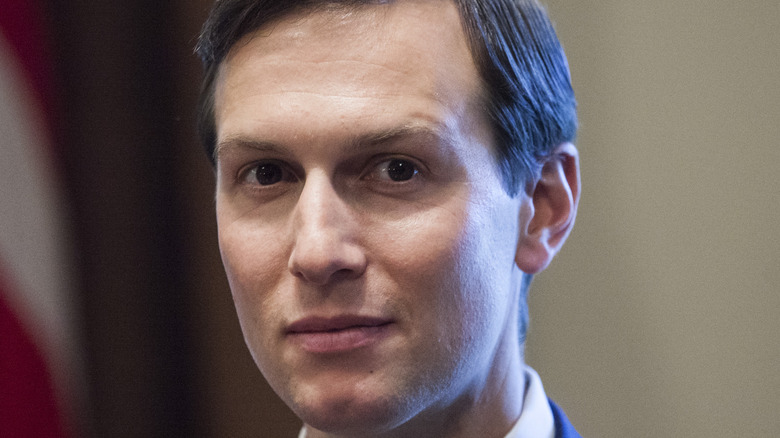 Pool/Getty Images
As of 2016, Jared Kushner had no political background. And, yet, when his father-in-law, Donald Trump, ran for president in 2016, his fellow real estate mogul son-in-law was front and center of Trump's campaign. 
As Town & Country notes, Kushner was a key adviser to Trump while he was running for election, and, as soon as the former reality star took office, Kushner took on a key role in the Trump administration, too. In fact, he was sworn in as a senior adviser to the president just days after Trump was inaugurated. 
As The Washington Post reported at the time, a brand new office was created just for him to lead, confusingly entitled the "White House Office of American Innovation." Kushner advised Trump on everything from foreign and domestic policy to presidential personnel despite, again, having zero experience with anything even remotely governmental. 
He comes from a hugely powerful real estate family, so how did they feel about Jared Kushner's sudden entry into the political realm? 
Jared Kushner's Jewish ancestry was a topic of debate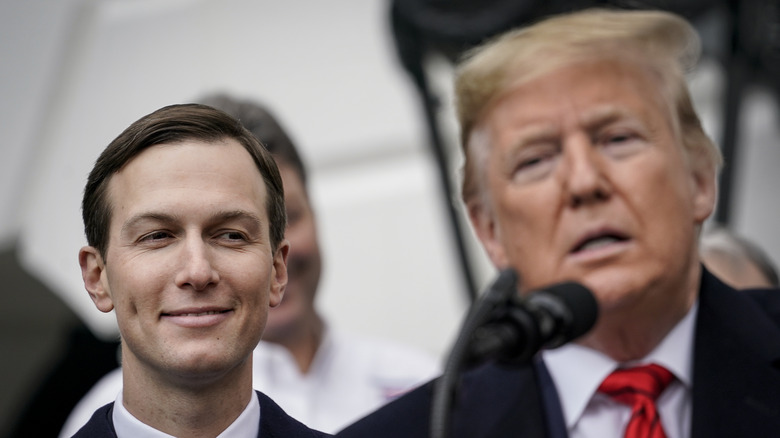 Drew Angerer/Getty Images
As Town & Country notes, Jared Kushner and Ivanka Trump are strictly practicing Orthodox Jews, with the former first daughter happily converting in order to marry her sweetheart. As a result, there was intense backlash to Kushner's involvement in Donald Trump's presidential campaign given the openly anti-Semitic stance of his most vitriolic supporters. 
In fact, a former employee of Kushner family newspaper The Observer publicly called out the real estate mogul for neglecting to criticize his father-in-law after Donald shared an anti-Semitic post on Twitter. The offensive image featured a Star of David superimposed over a pile of money as an attack against Hillary Clinton. 
In response to the accusations, Kushner stated emphatically (via The Observer): "My father-in-law is not an anti-Semite." He argued that those criticizing Donald didn't really know him and suggested that maybe someone on his team had created the post rather than the man himself. 
Kushner also used the opportunity to invoke the story of his grandparents surviving the Holocaust, which, understandably, rubbed several Kushner family members the wrong way. 
Kushner family members didn't support Jared Kushner's views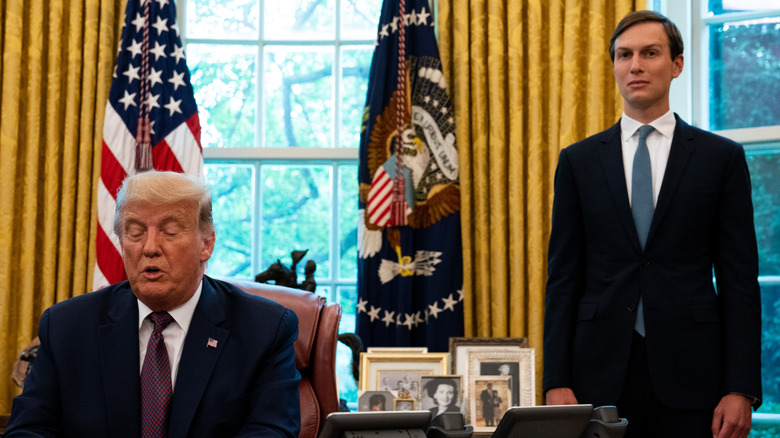 Pool/Getty Images
In response to Jared Kushner's article defending Donald Trump, Kushner's cousin Marc wrote on Facebook (via Politico): "I have a different take­away from my Grandparents' experience in the war. It is our responsibility as the next generation to speak up against hate. [Sic] Anti­semitism or otherwise." 
The publication also cited another cousin, Jacob Schulder, who commented on the post. "For the sake of the family name, which may have no meaning to you but still has meaning to others, please don't invoke our grandparents in vain just so you can sleep better at night," he wrote. "It is self-serving and disgusting." He also dismissed Jared's position as "BS." 
Describing both Jared and Trump himself as "out of touch with reality," Schulder railed against his cousin for sticking up for someone who had no business running for president or even operating a Twitter account. He put the blame squarely at Jared's feet for letting Trump run riot without consequence. 
In a telling response to these reports, a source confirmed simply, "Jared hasn't spoken to either of these people in 10 years."