Mike Pence Opens Up About His Relationship With Donald Trump Today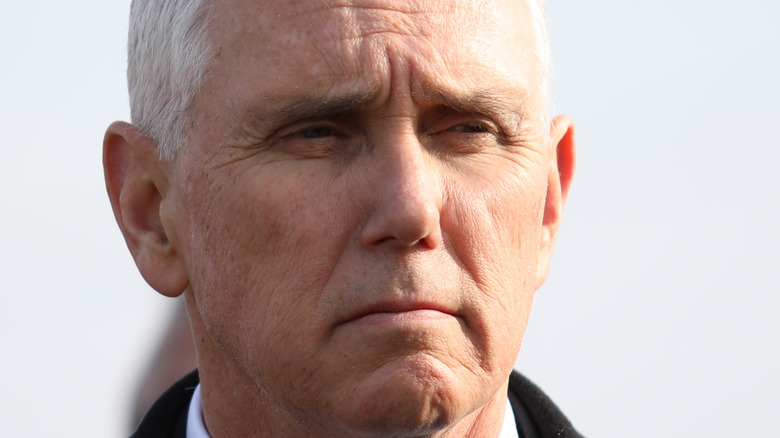 Grabowski Foto/Shutterstock
We thought we knew all there was to know about former Vice President Mike Pence — like, for instance, he was a steadfast supporter of the Constitution and that he had held out against Donald Trump's efforts to maintain his presidency for a second term. We may have also thought that he had broken with Trump by appearing at the Biden-Harris Inauguration on January 20, even as his boss jetted to Mar-a-Lago hours before Joe Biden was inaugurated, in a huge break with tradition.
But Mike Pence now wants all of us to know he and Trump were never at odds — and that contrary to what we might have thought, he in fact still has a strong relationship with the former president. During an interview with Sean Hannity on Fox, Pence said "Look, you can't spend almost five years in a political foxhole with somebody without developing a strong relationship," and that he and Trump "parted amicably at the end of the administration and we've talked a number of times since we both left office" (via NY Post).
Pence wants to move on from the January 6 riots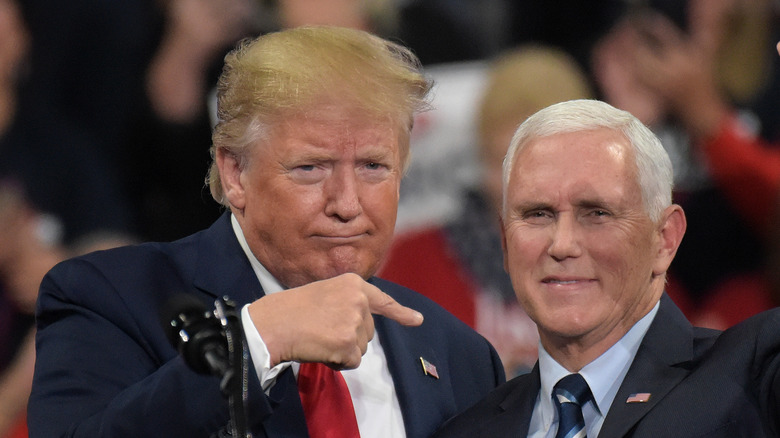 Matt Smith Photographer/Shutterstock
The current state of his relationship with Donald Trump wasn't the only matter Pence took up with Sean Hannity. While he continues to hold that January 6 was not exactly a day for celebration, Pence said it was time for the party to look forward, saying: "I know the media wants to distract from the Biden administration's failed agenda by focusing on one day in January. They want to use that one day to try and demean the character and intentions of 74 million Americans who believed we could be strong again and prosperous again and supported our administration in 2016 and 2020" (via Mediaite).
The former vice president's recent comments about the January 6 riots which broke out at the U.S. Capitol represented something of a departure from the stand he had maintained in the months following the insurrection. During a dinner held in June, he referred to January 6 as "a dark day in the history of the United States Capitol." He'd also said that while he and Trump had communicated "many times since we left office ... I don't know if we'll [Trump and I will] ever see eye to eye on that day" (via Insider).
Pence's January 6 comment provoked a strong reaction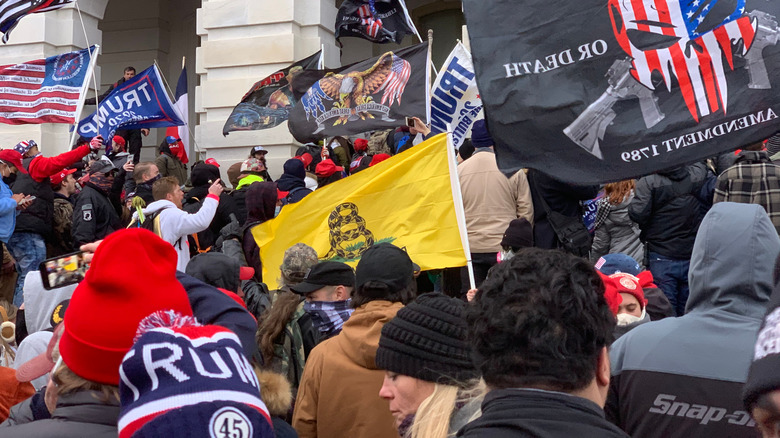 Sebastian Portillo/Shutterstock
Pence's attempt to downplay the riots which also put his own life in jeopardy provoked a strong reaction on Twitter, even from former GOP Representative Joe Walsh, who tweeted: "No, Mike Pence. We don't focus on January 6th to 'demean' Trump supporters. January 6th was an insurrection. It was a violent attempt to overthrow an election. Mike Pence, your life was in danger. We focus on January 6th to make sure it never ever happens again." HuffPost characterizes Walsh as a "former tea-party favorite" who now uses social media to denounce Trump.
Another Twitter user who described herself as a "Reagan Republican" addressed the former vice president, saying: "I once admired your marriage [and] family life, but now I'm not so sure. The January 6 rioters endangered your wife [and] daughter, [and] Trump, the most powerful man in the world, didn't come to your aid. Still, you grovel at his feet.Trump is unworthy of such devotion."
But there were still those who felt Pence did the right thing, and praised his words on social media, saying: "That's the definition of Leadership. Going beyond borders. What a tremendous job done by 45."