Is This Really How Donald Trump Felt About Meeting Queen Elizabeth?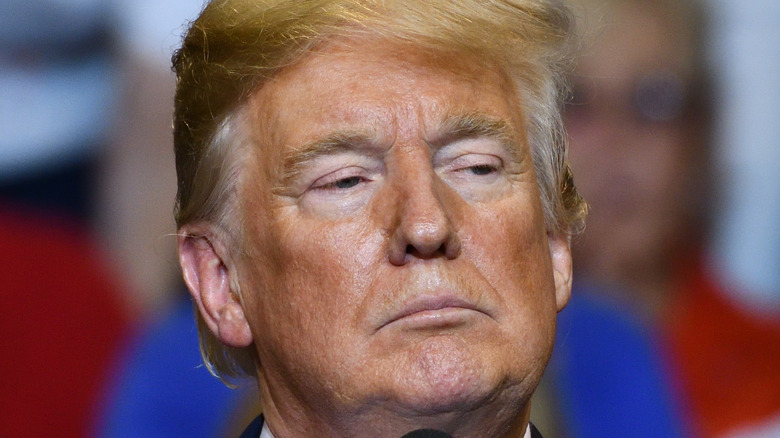 Evan El-Amin/Shutterstock
Donald Trump initially met Queen Elizabeth in 2019, during his first official state visit to the U.K. as president of the United States. As NBC News reported at the time, Trump landed in Britain shortly after making negative comments about Brexit and London Mayor Sadiq Khan, who happened to write a negative piece about the former reality star in a British newspaper and whom Trump described as "very dumb and incompetent" much like New York Major Bill de Blasio. Trump and wife Melania were received at Buckingham Palace by a variety of royals, but the clear standout was the Queen herself, resplendent in matchy-matchy chartreuse.
The first couple later attended a state banquet, also at the palace, where Trump toasted Her Majesty, gushing about the Queen's "truly remarkable reign." However, although everything seemed to go swimmingly between the two titans of their respective industries, as Insider subsequently reported, the president and first lady broke major royal protocol when meeting Queen Elizabeth, Prince Charles, and his wife Camilla Parker Bowles during a follow-up trip across the pond. Rather than bowing or curtsying to the royals, both Trumps reached out to them for handshakes. Although not technically against the rules, it is frowned upon.
Still, unsurprisingly, the former president considers meeting the Queen a considerable personal coup for himself.
Donald Trump was insistent on meeting the Queen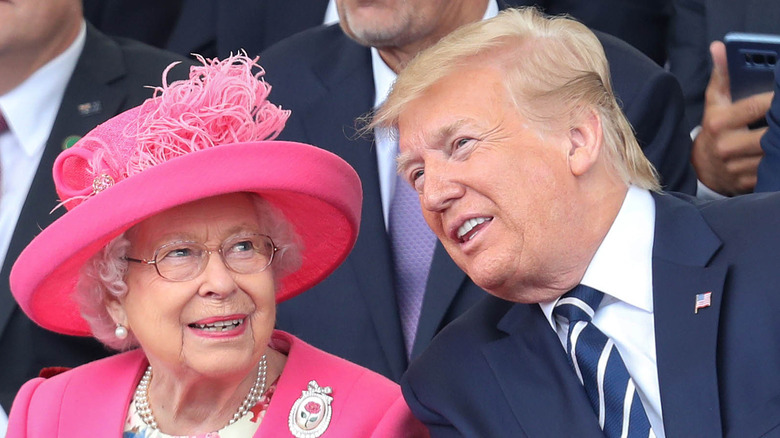 Chris Jackson/Getty Images
According to a new book, by former White House Russia advisor Fiona Hill, Donald Trump was laser-focused on making a state visit to the U.K. because he wanted to meet Queen Elizabeth so badly. According to Business Insider, Hill writes that Trump was insistent on making the trip over to London as one of his first official foreign visits, because, "Going to Buckingham Palace was supposed to be a highlight of his presidency." The former White House aide makes the shocking claim in her book, "There Is Nothing For You Here: Finding Opportunity in the 21st Century." According to the writer, "Meeting Queen Elizabeth II was particularly important to President Trump" because his late mother, who was Scottish, admired her so much. 
The famously unflappable Trump, who rarely acknowledges anybody is more famous or charming than he is, was reportedly "awestruck" whenever he mentioned the Queen. As Hill notes, his whole demeanor would soften. Evidently, "A meeting with the Queen of England was the ultimate sign that he, Trump, had made it in life." In fact, according to "The Truth About Trump" author Michael D'Antonio, "One of his dying thoughts will be of this. When he is about to leave this earth, he will think, 'I was that person, standing with the queen.'" (via The New York Times). Clearly, the Queen made a serious impact on the president.