Why Fans Think Kelly Clarkson Just Sent A Subtle Message To Her Ex-Husband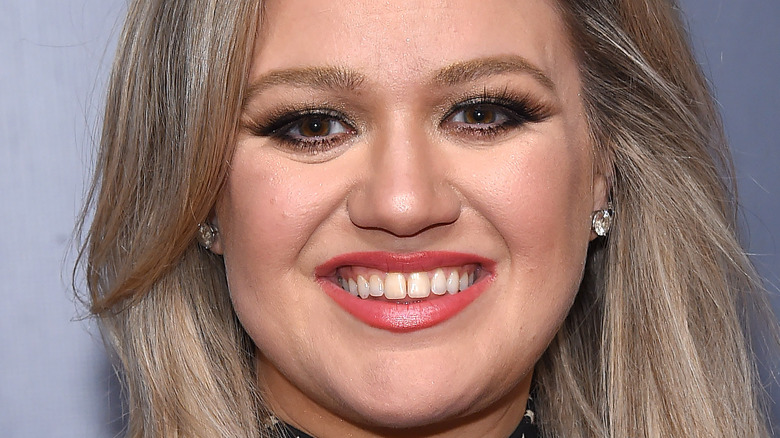 DFree/Shutterstock
While Kelly Clarkson was hoping to spend the rest of her life with her former partner, Brandon Blackstock, the musician filed for divorce in June 2020 (via Us Weekly). After seven years of marriage, Clarkson realized she couldn't trust Blackstock. A source revealed, "She could no longer trust Brandon, and she felt that Brandon was just using her for her money and lifestyle. She had tremendous resentment toward him. She just wasn't willing to look the other way anymore." Though "The Voice" coach was hoping to make a clean break from the talent manager, legal drama immediately ensued. In July 2021, Clarkson was ordered to pay Blackstock nearly $200,000 per month in spousal support and child support (via Vulture). The latter also attempted to invalidate the couple's prenup and asked for 50% of all property and assets acquired during their marriage (via Entertainment Tonight).
However, the judge ruled against Blackstock and awarded Clarkson the Montana property he was residing at. Considering all of the stress her ex has caused, the 39-year-old singer's fans believe the star may have sent him a message in her latest cover (via Entertainment Tonight).
Kelly Clarkson is 'Happier Than Ever' without Brandon Blackstock
During Kelly Clarkson's hit daytime talk show, "The Kelly Clarkson Show," she leads the segment "Kellyoke" which features the Grammy award-winning artist singing covers of pop songs (via Entertainment Tonight). Clarkson recently covered Billie Eilish's hit single, "Happier Than Ever," but with a twist. On the original track, Eilish sings, "I don't relate to you / I don't relate to you, no / 'Cause I'd never treat me this sh***y / You made me hate this city." However, Clarkson changed the lyric "You made me hate this city," to, "I get it, you hate this city." This rewrite left fans feeling like the singer was directing the breakup song at her ex. @RyanSchocket tweeted, "The way Kelly Clarkson changed the lyrics of 'Happier Than Ever,' sang every line with intention, and sounded amazing. I know she was directing this at her ex. Legendary," (via Twitter).
Though the singer's cover of "Happier Than Ever" conveys her current feelings well, her upcoming album is sure to provide even more catharsis for Clarkson. In an interview with Entertainment Tonight, the singer revealed that she's written about 60 songs since filing for divorce. She shared, "I have this record that we're working on. It's really great and really honest." She concluded, "Anytime you go through some life, it's such an awesome thing to have that outlet, regardless of whether people hear it or not."