The Surprising Secrets Behind Patrick Mahomes' Curly Hair Look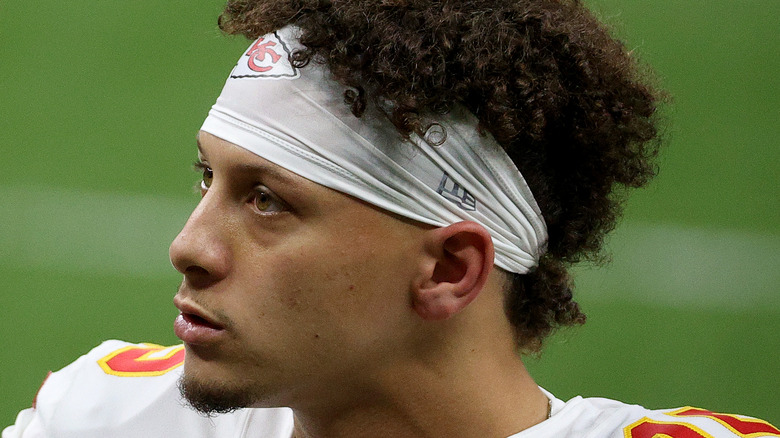 Chris Graythen/Getty Images
In case you haven't noticed, one of the biggest hair trends in 2021 for men has been wearing it curly. Whether that's leaning into your natural curls or manifesting it at the hair salon, there's something about this untamed, wild hairstyle that men can't get enough of this year. Just look at the likes of Timothee Chalamet, Nick Jonas, Bruno Mars, and Oscar Isaac (via Men's Health), amongst others, who have more than embraced their curly locks. But there's one curly-headed heartthrob that fans are unexpectedly drooling over, simultaneously standing by to see if he'll dish out his beauty secrets.
As it turns out, being a prodigal athlete and Super Bowl winner hasn't stopped Patrick Mahomes from taking the time to fully develop his iconic curly-haired look. According to Head and Shoulders — a hair care company that Mahomes is an avid user of and brand ambassador for — the Kansas City Chiefs quarterback first found his hair identity in college. Indeed, it all started when he and a friend at Texas Tech University made a bet over who "could grow out their hair the longest."
"And, I think I won," Mahomes boasted via Head and Shoulders. "I let it grow out, and then the people at Texas Tech loved it. So I kind of kept it, and it was my thing, and now it's become my thing in the NFL."
Here's how to style your curls like Patrick Mahomes'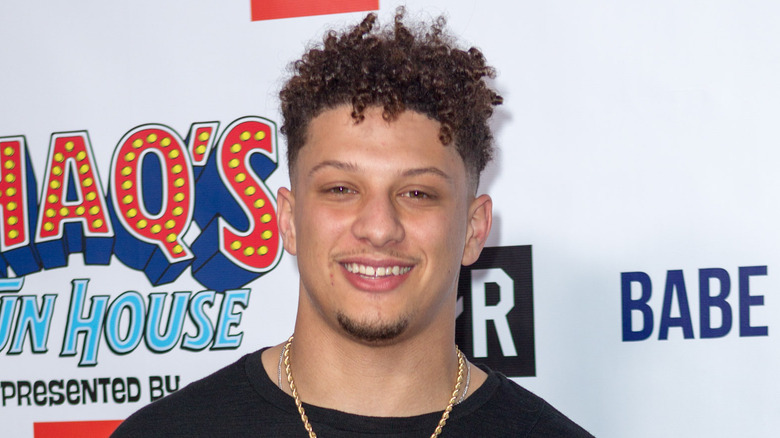 Jamie Lamor Thompson/Shutterstock
Patrick Mahomes' time at Texas Tech University didn't only help him fall into a athletic career that would eventually set a professional trajectory for the rest of his life — it would also end up helping him find his iconic hairstyle. The 26-year-old football player told ESPN that he takes his curly locks pretty seriously and does his best to maintain them. "The helmet doesn't do my hair justice for sure, but the headband, the hair, it's kind of part of my brand," he said.
So how can you (sort of) replicate this iconic look? First of all, understand that no hairstyle — but this one in particular — should be limited by gender. Regardless of your identification, we challenge you to give this killer look a try. London-based barber Julius Caesar and co-creator of STMNT Grooming Goods shared how you can take a stab at it.
"Natural curls allow for effortless styling," Caesar told Byrdie. To manage those ringlets into a Mahomes-style look, the outlet suggested a product from Caesar's haircare brand, STMNT Grooming spray, noting that it promises soft, natural hold with "no crunch." The best way to apply it, per Byrdie, is on freshly washed, "towel-damp hair." This will ensure the curls have enough hold to stay in place through whatever comes your way — which in Mahomes case is a lot of heavy-weight athletes and intense tackling. Finally, Caesar added that blow drying the hair can give the look a bit more structure if you're going for the appearance that you put the time into your styling.
Patrick Mahomes' barber takes 40 minutes to style his hair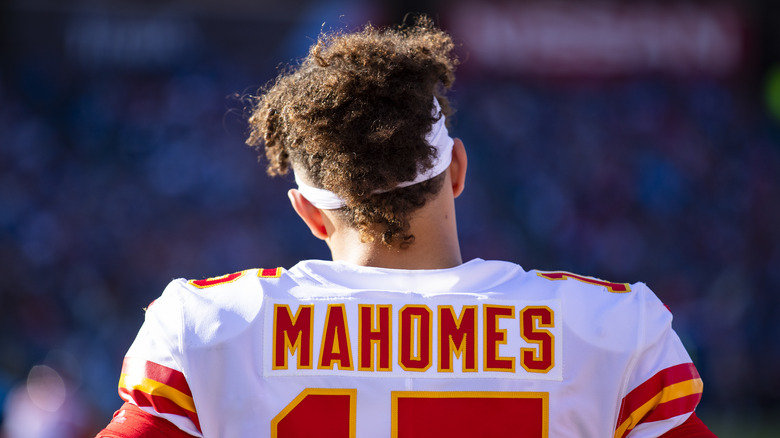 Brett Carlsen/Getty Images
According to Sports Illustrated, Patrick Mahomes regularly gets his hair done at Purple Label Luxury, a barbershop that has styled the hair of many Kansas City Chiefs players over the years. DeJuan Bonds, the company's owner and Mahomes' personal barber, revealed that it takes roughly 40 minutes to get Mahomes' signature curly mohawk down. And while it may seem like your basic mohawk, don't be fooled. Sports Illustrated also reported that Bonds uses his full arsenal — "seven different clippers ... all of which do something different" — to sculpt Mahomes' locks in multiple ways, including trimming it "forward, backward and against."
Bonds also revealed that since the rise of the Chiefs' franchise star, business has been booming for Purple Label, with customers coming in specifically asking for what has become known as "the Mahomes." But still, Mahomes is casual about the complicated look. "Patrick, his hairstyle says freedom," Bonds told Head and Shoulders. "He goes with the flow with his haircut."
While Mahomes' curly mohawk is more certainly a vibe, keep in mind that what works on him might not work on everyone. And if you're looking for your own iconic hairstyle, Mahomes recommends trying lots of different looks. "Just be you," he advised per Head and Shoulders. "Pick a style, try it out, and if you don't like it — try something else! I had a few other looks before I found what works for me."