The Heartbreaking Death Of Dakota Culkin
Dakota — her siblings called her Cody — Culkin didn't grow up in the spotlight like many of her brothers and sisters. The second-oldest Culkin sibling has a sole credit on IMDb. She worked in the art department on "Lost Soul," a horror movie released in 2009, one year after TMZ broke the news of Dakota's death. Maybe that's why the only pictures available of her today are grainy Insta snaps, ones in which she appears, still a child, in group shots next to her more famous siblings. In the picture above, Dakota is dressed in a blue and white striped shirt. She's second to the left. 
Culkin was only 29 years old when she died, in what friends described to People as a "freak accident." According to a second People report, she'd just moved to Los Angeles in quest of a career in the film industry. She wasn't after acting credits, like her siblings Kieran and Macaulay. Dakota apparently dreamt of making a name for herself in film production.
Dana Schroeder, a director on "Lost Soul," told People that Dakota was "humble," adding that she "didn't want to get in front of the cameras, she wanted to work behind the scenes." Andrea Poe, one of her "Lost Soul" co-workers and friend, described Culkin as "actually quite hilarious, witty, and down to earth." Poe says Cody was especially tight with her brother, Macaulay. Macaulay, in turn, would eventually reveal to Esquire that he'd talked to his sister hours before her death.
How did Dakota really die?
The media reported that, at the time of her death, Culkin was walking on Lincoln Boulevard, on the west side of Los Angeles, in Marina del Rey. Vanity Fair says she had just left the Irish bar, Brennan's, when the car struck her. New York Daily News disclosed that Culkin survived long enough to be taken to UCLA hospital. She died soon after, having sustained severe head trauma. "The driver stopped, rendered aid, and identified himself as required by law," LAPD announced in a statement (via ABC News). "Detectives have determined that the driver was not under the influence of drugs or alcohol, so no crime was committed."
Lt. Fred Corral of The Los Angeles County Department of Coroner told People that Culkin was probably under the influence of alcohol when she was hit. Although Corral couldn't confirm her blood alcohol level, Culkin's family allegedly confirmed to him that Dakota was in therapy for alcohol addiction. Macaulay eventually told a story that would seem to dispute this narrative, but not in time to quell the rumors. At the time, the news of her death, and the possible involvement of drugs in it, was further sensationalized in tabloids like Daily Mail because of the Culkin family history: Dakota's half-sister Jennifer Adamson had overdosed on drugs and died less than a decade prior.
Whatever the circumstances behind it, Dakota Culkin's death brought the Culkin siblings' world to a halt. People reported that Macaulay, Kieran, and Rory all stopped acting for a time to process her death. The siblings, meanwhile, wouldn't open up about her death for years to come.
If you or anyone you know is struggling with addiction issues, help is available. Visit the Substance Abuse and Mental Health Services Administration website or contact SAMHSA's National Helpline at 1-800-662-HELP (4357).
Dakota Culkin lives on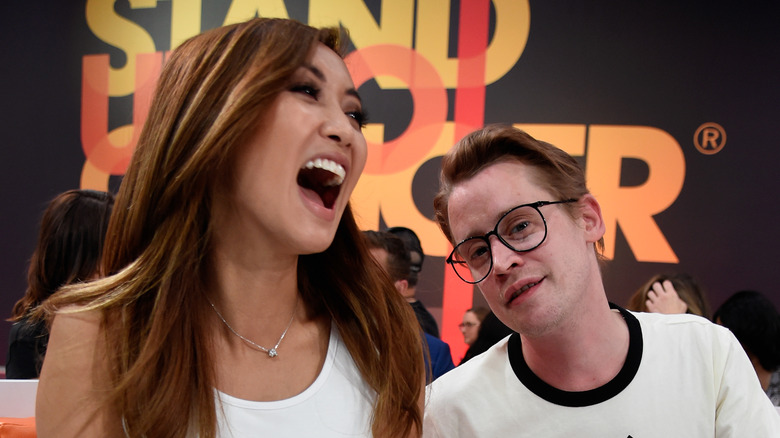 Kevin Mazur/Getty Images
Dakota Culkin died in 2008. She is certainly not forgotten. "Cody was funny, man," Kieran recently told The Hollywood Reporter. "She was the funniest person in the family." Her death, he said, was "the worst thing that's ever happened," admitting, "It's never going to be fine. It's always going to be devastating. I still weep about it out of nowhere." Kieran says that there's a bit of Cody in "Shiv" — that's Kieran Culkin's character's sister in the HBO hit show, "Succession." 
Meanwhile, Kieran's brother, Macaulay, isn't the kid you fell in love with when binging "Home Alone." He and the woman he fell in love with — Brenda Song — gave birth to a baby on Monday, April 5, 2021, at 1:10 p.m. in Los Angeles. (Yes, this is after he spent the better part of eight years with Mila Kunis, and People will remind you how that ended if you need a painful refresher.) Song and Culkin named their son Dakota. "We're overjoyed," they told Esquire.
Macaulay has poignant memories of the night of his sister's death, ones that might not add up with reports that Dakota was intoxicated at the time of her death. He told Esquire that Dakota had just watched "Party Monster" with her roommate the night she died. After, she called Macaulay to congratulate him on his performance. "I was like, 'Thanks ... Go to sleep,'" he recounted. "And then she went out to go get some Gatorade and cigarettes, and she got hit by a car."