Good News For Mayim Bialik After First Week As Host Of Jeopardy!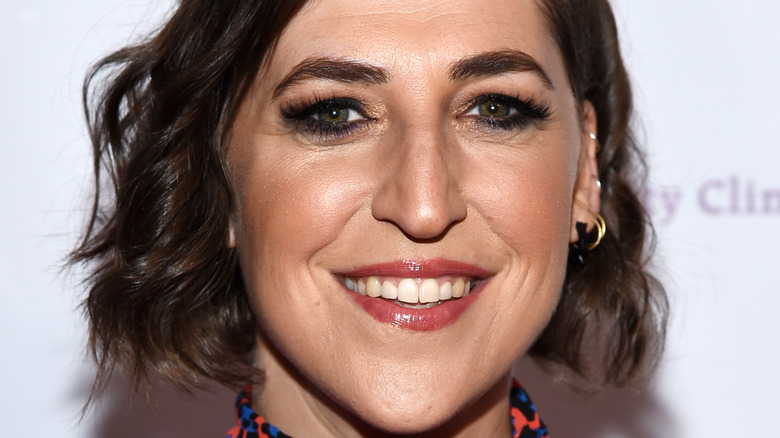 Amanda Edwards/Getty Images
Since the death of longtime "Jeopardy!" host Alex Trebek, the beloved game show has been in a state of instability. Initially, the series tested a series of revolving guest hosts, per Entertainment Weekly. Katie Couric, Aaron Rodgers, LaVar Burton, and more celebrities hosted the show for two weeks before ABC decided to name the show's executive producer Mike Richards as the new permanent host (via The Ringer). This decision was immediately met with backlash as old lawsuits pertaining to his time at "The Price Is Right" called Richards' character into question. Though the new host tried to deny any allegations made against him, he was unable to separate himself from the scandal.
On August 20, Richards announced that he would step down from his hosting duties and left the legendary series without a host once again (via E!). A few weeks later, "Jeopardy!" revealed that Mayim Bialik and previous winner Ken Jennings will co-host the series until the end of 2021 (via NPR). Though the network wasn't expecting this turn of events, Bialik is a surprising bright spot in an otherwise dark situation (via Decider).
Mayim Bialik is on the rise
In Mayim Bialik's first week as the temporary host of "Jeopardy!," the "Big Bang Theory" star helped boost the competition series' ratings. According to The Wrap, "Jeopardy" saw a 6% increase in ratings from the last episode, which Mike Richards had hosted. Bialik is set to continue hosting the series until November 5, meaning she has many more weeks to keep increasing the show's viewership. In a recent interview with Newsweek, the 45-year-old revealed how she fell into this new position. 
"Of course I was in touch with Mike as he was my boss at that time, and I don't wish ill on him, or anyone," she said. "But the complexity of these situations is not something that can be summed up easily. My first response when all of this went down, was to say to the 'Jeopardy!' team: 'How can I help?' Because I am part of this family." 
While Bialik is only a temporary "Jeopardy!" host, she would love to make the position permanent. "There is no other job I'd rather have than this job on 'Jeopardy!'" she shared with Newsweek. "I joke that I would give up my first child to host permanently! I think my son and I have a close enough bond that he will come back to me!" If Bialik continues to bring in the viewers, her wish may just come true.