Britney Spears' Sons Are All Grown Up And Look Just Like Their Mom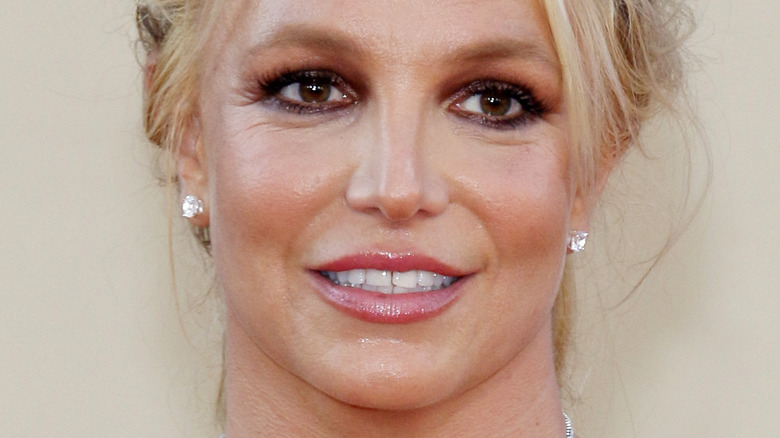 Tinseltown/Shutterstock
Britney Spears has been making headlines due to her conservatorship battle, but celebratory news came on September 29, when her father, Jamie Spears, was removed as her conservator, per Entertainment Weekly.
This conservatorship started in 2008, and it was due to an incident involving her sons and her ex-husband, Kevin Federline. Spears and Federline met in 2004, they were engaged after just three months, and they got married two months after that. In 2005, they had their first son, Sean, followed by Jayden in 2006, the same year Spears filed for divorce, per TMZ.
In 2008, the pop star did not want to send the kids to Federline, when it was his turn to have them. Therefore, police were called in, there was an involuntary psychiatric hold, and then, the conservatorship came, as stated by the Daily Mail. This legal guardianship is for those who cannot make their own decisions, and it put her father in charge of her estate and health (via Insider).
A photo of the teenagers was shared by one of Kevin Federline's pals
Jamie Spears has been suspended from his conservatorship role. Days after the news broke, Britney Spears posted a photo on Instagram, with a caption that read, "I suggest if you have a friend that's been in a house that feels really small for four months ... no car ... no phone ... no door for privacy and they have to work around 10 hours a day 7 days a week and give tons of blood weekly with never a day off ... I strongly suggest you go pick up your friend and get them the hell outta there !!!!! If you're like my family who says things like 'sorry, you're in a conservatorship' ... probably thinking you're different so they can f*** with you !!!! Thankfully I found an amazing attorney Mathew Rosengart who has helped change my life !!!"
On October 6, one of Kevin Federline's friends also posted something notable to Instagram: a photo of 16-year-old Sean and 15-year-old Jayden. The friend, Eddie Morales, wrote, "During times of grief knowing u have #family really feels worth living .. talk bout seeing my nephews when they were pods smaller then my hands now look at #life how beautiful gods work is" (via the Daily Mail).
Conservatorship aside, the teens look just like their pop star mom. And it's clear from Morales' caption they have plenty of people looking out for them.