How Many Times A Day Does Adele Work Out?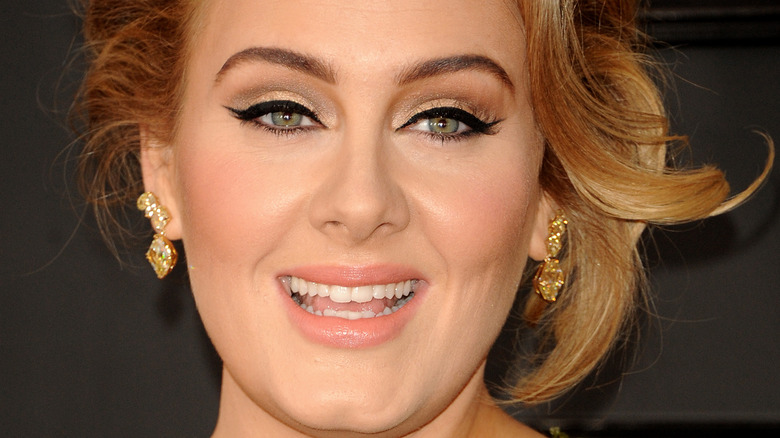 Tinseltown/Shutterstock
At the top of 2020, Grammy award-winning recording artist Adele revealed to a fan that she had lost about 100 pounds (via Page Six). The singer later shared a photo on Instagram for her 32nd birthday that showcased the dramatic weight loss. Since revealing her slim figure, Adele's millions of fans have begun wondering just how the singer shed so many pounds. In September 2021, The Sun reported that the "Someone Like You" singer used the Sirtfood Diet to lose the weight. This diet involves eating mostly plant-based foods.
The creator of the diet Aidan Goggins explained, "It's a real food lover's diet as the encouragement is to pack as many of these foods into your meals as possible, creating hugely flavoursome meals as well as allowing treats such as red wine and dark chocolate." In addition to switching up her eating habits, Adele used exercise to achieve her fitness goals. In an interview with Vogue, the United Kingdom native revealed how many times a day she has a sweat session.
Adele is 'addicted' to working out
In her Vogue cover story, Adele revealed that she began working out as a means to combat her anxiety. She explained, "I realized that when I was working out, I didn't have any anxiety. It was never about losing weight. I thought, If I can make my body physically strong, and I can feel that and see that, then maybe one day I can make my emotions and my mind physically strong." When the singer discovered the transformative impact of exercise on her life, she became "addicted" to the practice, according to another interview in British Vogue. The singer revealed that when she's extra anxious she works out two or three times a day. She shared, "I do my weights in the morning, then I normally hike or I box in the afternoon, and then I go and do my cardio at night."
While the world is fascinated by Adele's major weight transformation, the "Rolling in the Deep" singer doesn't enjoy having her body discussed in the media. She explained, "My body's been objectified my entire career. It's not just now. I understand why it's a shock. I understand why some women especially were hurt. Visually I represented a lot of women. But I'm still the same person." The singer closed, "The worst part of the whole thing was that the most brutal conversations were being had by other women about my body. I was very f****** disappointed with that. That hurt my feelings."