The Two Mascaras Kardashian Makeup Artist Mario Dedivanovic Swears By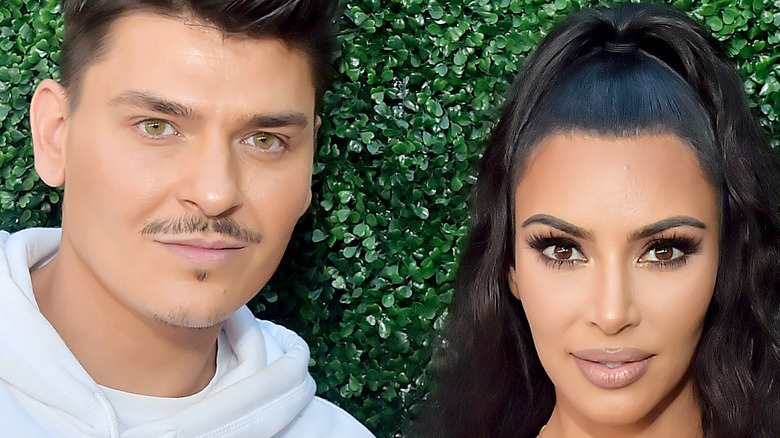 Stefanie Keenan/Getty Images
In the world of influencers and sponsored posts, it's sometimes hard to tell which products that celebrities rave about are the real deal. But when a celebrity makeup artist starts sharing their favorites, it's time to listen up. Makeup artists are privy to the world of makeup, and actually know the best of the best. According to The Zoe Report, Kim Kardashian's makeup artist swears by two cult classic mascaras that you've likely seen before. It turns out celebrity-level lashes don't have to break the bank. 
Whether you're looking to hit the drugstore or run to Sephora, Mario Dedivanovic – AKA the SKIMS founder's long-time makeup artist — has some recommendations for you. Both have been floating around Instagram for years now and might have even made an appearance in your makeup bag. 
Here's everything you need to know about Dedivanovic's favorite mascaras, so you can get A-lister lashes right at home — no falsies needed.
Mario Dedivanovic recommends Benefit's They're Real! Lengthening Mascara
If you're looking for a high-end lash lengthener, Mario Dedivanovic is a fan of Benefit's They're Real! Lengthening Mascara, according to The Zoe Report. It would be an understatement to say that this mascara is a cult classic, as Dedivanovic is far from the only person who loves this product. Since its arrival on the market a decade ago, customers have raved about this product (via The Guardian).
The Sephora website shows that the product has over 300,000 likes and over 15,000 customer reviews, most of which are raving. Customers are so in love with this product that the brand actually launched a waterproof version and a magnetic version, which, according to Allure, is the "best mascara" out there.
Ready for the best part? The mascara is just $26 for a full-sized tube or $13 for a mini (via Sephora). Although, with such rave reviews by professionals and at-home makeup enthusiasts, you might just want to spring for the full size. You can snag a bottle for yourself on the Sephora website right now to get Kardashian-approved lashes.
Dedivanovic's other favorite is from the drugstore
If $26 is still a little steep for you, no worries — Mario Dedivanovic's other favorite mascara is from the drugstore. According to The Zoe Report, he also keeps L'Oreal Paris' Voluminous Mascara in his makeup bag.
Just like his high-end favorite, this mascara is an absolute cult classic. It has over 40,000 five-star reviews and is less than $10 (via People). Yes, you read that correctly: The mascara is just $6.89. Oh, and in case you thought this was too good to be true, it's also one of Blake Lively's favorites as well, per InStyle.
The best thing about this mascara, besides the affordable price, is just how many color options there are. The product is available in a variety of conventional and unconventional shades, but People writes that "while all of the hues have received praise, shoppers rave the most about the burgundy color, calling it 'gorgeous' and 'very flattering.'" If that's not already enough, there are also waterproof versions of all the classic colors as well, per People. It's a makeup lover's dream come true.
It turns out getting celebrity-style lashes is as easy as a trip to the drugstore.