Is This How Kim Kardashian Really Feels About Hosting SNL?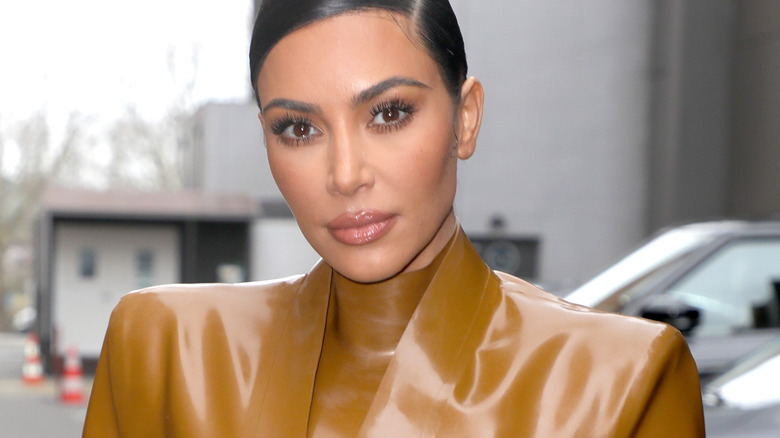 Pierre Suu/Getty Images
Kim Kardashian is a lot of things: beautiful, successful, fashionable. But funny? The mom of four is not exactly known for her comedic chops, which is why the announcement that she will host "Saturday Night Live" this weekend may have shocked many of her fans.
Of course, Kardashian is not the first reality star to host the long-running NBC sketch show, with Ranker noting RuPaul previously filled the role. But overall, actors, musicians and athletes host, with the exception perhaps of the controversial choice for Elon Musk to host "SNL."
People may be wondering how the SKIMS founder feels about her upcoming gig, and perhaps a new promo spot for the show will lend some insight into her frame of mind headed into the big taping (via Deadline).
Standing with musical guest Halsey and veteran cast member Cecily Strong, Kardashian actually makes light of the duties she will need to fulfill as host of the iconic show.
Kim Kardashian plays it cool about hosting "SNL"
In the new trailer advertising that Kardashian is set to host "SNL" on Saturday, October 9, Strong asks if she is nervous. "I don't have to write sketches, do I?" the gloved star asks the comedian (via Deadline). Strong assures her she does not. Then, Halsey confirms Kardashian will have cue cards at her disposal, and will not need to memorize lines either.
"Everyone else won't look as good as me, will they?" Kardashian deadpans. Once Strong agrees the former "Keeping Up With the Kardashians" star will be the best looking, the 40-year-old says, "It's so easy."
Meanwhile, a source told People this week about how Kardashian was feeling about her hosting role, "She's both nervous and thrilled. It's a huge deal for her. She takes the hosting gig very seriously." The source added, "She feels a lot of pressure. She wants to wow the audience."