How Meghan Markle Just Confirmed She's A True Fashion Trendsetter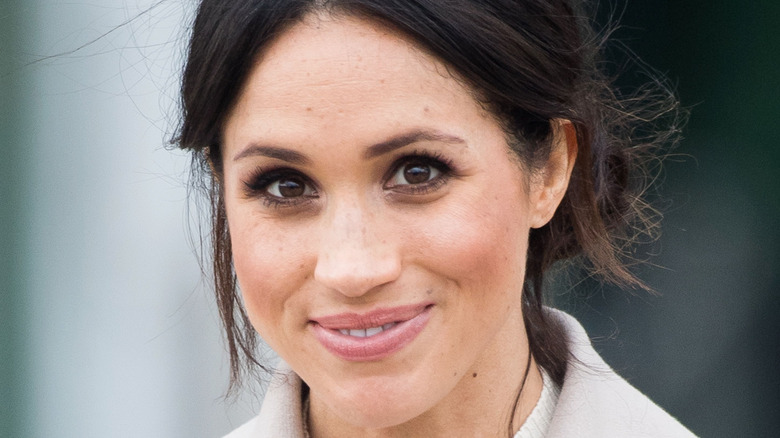 Naresh777/Shutterstock
Over the years, Meghan Markle has worn so many stylish and memorable outfits. There was the green Emilia Wickstead cape dress at Westminster Abbey in March 2020 (via Elle), the button-down shirt with blue and white stripes at Wimbledon in July 2018 (via Elle), and of course, there was her wedding dress. And there are always so many fabulous coats and hats.
Now, she has given us another fashionable moment, one that gives a sweet nod to her late mother-in-law, Princess Diana.
While at the Global Citizen Concert in New York, Meghan was seen in a white dress from Valentino and was carrying a Lady D-Lite Bag from Dior. This purse is a sister to the Lady Dior Bag, which was named in honor of Prince William and Prince Harry's mother (via Independent). Diana was given one in 1995, by Bernadette Chirac, the first lady of France. And since she was seen with it so often, the purse, which was unnamed, became the Lady Dior in 1996 (via Marie Claire).
Just hours after Dior pointed out Meghan Markle's bag, it was sold out online
The Lady D-Lite Bag is embroidered, with a Dior charm and a removable strap. Meghan Markle's version has a personalized detail: a "DSSOS" monogram, which more than likely stands for Duchess of Sussex, as seen on Twitter (via independent.co.uk).
Thursday morning, Dior tweeted about Markle carrying the purse that is a sister to the Lady Dior. And within hours, royal expert Omid Scobie confirmed that the medium Lady D-Lite, which goes for $4,900, was sold out in black, gray, and beige (via Twitter)!
Yes, Dior is a popular and reputable luxury brand, with many sought-after products like the Book Tote (via Yahoo!) and J'adore Eau de Parfum (via influenster.com). However, this one example speaks volumes about Markle: By simply seeing her with this bag, at this one time, so many people rushed to grab their own that it was gone in a flash. Now that is a trendsetter for you.