The Story Behind Tyra Banks' Viral Angel Wings Dress On DWTS
Tyra Banks' history as one of the first Black supermodels is well documented. The 47-year-old host entered the industry at the age of 15 and went on to become the first Black woman to cover GQ and the iconic Sports Illustrated swimsuit edition (via USA Today). And that's just the tip of the iceberg when it comes to her awe-inspiring career. The year 1995 marked the start of a 10-year relationship between Banks and famed lingerie brand Victoria's Secret. She was their first Black contract model and the first Black model to cover their catalogue (via Instagram).
Of course, her time on top of the heap featured countless other achievements, including the inception of her beloved television franchise, "America's Next Top Model." The queen of smizing may have retired from the runway in recent years, but she still shows out with cutting-edge fashion at other gigs. For instance, the "Dancing With the Stars" host frequently makes headlines for the remarkable outfits she showcases on the show. Recently, she channeled Britney Spears' "...Baby One More Time" school girl look for Britney Week. It was a lewk (via Page Six).
Likely her most attention-grabbing fashion moment so far this season is the winged, burgundy high-low dress she wore onstage in late September (via Instagram). It turns out the look drew inspiration from her time with Victoria's Secret. Read on to learn more about what Banks had to say about her... "wangs."
Tyra Banks surprised everyone with the viral angel wing dress
Anyone with a flair for dramatics knows that sometimes a surprise is the best way to make a statement. That's exactly what Tyra Banks pulled off with the mega-viral wing dress, which was designed by House of JMC (via Insider). In an interview with E! News, the supermodel explained that the dress has two parts. "There's a base of that dress. It looks like a normal, beautiful dress from the '90s," she explained.
Obviously, we all know now that there was more to final image. "Then I go on the stage in front of the audience and everybody, and I put on the wing thing. And everybody was like, 'Oh!' because they thought the first thing was the normal dress." While opening up about the look, she also implied that it was inspired by her time as a Victoria's Secret model. "I call it Victoria's Secret wangs. It's not wings. It's got an 'A,'" she teased.
That wasn't the only thing her dress was compared to on the internet. Many fans thought she looked like a dinosaur; even the Jurassic World Twitter account agreed. And Banks owned that comparison, too. During an appearance on "The Late Late Show With James Corden," she referred to herself as a "Tyra-nnosaurous rex" (via YouTube). Love it!
Tyra Banks thinks 'different' is better when it comes to making fashion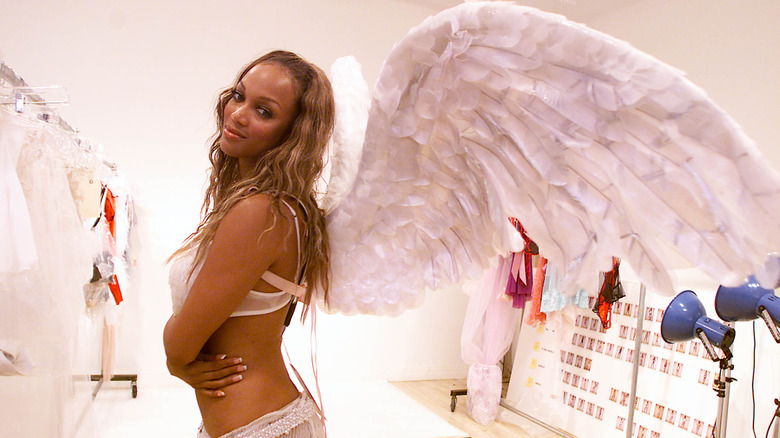 Evan Agostini/Getty Images
Here's a word of fashion advice from a supermodel — nobody should settle on just a pretty dress. "Different is what?" she asked James Corden after embracing being compared to a lizard (via YouTube). In Banks' opinion, the answer is clearly better. "I don't have time to be like pretty and in a normal dress," she said. "Because nobody is going to say anything about a pretty dress. You know? You've gotta go for it."
Banks did promise to deliver eye-popping fashion on "Dancing With the Stars." Last year, she told Parade that her hopes were to really bring it on theme nights. "I'm thinking Met Ball times 10," she mused. Clearly, she's delivered.
While the supermodel helped contestants make a statement with their looks via (at times questionable) makeovers on "America's Next Top Model," Banks also told Parade that she is having a ball getting dressed for "Dancing With the Stars." Potentially it's her favorite experience ever getting dressed for television. "I don't think I've ever had this much fun with fashion in television in my entire career," she said. 
Clearly it pays off to break the mold. That's also a fact she reflected on in a way after Victoria's Secret announced a change in their marketing strategy this year. "First is hard. First is lonely. But first is necessary. First is crucial so that a door can be opened for others to fit through," Banks wrote of her boundary-breaking career (via Instagram).