How To Find Out If You Fit A Birkenstock Narrow Or Regular Size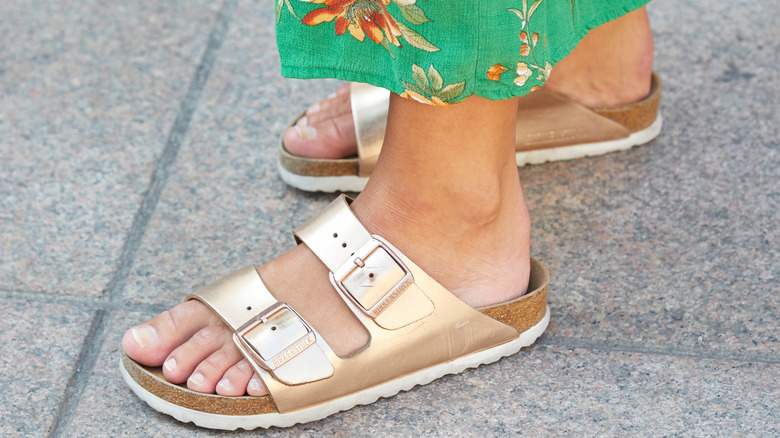 andersphoto/Shutterstock
If 2021 trends have proven anything, it's that the 1990s fashion revival is now in full swing. Trends have started to look more and more similar to those nostalgic 1990s looks we either loved or had hoped to see the last of. It's often conflicting, and no trend has garnered more confusion and split preferences as the Birkenstock. Often referred to as the "ugly" shoe or the Jesus sandal, the Birkenstock is a staple in many wardrobes, but is it just the right amount of ugly to make it cute (via Woman & Home)? Crazier things have happened.
Birkenstocks have been getting increasingly popular. The comfort and durability have always been major selling points of the sandals; however, it's only recently that the cozy sandals have become a fashion statement. Whether you choose to pair them with socks for colder weather or feel the sunshine on your feet, more and more people are switching out their collection of exposed footwear for this famous brand. And if the fact that a Vogue editor chose to mention that she wears them doesn't tell you all you need to know about their prominence in the fashion world, we don't know what will (via Vogue). So if you're ready to join the Birkenstock movement, here's how to figure out which size to go for. 
How to find your perfect Birkenstock match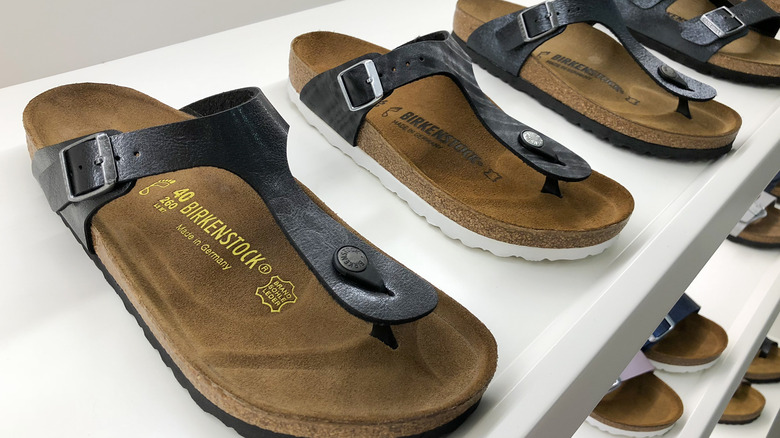 Kevin Khoo/Shutterstock
While there's no shortage of different patterns and styles of Birkenstocks to choose from, it's important to figure out your perfect size first so that you can get the optimal comfort out of your shoes. Birkenstock is actually one of few brands that offer two varying fits for their sandals: narrow and regular. This will allow you to truly find your goldilocks of shoes.
According to the Birkenstock website, the narrow width is "designed to accommodate an A-B width for women," allowing for a more snug feel if you have slimmer feet, whereas the regular width is more commonly opted for by men or people with wider feet. So how do you figure out the right one for you? Well, the best way would be to get fitted at a Birkenstock store. If you don't have one near you, then Fashion & Mash has figured out a hack. Simply unfasten all of the straps on a Birkenstock sandal and step into it to see how your foot rests in the footbed. 
Just like that, you're ready to delve into the ever-growing trendy world of Birkenstocks. All you have to do now is narrow down your preferred style, with tons to choose from including the latest drop, as of publication, reimagining fan favorites (via Hypebeast).