Do Meghan And Harry Have Nannies To Help Take Care Of Their Children?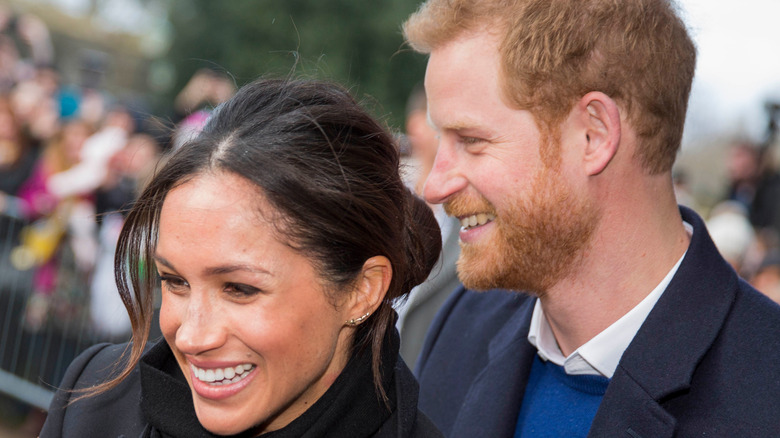 ComposedPix/Shutterstock
Ever since their nail biting tell-all with Oprah Winfrey, Prince Harry and Meghan Markle have been adjusting to life post-royal family duties. The highly anticipated interview — which took place in March 2021 — gave the Duke and Duchess of Sussex a space to discuss their struggles within the royal family, instances of racial micro-aggressions they experienced, their own deteriorating mental health, and more (via CBS News).
But that's not all they're adjusting to. Indeed, the couple are learning to navigate life with not one baby, but two. Their first born, Archie, was born on May 6, 2019 (via People), and their newest addition to the family is daughter Lilibet, born June 4, 2021. According to sources, Lilibet was named after Queen Elizabeth, as Elizabeth's grandfather, King George V, said she struggled to pronounce her name and instead pronounced it as "Lilibet," which became her nickname over time (via NPR).
Reports say that these two adjustments in Harry and Meghan's life together — their explosive confessions as well as their new lives as parents — have had a large impact on their social lives.
Will Prince Harry and Meghan attend Prince William's event in October?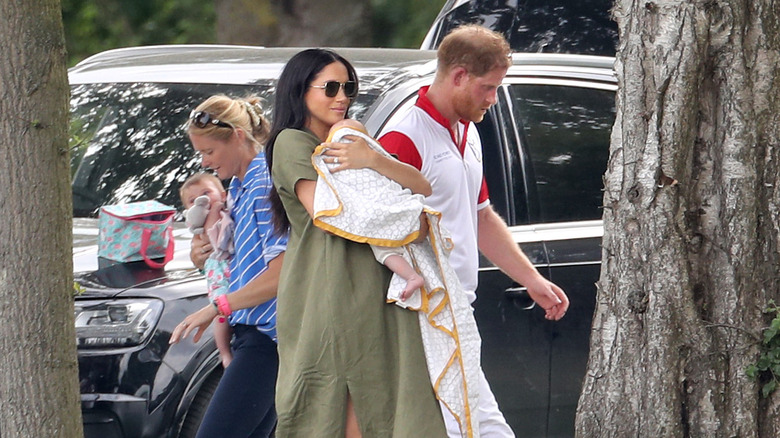 Chris Jackson/Getty Images
According to the Daily Mail, Prince William will be hosting an event later in October 2021 to celebrate his late mother, Princess Diana, by unveiling a statue in her honor. But while as many as 100 guests are slated to attend, many are questioning whether or not Prince Harry and Meghan Markle will be present for it. Indeed, one of the biggest reveals that came from their tell-all with Oprah Winfrey was that, in light of their announcement to drop their royal duties, they would no longer have the protection that all members of the royal family are granted. 
"So suddenly it dawned on me, 'Hang on, the borders could be closed," Harry said in an interview, "We're going to have our security removed, who knows how long lockdown is going to be, the world knows where we are, it's not safe, it's not secure, we probably need to get out of here," he said. As a result, they decided to move to Los Angeles and even had to stay at Tyler Perry's penthouse for a time (via CBS News). As of 2020, however, they have moved into their own home in Santa Barbara County — and a nice one, at that, with Page Six reporting their new house is a $14,650,000 estate in Montecito, California with nine bedrooms and 16 bathrooms.
Nannies have come in handy since the birth of Lilibet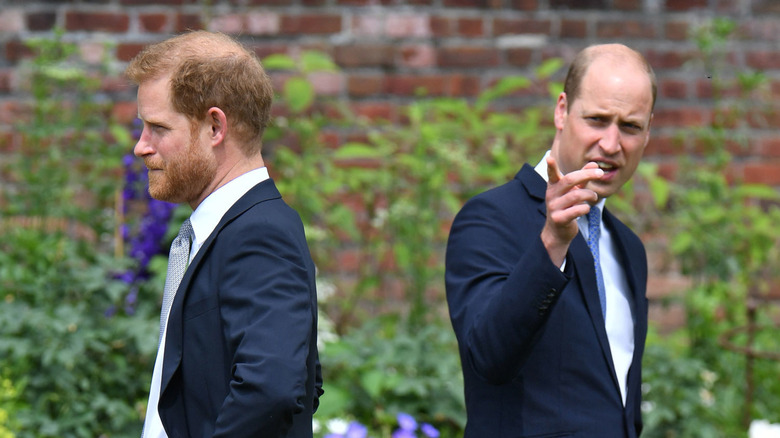 Wpa Pool/Getty Images
The distance between the Sussexes and their English family members doesn't stop at physical distance — sources also say that relationships are quite strained between them, which might be why Prince Harry and Meghan Markle recently shared that they won't be attending Prince William's party in October 2021. 
"Finding Freedom" author Omid Scobie, who wrote all about alleged insider information regarding Harry and Meghan's new life, claims that Harry and William are struggling with their relationship. "The relationship between Harry and William is still very much one of distance [...] they are not talking that much," Scobie explained. "[There are] still feelings of anger [about] the way the couple carried out their departure from their royal lives," he added.
But Harry shouldn't take their lack of attendance personally — the Sussexes aren't really making any public appearances these days. Indeed, sources claim that they are working to adjust to their new lives of being parents to two children, which certainly comes with a gamut of challenges. "The Sussexes do have nannies to call on when their schedules get crazed, but they're still extremely hands-on and try to keep the hired help to a minimum for the most part," an insider told Us Weekly. "It's been easier for them with Lili in many ways, even though it's twice the work, technically, because they've been able to use a lot of the techniques they learned with Archie and take care of things like feeding or bathing without too much fuss."