Christine Chiu Speaks Out On Her Rivalry With Anna Shay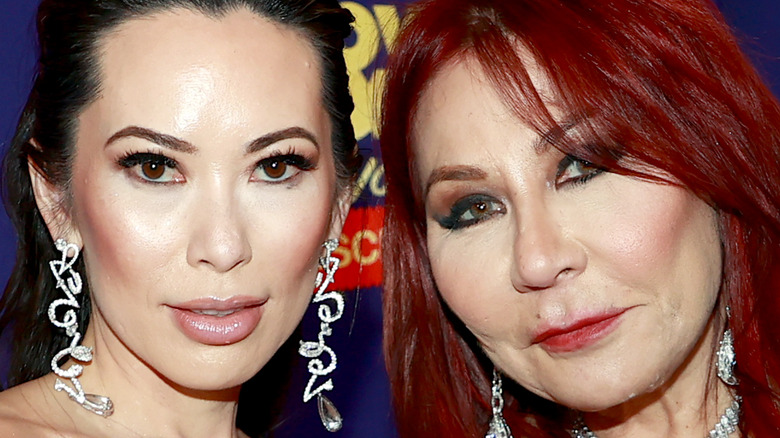 Matt Winkelmeyer/2021 Mtv Movie And Tv Awards/Getty Images
From lavish dinner parties to private jets and bodyguards, Netflix's "Bling Empire" gives reality TV aficionados everything we love to hate about reality shows. Season one of the series introduced us to some of the wealthiest Asian Americans living in Los Angeles.
Fans were instantly invested in the lives of DJ Kim Lee, Kane Lim, whose wealth comes from his family's ownership of shopping malls, and entrepreneur Kelly Mi Li, whose rocky relationships with Andrew Gray, the actor who played the Red Power Ranger, and Kevin Taejin Kreider, a model who wishes Li would date him, were the center of much of the first season's drama (via Vogue). Then there is the catty relationship between Christine Chiu, a socialite married to the plastic surgeon, Dr. Gabriel Chiu, and Anna Shay, per Harper's Bazaar.
Considering that both Chiu and Shay are considered queens — Chiu as the "Couture Queen" and Shay as the "Queen of Beverly Hills" — as described by Lim in the first episode, it's not a huge surprise that there's some tension between these two, per Marie Claire.
But how real is the competitiveness between the ladies? Christine Chiu speaks out on her rivalry with Anna Shay.
Christine Chiu and Anna Shay have had dinner
Right from the first episode, Christine Chiu and Anna Shay gave off classic reality TV frenemy vibes. Shay complained about Chiu's tendency to name drop, while Chiu commented on Shay's fashion choices (via Reality Blurb). Both ladies shared how they always stay in the presidential suite at the Plaza Hotel, and each made some nasty comments about one another during their individual testimonials, and in front of the group. Ahem, penis pump (via E! Online).
The friendly competition between the two took a turn when Chiu wore a larger Louis Vuitton necklace to Shay's dinner party, according to Vogue. The heiress and socialite swiftly moved Chiu to the far end of the dinner table, which is akin to being seated at the kid's table during Thanksgiving dinner.
Despite the underhanded comments and constant name-dropping that went on between the two fashionistas, their relationship may be on the mend according to Chiu. In an interview with People, Chiu said, "She's a great person, she has a great heart. I do respect her on so many levels. We're all good."
The mom to Baby G who opened up about her fertility struggles on the show told the outlet, "It's been two years since filming and I like to think that we're in a great place. We've had dinner."
Have Chiu and Shay repaired their friendship? We hope "Bling Empire" will announce a season two release date soon so we can find out where their relationship stands (via Deadline).