Inside Christian Siriano's Former Marriage To Brad Walsh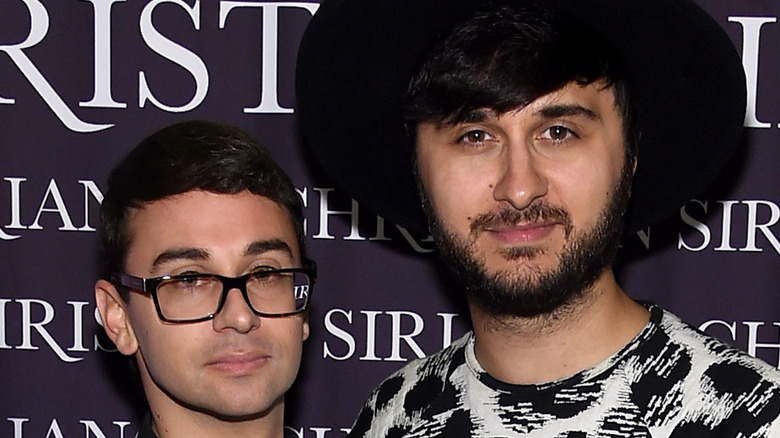 Jamie Mccarthy/Getty Images
Christian Siriano has dressed some of the biggest stars on the planet since making history by becoming the youngest "Project Runway" winner back in 2008 (via New York Post). His very star-studded Instagram account offers a hint at some of the acclaimed designer's most recognizable muses. A running list includes the likes of Ariana Grande, Billy Porter, and Beyonce. When he's not dressing the stars, he keeps busy with other gigs such as a return to "Project Runway," where he now mentors the competitors.
After spending more than a decade in the public eye, Siriano has been able to celebrate many high-profile wins in the press. However, the media has also tracked some personal struggles. Most notable of the latter is likely the dissolution of his relationship with musician and producer Brad Walsh. The pair got together before the peak of Siriano's fame in 2007 and were engaged in 2013. They then said "I do" in 2016. However, Walsh took to his Instagram story to break the news that the couple separated after less than two years of marriage in 2018 (via ET Online).
In his post, Walsh explained that he was getting a jump on a writer who found out about the story and wanted to break the news. A rep for Siriano confirmed the split and asked for privacy at the time. Things went quiet for a while, but earlier this year, Siriano officially filed for divorce (via TMZ).
Christian Siriano has moved on and is in a relationship with Kyle Smith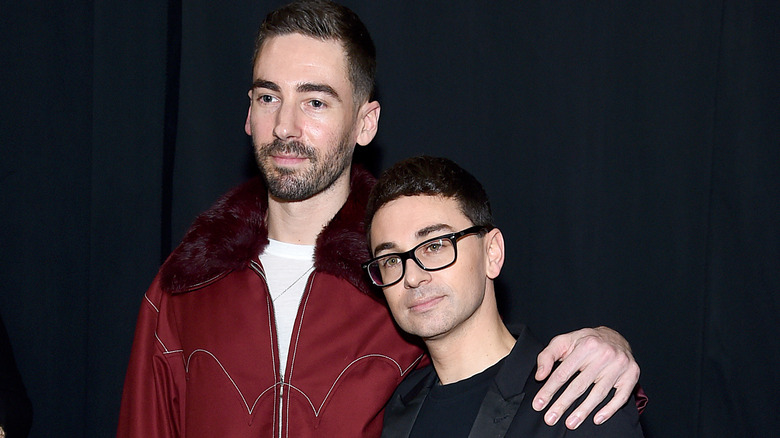 Jamie Mccarthy/Getty Images
Although TMZ broke the news that Christian Siriano filed for divorce from Brad Walsh back in April, it was not clear what inspired the decision to finally make the move. The publication noted that Siriano did so in New York, a state where divorce cases are sealed. Since neither Siriano or Walsh have spoken about the split recently, it is hard to tell what the next step will be and if a prenuptial agreement will come into play.
It is possible that Siriano filed for divorce because he's ready to take the next steps with a new man. The designer to the stars has been linked to Kyle Smith since late 2018. In a 2019 chat with US Weekly, he described his relationship as "fun love" and said that the couple enjoyed being lazy together. According to Heavy, Smith is a native of Cincinnati, Ohio. He also travels extensively with his partner.
Smith most recently made an appearance on Siriano's Instagram earlier this month. Since they're still going strong, it is possible that Siriano is moving to finalize his divorce so that he can take the next step with Smith? We'll have to wait and see on that front. Although it remains to be seen if another wedding is in the works, it goes without saying that Siriano's nuptials with Walsh were a fashionable affair.
Christian Siriano and Brad Walsh wore black to their wedding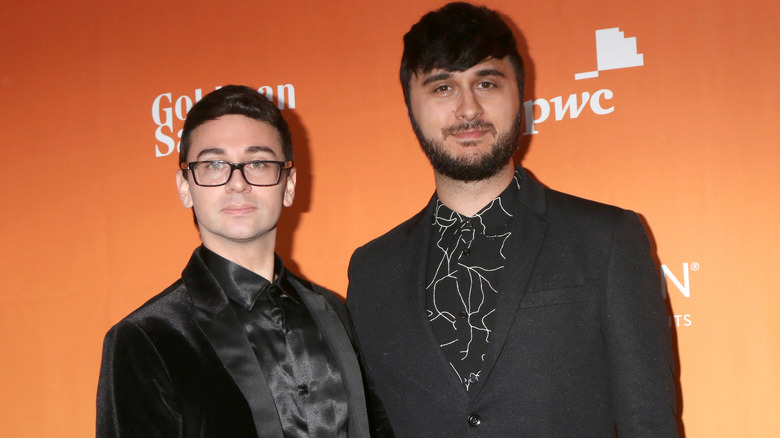 Kathy Hutchins/Shutterstock
It's a pretty common tradition that a bride wears white at her wedding. But what do you do when there's a wedding without a bride. The answer to that in Christian Siriano and Brad Walsh's case was to wear all black and then deck their attendants out in white. For their 2018 wedding, the then-happy couple told Brides that they wore custom suits by designer David Hart.
While Siriano didn't design his own wedding look, he did design a unique white gown for each of the couple's 12 attendants. "Since there was no bride, we wanted our best friends to wear white gowns, all from Christian Siriano, of course, as they stood by our sides during the ceremony," they told the publication. That helped lay the groundwork for an all-white wedding. The event took place in the backyard of their summer home in Danbury, Connecticut and featured a star-studded guest list including the likes of Kelly Osbourne, Christina Hendricks, and Alicia Silverstone.
It may not have resulted in a happily ever after, but at least the pair marked their union in style. And Siriano clearly hasn't lost his love of weddings. The designer launched a new bridal collection earlier this year (via WWD).