Why Tim McGraw's Behavior At A Recent Concert Has Twitter Fuming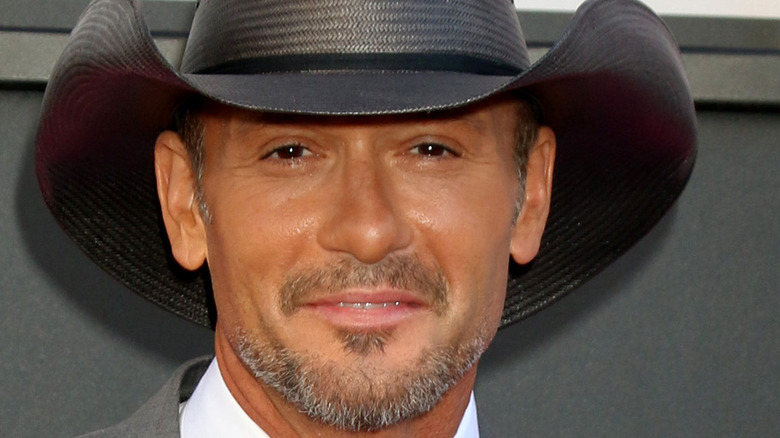 Kathy Hutchins/Shutterstock
Country music singer Tim McGraw likes to keep himself fairly busy at all times. Currently, in conjunction with touring the world on a tour to promote his 2020 album, "Here on Earth," McGraw is also in the middle of filming the prequel series to the popular television show "Yellowstone," called "1883," in which he will star as the lead alongside his wife, Faith Hill, Sam Elliot, and Billy Bob Thornton, per Country Living. The prequel series is set to premiere on Paramount+ on December 19, and McGraw has been posting the occasional update about the filming process on his social media profiles.
This strenuous filming schedule alongside a demanding tour schedule is likely to blame for McGraw's most recent fumble during a live performance at the Nugget Event Center in Reno, Nevada on Saturday. In the middle of a performance of his hit song, "Just to See You Smile," McGraw appeared to have forgotten the lyrics to the song, causing many audience members to yell in protest at his forgetfulness, per Fox News. What happened next has led many angry fans to protest the singer's actions on Twitter.
McGraw's mid-concert outburst has angered his fans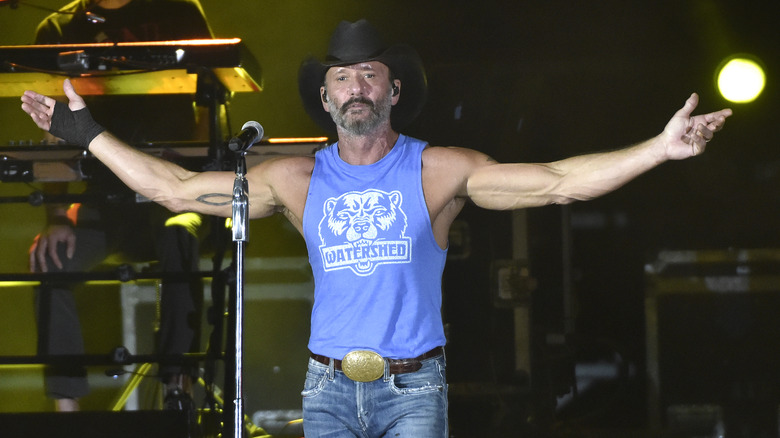 Tim Mosenfelder/Getty Images
After forgetting the lyrics to his song, "Just to See You Smile," during a performance in Reno, Nevada, on Saturday, Tim McGraw jumped into the audience to confront a couple who had been shouting insults at the country music singer. In fact, according to Fox News, McGraw actually halted his performance altogether to yell a few unintelligible words to the jeering couple. TMZ obtained a copy of the confrontation between McGraw and his angry fans. Throughout the confrontation, other fans could be heard begging the star to return to the stage. After confronting the couple, McGraw did finally return to the stage to explain his seemingly harsh reaction to the hecklers. "If I forget words tonight, just know I'm old." McGraw told the audience, according to Fox News. "And I'm shooting a movie and I'm working with my wife. There are a lot of variables in that situation. So, if I forget the words, sing along with me and help me out."
After the video was posted by TMZ, many fans took to Twitter to voice their anger about the situation. "Classy, maybe he should have rescheduled his show if he know he was to tired, going to sound like crap and probably forget some of the lyrics ... fans pay a lot of money for live shows these days and should expect nothing less than 100% from the artist..," one Twitter user replied to the original post from TMZ. Other Twitter users echoed that same complaint, while others showed sympathy for a star with simply too much on his plate.