How To Make Your Halloween Wig Look More Natural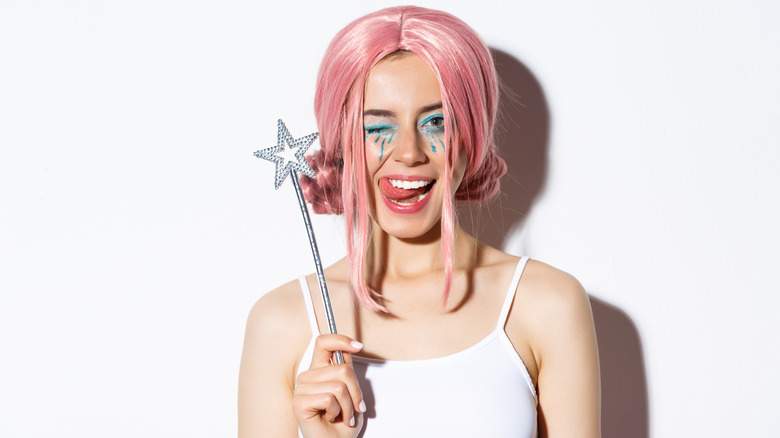 Mix and Match Studio/Shutterstock
If you've ever channeled your inner Moira Rose and popped on a wig, you know that not all wigs are created equal. And come Halloween, you know that there are some costumes that can really use a wig to make them work. Think Cruella de Vil, Harley Quinn, Cher, Dolly Parton, and, of course, Moira Rose. But how can you make your wig look more natural and comfortable to wear?
It starts with the quality of the wig itself. Getting a wig from a costume store — hello, Spirit Halloween! — is easy, but it's not going to be the best quality. If it's a more natural look you want and it's a wig you could see yourself wearing more than once, check out a beauty supply store that sells wigs (from Marie Claire).
And if you're really going to go all out with your wig, if you get natural hair, you can color it and have it cut and styled professionally, or, if you want, you can DIY the cut and color on your new wig. If you want to heat-style the wig, like adding curls with a curling iron or using a straightener, according to Head Covers, you'll need it to be natural or a specifically heat-friendly synthetic wig; putting heat to a synthetic wig will definitely damage it with no way to fix it.
Cut down unnatural shine of a synthetic wig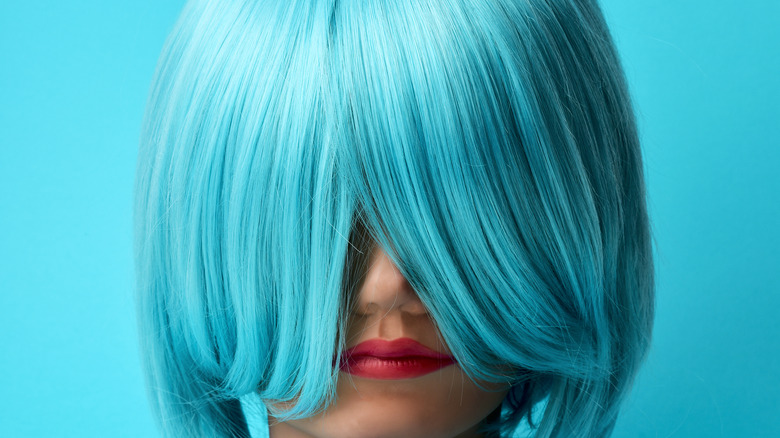 nito/Shutterstock
If you do want to add some curl and volume to a synthetic wig, celebrity hair extension professional Priscilla Valles told Refinery 29, "set it with Velcro rollers and pop it in the microwave for 30 seconds — no more! — to get the hair to set." Double and triple check that there's absolutely no metal on the wig before trying that out. And if it's too curly, you can use a steamer on low and a paddle brush to loosen up the curls.
Synthetic wigs, like most of the wigs at many Halloween stores, often have a very shiny, very unnatural looking finish. If that's the look you're going for, then that's fine. But if you want to tone down the shine, use a dry shampoo spray on a shiny synthetic wig (from Makeup.com). You can also try using baby powder, according to Bustle, and combing it in with your fingers to tone down shine.
Keep your hair flat under the wig to make it look better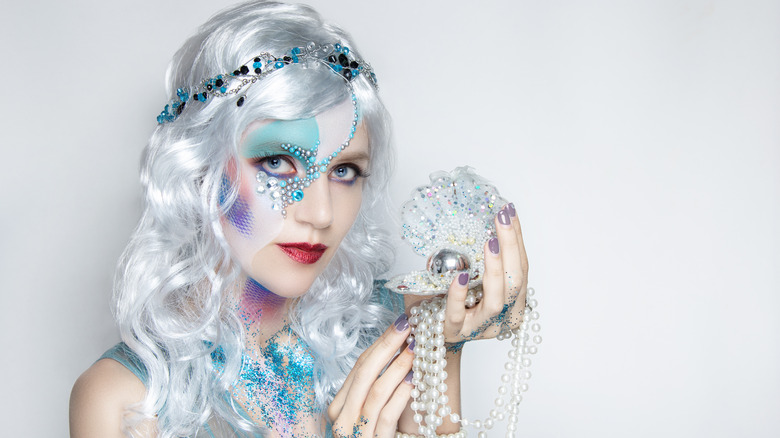 OlgaOsa/Shutterstock
Tweezing out random strands along the wig's part and around the hairline will also help a wig look more natural (from Marie Claire). Another way to alter the wig to make it look better is to give it a trim; the wig may have really blunt edges and that may not be the look you're going for, so you can snip into the hair to give it more natural texture (from Refinery 29). Keep in mind that it's easier to style the wig when it's off your head than when it is on.
Once you've got your wig styled the way you want, it's time to try it on. For the best look, make sure that your natural hair is as flat as possible against your head to give your wig a chance to look like it's real (from Essence). If you've got shorter hair, tuck it under a cap, and if you've got longer locks, braid your hair before putting it under a cap. If you don't have a wig cap, you can DIY one with a pair of nylon stockings or pantyhose (via Leaf.tv). This should also help the wig from feeling itchy.
With those tips and tricks, you should be ready to rock your wig for Halloween!