What Was Jimmy Fallon's Favorite Sketch Of All Time?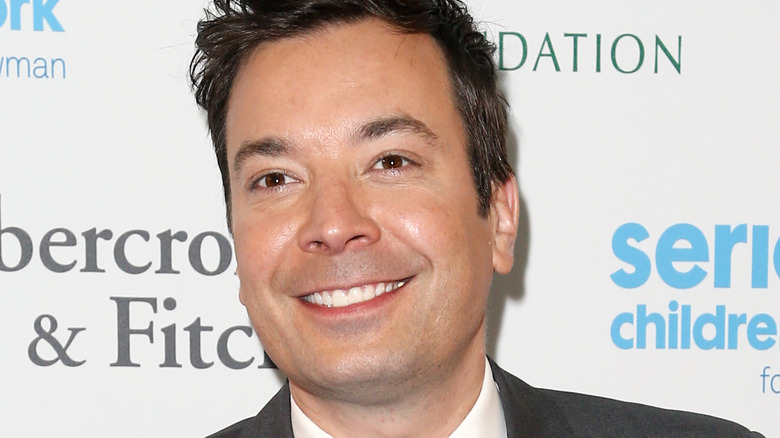 Debby Wong/Shutterstock
For Jimmy Fallon, landing a role on "Saturday Night Live" had been a dream of his since he was a kid (via Biography). He'd repeatedly recreate skits with his sister Gloria (via thenovelee), and he had so much of an obsession with the NBC sketch show that he couldn't watch it with anyone else in the room –- aside from his sister (via "Watch What Happens Live with Andy Cohen"/YouTube). It got to a point in college where he was asked to pick between going to a party or watching "SNL." Fallon opted for the later, until this friend offered to set him up in a room at a party.
Fallon was adamant that he'd be on the show by the time he was 27, and he managed to land the gig when he was only 23. Obviously, the comedian remembers everything about his first show on "SNL" down to Cameron Diaz hosting and musical guests "The Smashing Pumpkins." But he truly knew he made it when the show's announcer, Don Pardo, said his name in the opening credits. "It was honestly the best thing ever," Fallon said.
But what about his favorite sketch while on the show? He's worked with so many amazing comedians, actors, and musicians over the years –- but there's one British rock 'n' roll star with whom he'll never forget performing.
SNL creator Lorne Michaels wasn't impressed with Jimmy Fallon's favorite sketch
According to Eighties Kids, Fallon once said that his favorite "Saturday Night Live" sketch involved the one and only: Mick Jagger. As the comedian would later explain on "Late Night With Seth Meyers" (via YouTube), the skit was a last-minute thing that he put together in the event Jagger would be hosting the show.
"SNL" creator Lorne Michaels told the cast and writers that Jagger was up to do a sketch, but they'd have to pitch it to him. Fallon came up with the idea of doing his impression of Jagger in front of the musician as a mirrored image, which Michaels initially vetoed. That was until Fallon listed his ideas to Jagger, who wasn't up for any of them, aside from the mirror sketch. "And it's a very iconic sketch," Meyers said, pulling out a screenshot of the pair dressed in silk blouses and sitting in a dressing room.
It is a very iconic "SNL" moment (via "Saturday Night Live"/YouTube), which not only shows Jagger's ability to take a joke but Fallon's incomparable skills as an impressionist. No wonder it's Fallon's favorite sketch.