The Actual Lip Color Kate Winslet Wore As Rose In Titanic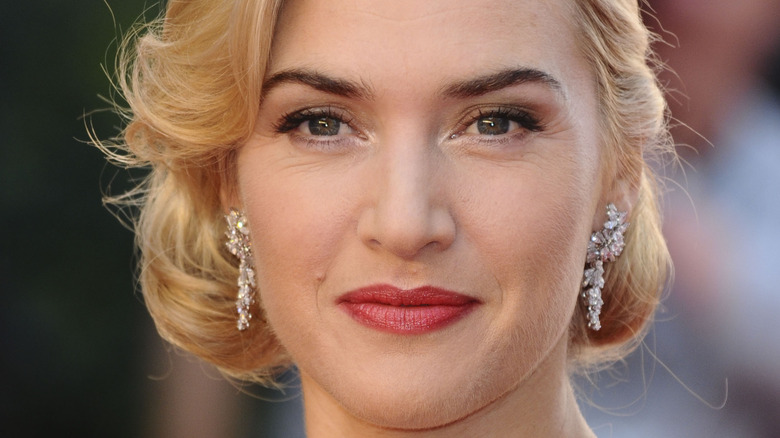 Featureflash Photo Agency/Shutterstock
There is nothing in this world more iconic than "Titanic." From Rose floating on the door to the soundtrack, everything about this movie is spot-on — including the lip colors. Brittany Cale on TikTok found the exact lip colors that Kate Winslet wears as Rose in "Titanic." While you might've missed the colors when you first watched the movie, you're not going to be able to unsee them now.
Every shade that Winslet wears in "Titanic" is a gorgeous neutral. That means that you can sneak these shades into any makeup look, whether you're heading to work or just running errands for the day. The best part is that most of these products can be bought right now, and the ones that can't have dupes that are all in stock. 
Winslet's heart will go on, and now yours can too because you're about to find out the exact lip colors she was wearing in the movie. Yes, plural. Get those makeup bags ready, because you're going to want all of these lip shades.
Rose's neutral-brown lipstick is so '90s
If you're looking for the perfect neutral-but-better lip combo, look no further than the dinner scene. This was the first time that Jack was invited to Rose's section of the boat, and she pulled out the most incredible lip color for the event. The shade is a rose-colored lipstick with brown undertones, and was created with two different products. According to TikTok, Rose wore The Body Shop's Lip Definer in Beech and Yves Saint Laurent's ROUGE VOLUPTÉ Silky Sensual Radiant Lipstick in Legendary Mocha.
Unfortunately, the exact lipstick is no longer made by the brand. Considering that it was originally $38, it's probably better that it's not (via Sephora). Don't worry though, because TikTok user Brittany Cale found dupes for you. She suggests snagging MAC Cosmetics' Satin Lipstick in Paramount to nail the Rose-inspired warm-toned brown, which is the exact shade used on Rachel from "Friends". 
Altogether, this lip combo would only set you back about $30. That's a small price to pay for such an iconic look. Not to mention that you could easily rock this neutral any day of the week.
Rose wears a second neutral lip color
If that lip combo isn't for you, don't worry because there's another stunning neutral to snag. This one is a bit more pink without the brown undertones. You know, less '90s and more subtle. According to TikTok, the unofficial shade used on Rose is MAC Cosmetics' Satin Lipstick in Twig. No lip liner needed to nail this look. Just open the tube and apply the shade to get lipstick as iconic as the sinking ship itself. You can find the permanent shade right now on the brand's website for $19.
It's a good thing that these makeup colors did not go down with the ship. Some people might tell you that you don't need any more neutral lipsticks in your makeup bag. Don't listen to those people. Rose's gorgeous neutral lip colors are perfect no matter the season, event, or day of the week. That's called versatility my friends, and there's nothing wrong with investing in that.