The Actual Lip Colors Jessica Lange Wore In American Horror Story: Freak Show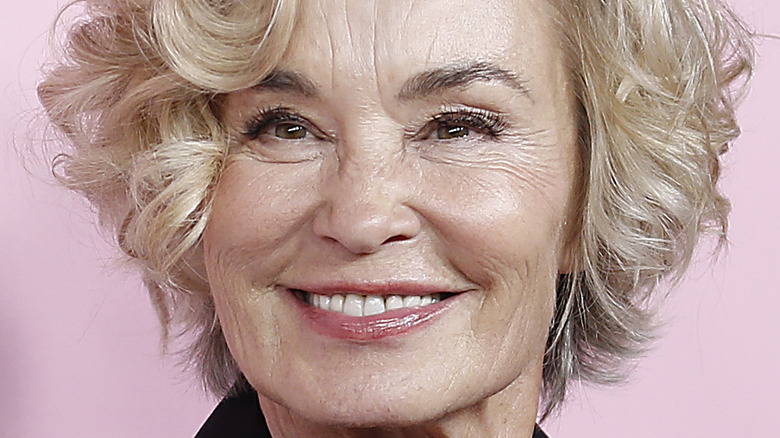 John Lamparski/Getty Images
Jessica Lange was a living legend before she was cast in "American Horror Story," but her relationship with series creator Ryan Murphy has proven so fruitful it's likely generations of fans only know her from that. Over the years, Lange has played many different characters in the "AHS" universe — but her favorite, by a long shot, was tortured performer Elsa in the circus-themed season, "Freak Show." 
As the esteemed actress told Deadline, "I just loved her. ... There was something magical for me in that season." Lange continued, "We were in New Orleans. The set that they built, that rundown carnival freak show with all the roundabouts and the actual actors, the people that came in to play those parts — for me, it was like a long poem. Getting to sing Bowie... It was like gifts just kept piling up and piling up." Part and parcel of playing Elsa, of course, was the look, which included some truly drool-worthy costumes. And just as important was Elsa's stunning, era-appropriate makeup, especially her lip colors. 
Jessica Lange's Elsa needed bold lip colors to match her personality
According to TikTok user and intrepid MUA Brittany Cale, the various makeup artists working on "AHS: Freak Show" utilized Bésame lipstick in shades "Cherry Red," aka "1935," and "Red Hot," aka "1959," for Jessica Lange's Elsa. You can purchase both shades for $28 each, directly from their website. One of Lange's most iconic looks on the show involved Elsa doing an emotional performance of David Bowie's classic "Life on Mars," for which Elsa donned a chic baby-blue suit. "AHS" makeup artist Eryn Krueger Mekash gave Cosmopolitan the deets on the accompanying beauty look, shouting out the "Cherry Red" lipstick again. However, the other products he cited — like her Makeup Forever Aqua Cream blue eyeshadow and MAC cream blush (in Flaming Fuchsia) — are currently unavailable. 
Clearly, "AHS" holds a special place in Lange's heart. In an interview with Rolling Stone, she gushed that the show, and working with Ryan Murphy in particular, mean "everything" to her. Lange explained, "[He] really provided me with the opportunity to just reimagine acting. With my career ... there was such an initial burst of energy and creativity. Then I got extremely distracted with my family and children and home and everything else. ... I was making bad choices and doing films I shouldn't have even bothered to do." Thankfully, Murphy came along and gifted the esteemed performer some of the most challenging characters of her career — not to mention, some of the coolest beauty looks to boot.