Is Norah O'Donnell Being Replaced As The Anchor Of CBS Evening News?
lev radin/Shutterstock
Norah O'Donnell has had an illustrious career in journalism. After spending time at NBC, she joined CBS as its chief White House correspondent, and was also a contributor to "60 Minutes." Throughout the years, she has interviewed notable names including former President Barack Obama, Speaker Nancy Pelosi, and Prince Harry. Her 2016 interview with President Joe Biden and his wife Dr. Jill Biden earned O'Donnell the Merriman Smith Memorial Award for excellence in presidential news coverage, and she has also won two Emmy Awards (via CBS).
She joined "CBS This Morning" in 2012, where she reportedly had a contentious relationship with cohost Gayle King. In fact, King allegedly made it a part of her contract negotiations in 2019 that O'Donnell would be moved off of the morning show. Coming off her much talked about interview with R. Kelly, King got her way, and O'Donnell landed the prime spot as anchor of "CBS Evening News." "The best is yet to come. I think that's for all of us at CBS News," she said during her last appearance on "CBS This Morning," per USA Today. She told her cohosts, "We've made news, we've been in the news, but we've also made friendships. This is the greatest team on television."
But her time behind the "CBS Evening News" desk hasn't gone quite as well as hoped, with the program continually coming in third behind ABC and NBC. So now there are reports that O'Donnell might once again find herself out of a job (via New York Post).
Sagging ratings could spell the end of Norah O'Donnell's anchor job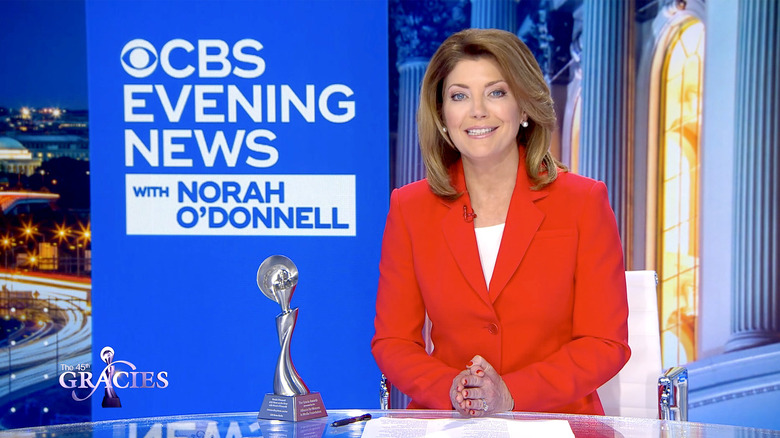 Getty Images/Getty Images
Since taking over the anchor desk of "CBS Evening News," Norah O'Donnell has struggled with attracting viewers. Her 2019 debt saw a drop in ratings by 17 percent to 5.1 million people (via Washington Examiner), while in Q2 of 2021 the show is averaging only 4.91 million viewers, down 18 percent from the prior quarter (via Adweek). Combine sagging ratings with O'Donnell's $8 million annual paycheck — and the millions that CBS spent to move the show to Washington, D.C. for O'Donnell and her family — and sources say that the network is looking to go in another direction.
Sources told the New York Post that the new CBS co-president Neeraj Khemlani wants to replace O'Donnell and move the program back to New York as part of his plan to cut costs while boosting ratings (and profits). Khemlani, however, denies the reports. "There are no plans to move the Evening News from Washington. Norah's presence in Washington has elevated the CBS Evening News' coverage on all fronts — politics, breaking news, to big interviews including Treasury Secretary Janet Yellen just last week. Her reporting on the military and domestic abuse has won awards and changed policies in Washington. And in addition to making headlines, the program is gaining audience share."