The Exact Lip Color Elizabeth Banks Wore As Effie Trinket In The Hunger Games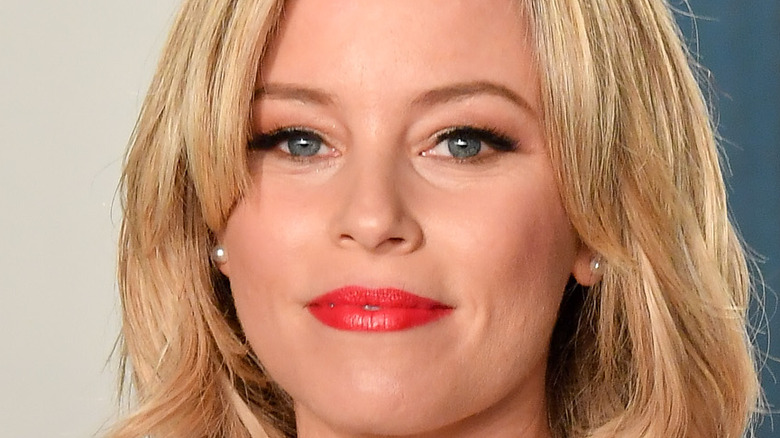 Allen Berezovsky/Getty Images
When it comes to rocking makeup looks, the odds are ever in Effie Trinket's favor. Played by Elizabeth Banks, this "The Hunger Games" character constantly shows off different makeup looks, and each one is better than the next. From the bright pink lipsticks to the neon green eyeshadows, anything and everything somehow looks effortless on the star. Just gazing at the character's makeup looks will inspire you to dig to the bottom of your makeup bag and pull out some fun shades. 
But if we're being honest, Banks' makeup looks in "The Hunger Games" are a little bold. Her character often wears monochromatic bright colors on her eyes and lips at the same time. So you might not be looking to copy the exact makeup look completely, but you definitely could pull off the lipstick. 
Recreating her lip color is a super simple way to amp up your look without completely changing your day-to-day routine too much. Thankfully, Brittany Cale on TikTok found one of the iconic shades that Banks wears in the movie so you can nail the exact same look.
Effie Trinket's iconic lipstick is sold out but easy to dupe
Believe it or not, the lipsticks that Elizabeth Banks wore as Effie Trinket are kept pretty under wraps. As loud as the lipsticks are, you'd think the makeup artist would want to yell them from the rooftops. 
After some investigating, though, Brittany Cale on TikTok found that Effie Trinket wears Obsessive Compulsive Cosmetics Lip Tar in Butch in some of the scenes. It's a gorgeous gray-blue shade that's a total standout. Unfortunately, this exact shade isn't made by the brand anymore.
However, that doesn't mean that you can't still create the look. Cale suggests the Fenty Beauty Mattemoiselle Plush Matte Lipstick in Ya Dig?, but that's not available either. Thankfully, the brand does have the shade Turks and Caicos in the same formula. At the time of publication, it's on sale for just $7. If you topped that stunning blue shade with OCC's Lip Tar in Rime, you might just have a perfect match. The top will give that shiny, wet look that Effie has. According to Temptalia, ColourPop Make Believe is another strikingly similar (and cheaper!) dupe, so you may want to give that a try as well. 
Katiss Everdeen had some stunning lip shades too
The first thing you think of when it comes to Katniss Everdeen likely isn't makeup, but Jennifer Lawrence did actually wear some stunning shades when she played the character. 
According to Allure, Lawrence didn't wear any makeup when she was actually in the games, but she did rock some makeup during the coronation scene. The publication found that she wore MAC Cosmetics Pro Longwear Lipstick in Overtime. Unfortunately, that lipstick is no longer sold, but the MAC Frost Lipstick in Angel in is almost an exact dupe, per Temptalia. Top it with a sheer gloss, and you'll have the coronation look down.
Everdeen also rocks a slightly bolder look during the interview scene. According to Allure, she wears MAC Cosmetics Supergloss in Sweet Tart. Unfortunately, like the rest, that shade has been discontinued as well. The publication suggests opting for MAC Cosmetics Dazzleglass in Extra Amp to get the glossy look instead. Who knew such an action-based movie could have such incredible lip colors?