The Unexpected Drugstore Foundation TikTok Users Are Losing Their Minds Over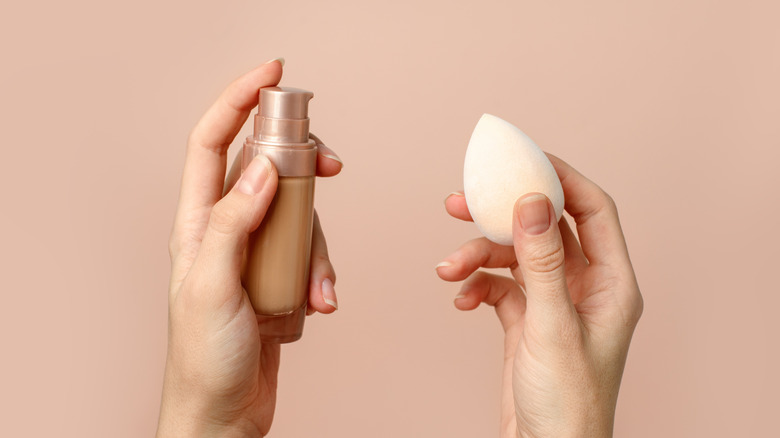 Katerina Morozova/Shutterstock
We may receive a commission on purchases made from links.
Let's just call it like it is: TikTok's beauty community doesn't mess around. When there's a product that works, TikTok users are quick to share the excitement with their followers. Sometimes that leads to epic makeup tutorials, and other times it leads to sold-out products. This time, it's the latter. 
According to TikTok, CoverGirl's Skin Milk Foundation went from worst to best foundation practically overnight. All it took was two viral videos for the beauty community to jump all over this product. 
When products go viral on TikTok, it's hard not to notice. But when CoverGirl's Skin Milk Foundation went viral, people were actually confused. According to Mikayla Nogueira on TikTok, this foundation was one of the worst out there before it shot up to being a top seller. "My jaw ... fell to the floor when she said that foundation," Nogueira says in the video. "This foundation has some of the worst ratings and reviews that I've ever seen." She even says that she initially steered clear of the foundation because of its reviews.
After trying it, though, Nogueira's opinion completely changes. Since then, Insider reports that "sales have skyrocketed," and it doesn't seem to be slowing down any time soon. Here's everything you need to know about the foundation, so you can try it for yourself. 
There's one application trick that takes the foundation from worst to best
The foundation that's getting the glowing (pun intended) reviews is CoverGirl's Skin Milk Foundation, and it's just $10 at Target. Yes, really. According to the product description, this foundation is cruelty-free, vegan, and deemed clean by CoverGirl's standards. TikTok reviews say that it's best for dry to combination skin and that it's got a sheer but buildable coverage. Basically, this is a unicorn foundation. It can truly do it all — that is, if you use it correctly.
According to TikTok users, you need to shake the foundation before you use it. If you don't, it can leave white dots on your face, which is why it had so many bad reviews. At the time of publication, it has over 1,600 three- and four-star reviews on the Ulta website, which goes to show how many people love this product. It's worth mentioning that there are a handful of bad reviews, but most of them come from people with oily skin. So if that's your skin type, you might still want to steer clear of this product. 
The only downside is that it only has 14 shades available. While that isn't exactly terrible, it pales in comparison to a brand like Fenty Beauty that offers over 50 shades (via WWD). 
CoverGirl's Skin Milk Foundation is selling like crazy
While this foundation is now available at tons of different locations, it wasn't always easy to find. According to Insider, after the viral TikTok videos, CoverGirl's Skin Milk Foundation sales skyrocketed 269%. The publication says that the hype around the product actually had it sold out at most locations. Thankfully, CoverGirl seems to have done a complete restock.
Among other places, you can buy the product at Ulta, Target, and on Amazon. According to Influenster, it's actually most affordable at Walmart, coming in at just over $9. That's a small price to pay for a foundation that's this popular. 
As the name suggests, CoverGirl's Skin Milk Foundation does have coconut milk in it. That means that you should avoid the product if you are allergic to the ingredient. There's also aloe, sunflower oil, and rosemary oil, which gives this product a slight smell, as some TikTok users have commented on. At the end of the day, though, this drugstore foundation went viral for being a winning product.