Police Reveal When They Think Brian Laundrie Actually Died
The world was collectively shocked after the manhunt for fugitive Brian Laundrie came to a close when his partial remains were found on October 20 near the Carlton Reserve in the Myakkahatchee Creek Environmental Park area (via NBC News). Items belonging to Laundrie, including a notebook and a backpack, were also found in the area near his remains. The search for Laundrie started shortly after Gabby Petito was reported missing by her family on September 11, more than ten days after Laundrie returned to North Port, Florida from their cross-country road trip in her van without her.
Laundrie and his parents, Chris and Roberta, vowed to remain "in the background" as the search for Petito began in the area she and Laundrie were last seen. Brian's parents told law enforcement that he had gone to the Carlton Reserve on either September 13 or September 14 — their lawyer, Steve Bertolino, changed the timeline of their story throughout the investigation (via Washington Times) — and Chris and Roberta reported their son missing on September 17. On September 19, Petito's remains were found in the Spread Creek Dispersed Camping Area in Bridger-Teton National Forest in Wyoming.
A month later, Brian's remains were found shortly after his parents volunteered to help authorities look for their fugitive son in an area that was reportedly underwater when officials first searched the location. While the partial remains were confirmed to be Laundrie's, the cause and/or manner of death have not been determined.
The North Port Police Department thinks this is when Brian Laundrie died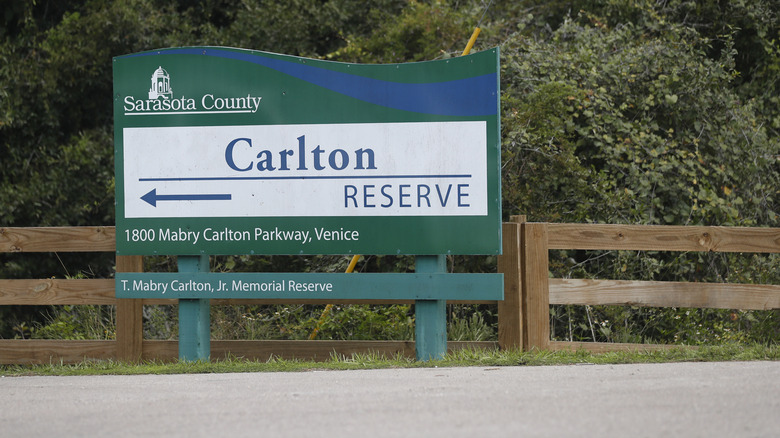 Octavio Jones/Getty Images
Josh Taylor, a public information officer from the North Port Police Department in Florida, issued a statement about the timeline of Brian Laundrie's death, revealing that they believe he likely died two days after Gabby Petito was reported missing on September 11. Investigators had previously said that they began watching the Laundrie family house after Petito was reported missing, and during a press conference on September 16, North Port Police Chief Todd Garrison insisted that they had eyes on Laundrie, stating, "All I'm going to say is we know where Brian Laundrie is at" (via WINK).
That statement proved to be false after law enforcement officials backtracked on their original statement, telling the public that they had mistaken Roberta, Brian's mom, for him when she pulled up in the driveway in her son's Mustang. Taylor said that the mistake stemmed from the observation that Brian and Roberta, who has been widely photographed in her signature attire of flowy tops and Bermuda shorts and is much shorter than her son, were "kind of built similarly."
"This misidentification did not have a big impact on costs and the investigation," Taylor said in a statement to People in October. "Other than confusion, it likely changed nothing. There is a very good possibility that Brian was already deceased. He still needed to be found. We just wanted people to better understand why we thought we knew Brian was in his home."