The Truth About Zach Braff And Harry Styles' Unlikely Friendship
Kim Raff/Getty Images
Celebrities often form unexpected friendships throughout the course of their careers. Some of these bonds seem strange upon first glance, but you have to remember that they meet under a variety of circumstances. Whether they bump into each other at an award show, meet on the set of a movie or backstage at a concert, or they happen to have mutual friends, celebrities come together in mysterious ways (via Insider). A prime example of these serendipitous meetings is how the unlikely friendship between Zach Braff and Harry Styles got started (via Distractify).
For us old-school directioners, the bond between Braff and Styles is something we know (probably) too much about. We remember when Braff tweeted a picture of the two of them sharing a romantic candlelit dinner back in 2013, and how this one picture set the internet ablaze as people tried to determine how the pair became friends (via Twitter). 
If you missed this social media frenzy back in the day, there's no need to panic. We've gone through the lengthy history shared between Braff and Styles to provide you all the juicy details, and we have an update on whether or not these two are still close pals.
Zach Braff and Harry Styles had a thoroughly modern meet cute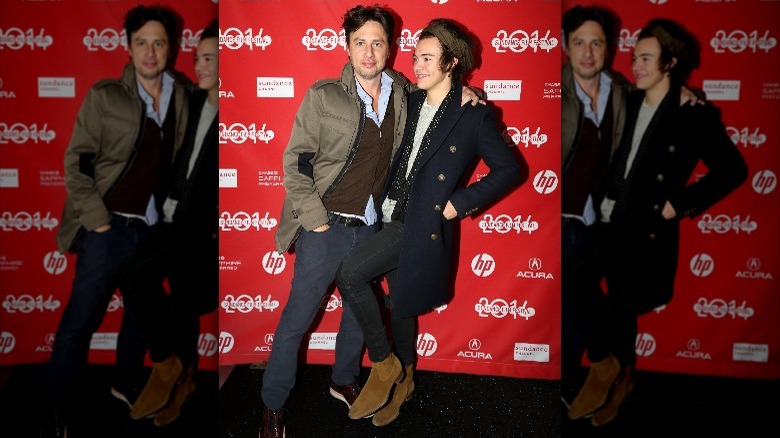 Kim Raff/Getty Images
Before Zach Braff made a legion of One Direction fans jealous by posting a picture of himself sharing a candlelit dinner with Harry Styles on Twitter, the two apparently met through the app after Styles followed the "Garden State" star (via Capital FM). Neither of the men have ever discussed who messaged who first, but it was this initial online meeting that prompted their unlikely friendship.
After their dinner date in 2012, Styles and Braff weren't photographed together again until 2014, when the "Golden" singer attended the Sundance premiere of Braff's film, "Wish I Was Here" (via People). Those who missed the pair's previous Twitter exchanges were left scratching their heads over Styles' appearance at the event, but the singer/actor was quick to clear the air. "We're good friends," Styles told People at the time.
Shortly thereafter, Braff made an appearance on Andy Cohen's "Watch What Happens Live" where he was asked about his friendship with Styles. Braff responded by saying, "He's a super nice guy and was cool enough to come to Sundance and see our movie, and then he tweeted out that he cried during the movie" (via Capital FM). Braff was grateful for Styles' remarks, as he said they prompted a whirlwind of press coverage for the film.
The duo seemed inseparable through 2014 but haven't been photographed together recently, which led people to wonder whether they're even still friends.
Harry Styles is starring in a movie with Zach Braff's girlfriend Florence Pugh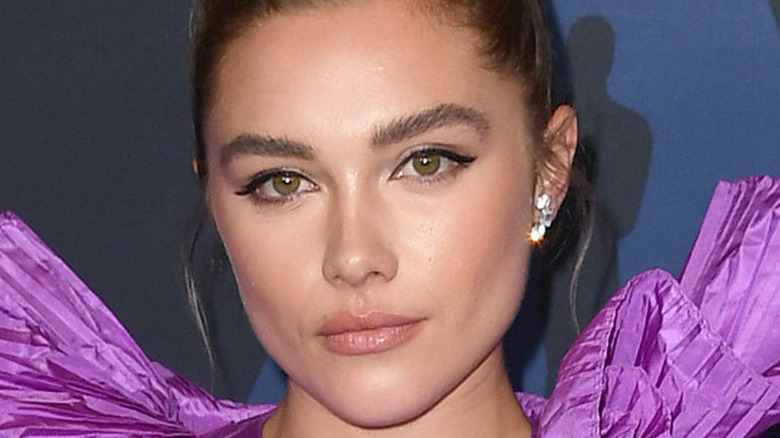 Kevin Winter/Getty Images
Despite the fact that Harry Styles and Zach Braff haven't publicly declared their love for one another as frequently as they did a few years ago, evidence suggests that their friendship is still going strong. When Styles faced backlash for his Vogue Magazine cover where he was photographed wearing a dress, Braff immediately came to his friend's defense. The "Scrubs" star took to Twitter again to declare, "Our whole lives boys and men are told we need to be manly. Life is short. Be whatever the f–k you want to be," (via NY Daily News).
It's probably a good thing that Styles and Braff are still close, as the "Watermelon Sugar" singer is starring in the movie "Don't Worry Darling" with Braff's girlfriend, actress Florence Pugh. Styles and Pugh play a married couple, and based on the teaser trailer for the film, some of their scenes get pretty steamy (via Vanity Fair). Perhaps when the movie is released in 2022, Braff will attend the premiere and we'll finally get some new photos of he and Styles together.