The Story Behind Princess Diana's Handbags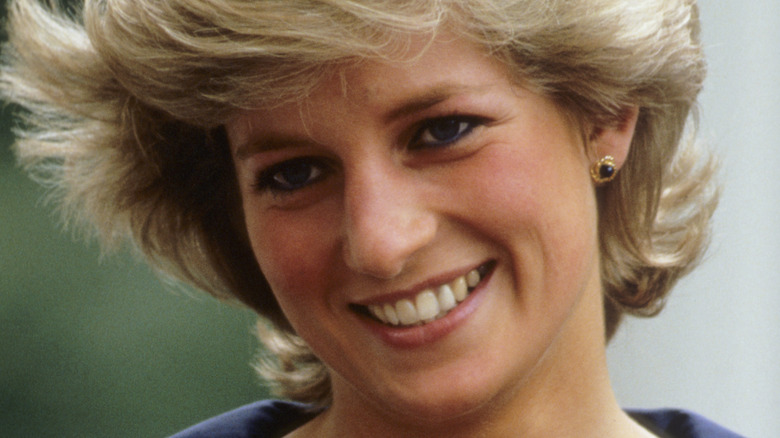 Georges De Keerle/Getty Images
Many little girls dream of becoming a princess. The late Princess Diana embodied that dream come true, while also giving the general public a glimpse of reality. People across the globe were — and still are – enthralled with her grace and kindness ... but also her style choices. In the decades following her time as a royal, her fashion choices still ripple across the pages of style-makers' magazines. And her handbags? Well, they top the list of enduring must-haves.
Diana's early handbag choices were seemingly well-rooted in the preferences of the royal family. Though she always gave it her own spin, structure and function were in the spotlight. As the years went on, her choices seemed to skew a bit more personal, reflected in the shapes, colors, and fabrics. But, even the purpose of some of her handbags changed. Diana began making bolder choices in the design and cut of her wardrobe, and sometimes used her handbag of choice as a way to protect her privacy.
Princess Diana's Lady Dior handbag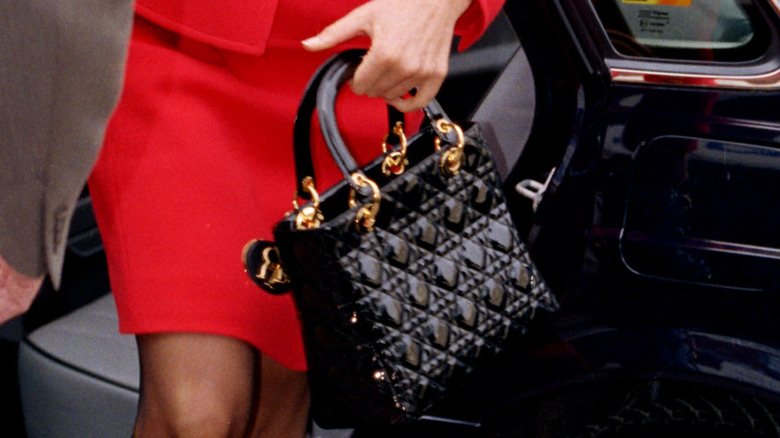 Antony Jones/Getty Images
Though an argument can be made that "iconic" is overused, Princess Diana's Lady Dior handbag is worthy. According to French Vogue, it arrived on the fashion scene in 1995, a gift to Diana from then-first lady of France Bernadette Chirac. Per Vogue U.K., the handbag was originally called the Chouchou.
The just-big-enough-for-essentials bag, in all its quilted glory, is the perfect union of form and function. Its minimalist, square structure allowed Diana to somewhat conform to the conservative preferences of the royal family, while leaving room for her emerging fashion prowess. Diana was often photographed with the handbag, and in 1996, Dior renamed it in her honor, per W Magazine.
To this day, the Lady Dior bag remains a fashion staple. Per Dior's official website, "The signature design is revisited every season by Creative Director Maria Grazia Chiuri, with the collection offering a myriad of silhouettes, materials and palettes."
With its timeless style and Princess Diana-backed fashion heritage, it's no surprise that the Lady Dior bag is still making fashion statements — and headlines. Following in her mother-in-law's footsteps, Meghan Markle carried a version of the Dior beauty in September 2021 while attending Global Citizen Live, per the Daily Mail. Meghan's piece was a lovely nod to Diana's handbag and the maternal royal herself.
The origin of Lady Di's beloved cleavage bag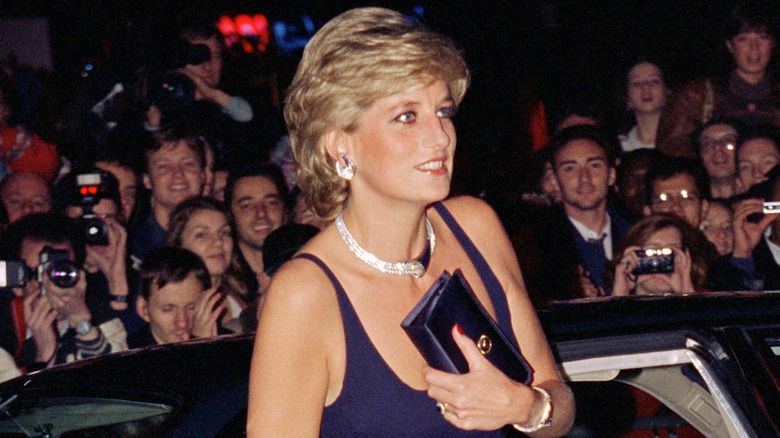 Antony Jones/Getty Images
The story behind Princess Diana's favorite handbags would not be complete without mention of Anya Hindmarch's "cleavage bag." Its origin was close to Lady Di's heart — literally. So, what's the cleavage bag, anyway?
Over the years — especially following her separation from Prince Charles in 1992 – Diana seemingly deviated from royal tradition, creating her own style. Ever the style icon, Diana continued to evolve her personal fashion choices. With this came more demure designs — and a bit of cleavage. In a review of fashion designer Hindmarch's fame, CNN notes the clutch became one of Diana's treasured tricks. She used the small clutch to cover her cleavage as she was getting out of cars in order to prevent photographers from snapping inappropriate photos.
Like many of Diana's style choices, Hindmarch's creations remain a go-to for famous faces all over the world to this day.