Milk Makeup Just Launched An Amazing Dupe For Glossier Cloud Paint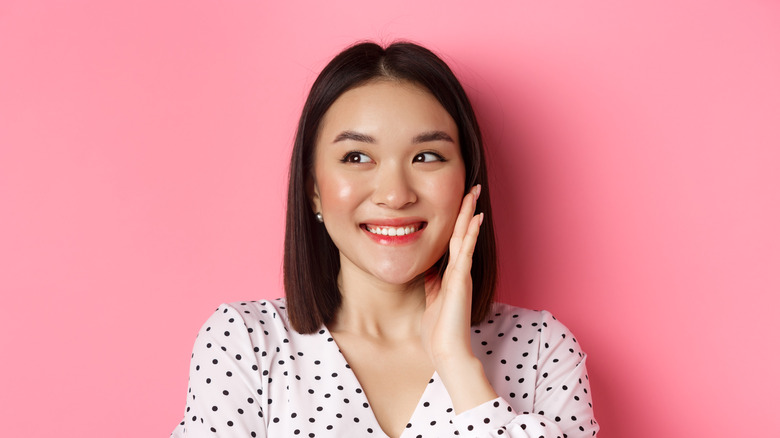 Mix and Match Studio/Shutterstock
When Emily Weiss decided to use the success of her beauty blog "Into the Gloss" and launch the beauty brand Glossier, she had no idea it would turn into what it is today. Ever since its conception, Glossier has taken the beauty world by storm, with each new release being eagerly awaited in suspenseful excitement, and each new product garnering its own cult following. Glossier has had an insane success story since its 2014 launch and has since become a billion-dollar brand (via Wired).
If you're familiar with the brand, there's no doubt that you're familiar with its Cloud Paint. The tiny liquid blush tubes have become one of the trendiest products across the beauty community. It seems as though everyone swears by them, and they've become a staple in many people's collections. Over the years, the cloud paints have maintained their monopoly on being the dewiest, most lightweight, and most beautiful shade range of liquid blushes, and no other brand has seemed to come close. That is, until now.
Milk Makeup's Bionic Blush has a similar effect as Glossier Cloud Paint
In some ways, similarities can be drawn between Milk Makeup and Glossier. Both brands have an ethos of providing simple, hassle-free products that feel and look like skin. So when Milk Makeup decided to release a tube of liquid blush, everyone paid close attention.
Milk Makeup's Bionic Blushes come in four shades. The formula promises sheer, buildable color that "blends into skin effortlessly for a healthy flush of color," while also containing skincare ingredients like hyaluronic acid and reishi mushroom that "Give you smoother-looking, plumper-looking skin" (via Milk Makeup). So far, it sounds pretty similar to Glossier Cloud Paint's claims of providing "a seamless, buildable" formula that "has a pillowy, bouncy feel that blends seamlessly and leaves cheeks dewy" (via Glossier).
Glamour had five people test this dupe to see if it lives up to all the hype. The women all rated it between 8 and 10 out of 10, and you can see why. The formula allowed an easy, buildable application while melting into the cheeks to provide that naturally-flushed look everyone's after. Elle Turner, Glamour's Deputy Beauty Editor, found it applied beautifully on bare skin as well as her lips, while some of the other ladies found that it blended in seamlessly on top of makeup and even sat well on top of powder products.
Could it be that Milk Makeup will steal the leading liquid blush title from Glossier? You'll have to decide for yourself.