Which Fast Food Restaurants Are Open For Thanksgiving 2021?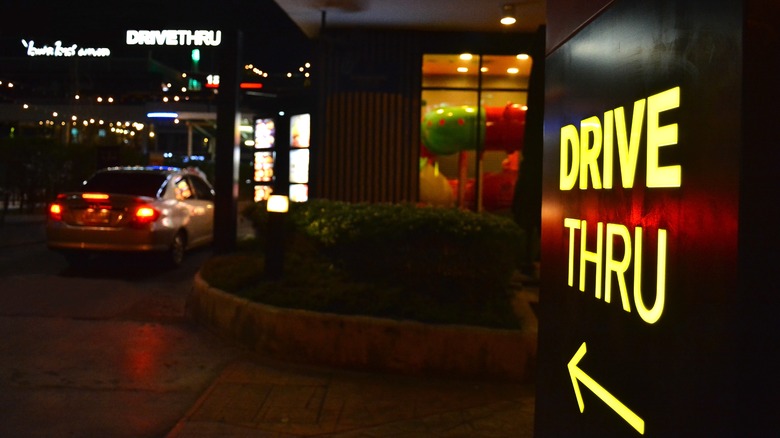 PsychoFox/Shutterstock
If you've ever put together the perfect Thanksgiving menu only to realize your frozen turkey hasn't thawed on time, or you don't have enough pie ingredients but the grocery stores have already closed, then you have probably assumed that your whole holiday was ruined. There's a lot of pressure to get Thanksgiving food right, but the liberating truth is that you can celebrate it any way you'd like. French fries and pepperoni pizza shared among loved ones is just as much of a feast as any, and thankfully there are plenty of fast food restaurants open the day of the holiday for anyone who's ready to buck tradition. 
After all, who says Thanksgiving has to be all about spending all day in the kitchen or preparing a Martha Stewart-approved meal? If you'd rather trade that green bean casserole for a nice greasy cheeseburger, so be it. Whether you don't feel like cooking, got stuck with a Thanksgiving Day shift at work, or just don't really care for traditional Thanksgiving food, it's all good. Let's face it: fast food can be a delicious and budget-friendly plan B — or even a plan A. Forgo the seasonal dinner stress and head over to these fast food joints for the perfect Thanksgiving meal.
McDonald's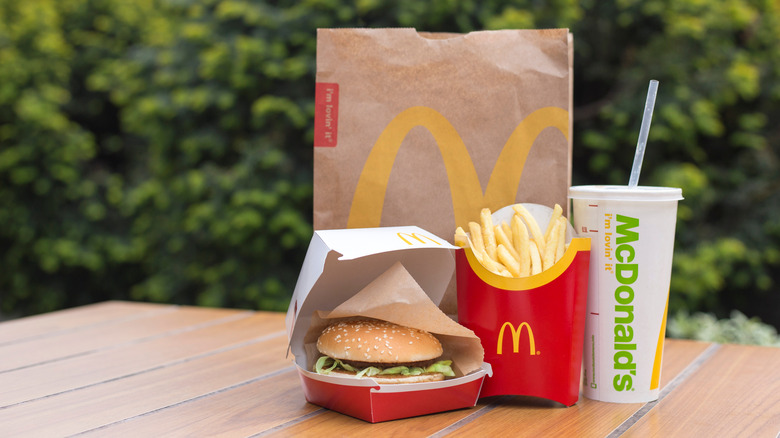 Ksana Durand/Shutterstock
Who wants mashed potatoes or sweet potato casserole when you can have McDonald's French fries instead? All of your favorite menu items from the Golden Arches will be available to order on Thanksgiving Day. That's definitely something to be thankful for. 
Just be sure to double-check the specific hours of your local McDonald's, as some franchise locations are independently owned and operated and may modify hours for Thanksgiving. You wouldn't want to miss your window of opportunity. They may be known for their broken ice cream machines, but McDonald's doesn't disappoint when it comes to Thanksgiving.
Domino's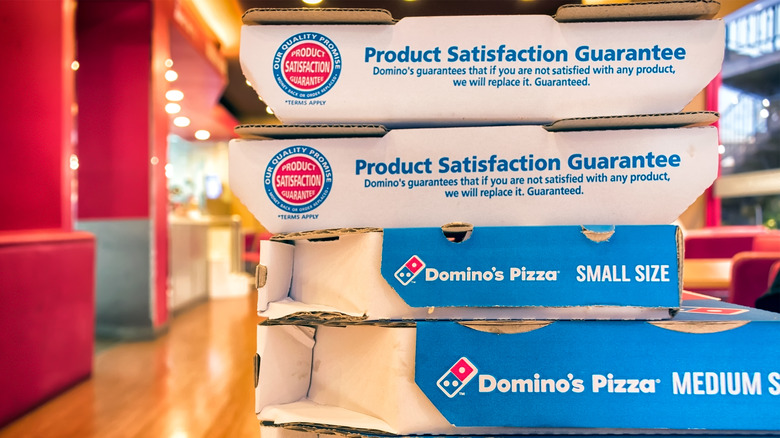 Seika Chujo/Shutterstock
Even if you're not a fan of pumpkin or pecan pie, a Thanksgiving meal from Domino's will still have you asking to pass the pie — the pizza pie, that is. According to Hours Guide, Domino's locations typically operate as normal on all major holidays. Since Domino's was confirmed to be open for Thanksgiving last year, there's a solid chance the fast food chain will be open for the holiday this year, too. That means you can celebrate your Thanksgiving with not only pizza, but also a feast of Domino's cheesy breadsticks, pasta bowls, sandwiches, and chicken wings.
Popeyes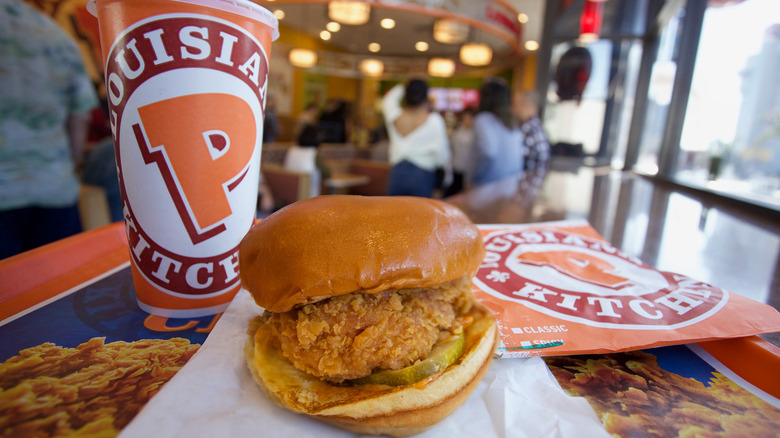 Elliott Cowand Jr/Shutterstock
Not only are select Popeyes locations open on Thanksgiving, but some are also selling turkey for the occasion. USA Today reports that the chain will be offering Cajun Style Turkeys at participating Popeyes nationwide for around $39.99, depending on the location. 
The turkeys come pre-seasoned and fully cooked but will need to be thawed and heated before serving. To order yours, call in advance or visit in person. Just don't wait too long, as the turkeys are first come, first serve and are already available for preorder. Whether you want to order a whole turkey or just stick to their famous chicken sandwiches, Popeyes has you covered.
Qdoba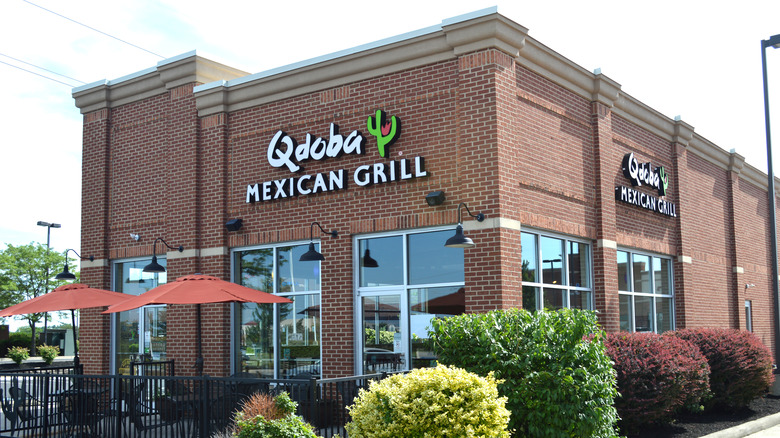 Eric Glenn/Shutterstock
Technically speaking Thanksgiving is considered an American holiday, but that doesn't mean you have to serve or cook American food — especially because Mexican fast food chain Qdoba will be open then. If you're in the mood for a burrito bowl, loaded nachos, or anything other than turkey and stuffing, a visit to Qdoba might be in order. Unless you'd rather fix your dry turkey by covering it in queso, as Qdoba suggested on its Twitter. 
Qdoba locations generally stay open on Thanksgiving, but many restaurants operate on reduced hours. So, contact your location ahead of time before you decide on Mexican-style fast food for Thanksgiving this year.
Burger King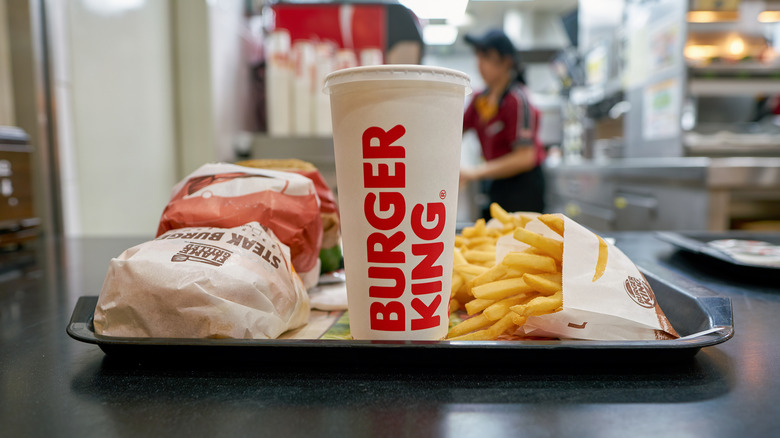 Sorbis/Shutterstock
If you're vegetarian or vegan, chances are Thanksgiving isn't one of the holidays you look forward to most. After all, the meal usually revolves entirely around turkey. An impossible Whopper from Burger King, on the other hand, is both tasty and vegan-friendly (though you may want to ask them to cook the vegan patty separately, just to be sure). If you want a fast food option that will satisfy all of your guests, Burger King is the place to go. Burger King will be open on Thanksgiving but with reduced hours that vary by location.
Sonic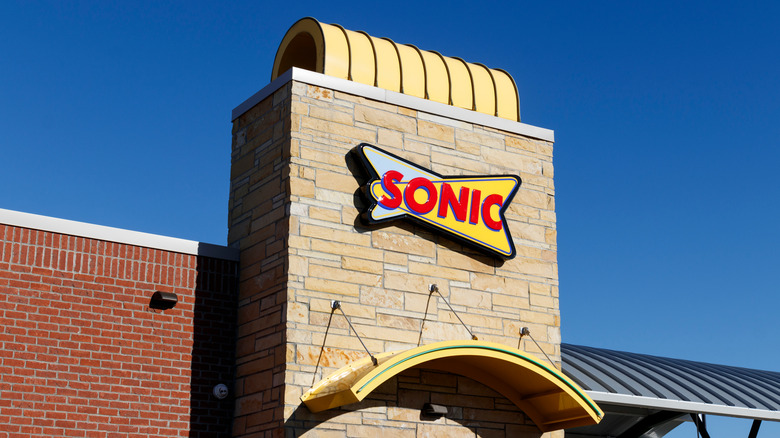 Jonathan Weiss/Shutterstock
Anytime is a good time to treat yourself to a Sonic Blast — Thanksgiving Day included. Fortunately, most Sonic Drive-Ins are open on the holiday, so if you need a breather from all the cooking or want to make a whole meal out of their menu, all you have to do is hop in the car and head to your nearest Sonic. Like many restaurants, not all Sonics will have the same holiday hours, so it's smart to double-check and call ahead to make sure that your local Sonic is open that day.
Subway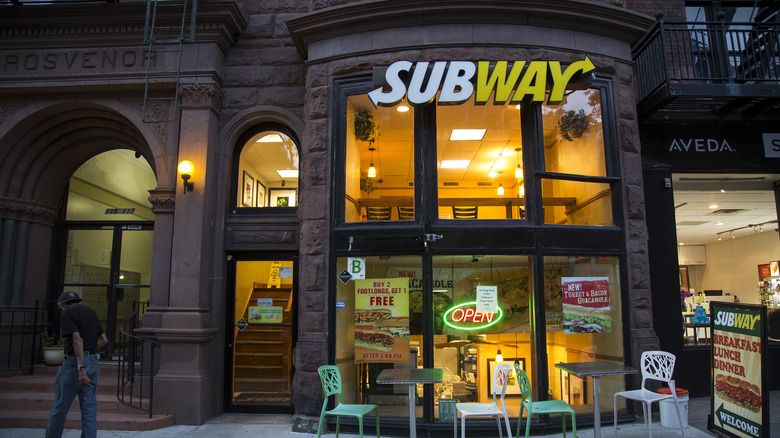 Bloomberg/Getty Images
Eating turkey on Thanksgiving is great, but something about eating leftovers in the form of a cold turkey sandwich often hits the spot. So, why not go straight to enjoying a turkey sandwich? Thanks to Subway, you can. Even if it's not a turkey sandwich you're craving, a footlong of any variety can be yours to eat on Thanksgiving, as many Subway locations are open on the holiday. 
However, a caveat: this does vary by franchise owner and state. As various Subway employees have confirmed on Reddit, one location can either be busier than ever or completely closed for the day.
Wendy's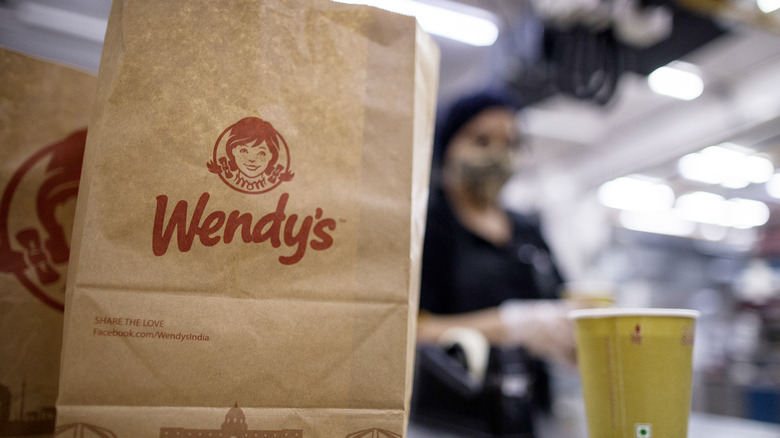 Bloomberg/Getty Images
Pumpkin-flavored desserts are definitely a staple of Thanksgiving, but if pumpkin pies, cheesecakes, and ice creams are no longer putting you in the festive fall spirit, it's as good a time as any to swap them for a tried and true favorite — a Frosty from Wendy's. The milkshake and soft-serve hybrid is even available on Thanksgiving, as Wendy's is normally open for the holiday. Of course, you can't have a Frosty without pairing it with one of Wendy's square hamburgers or their signature chili cheese fries.
White Castle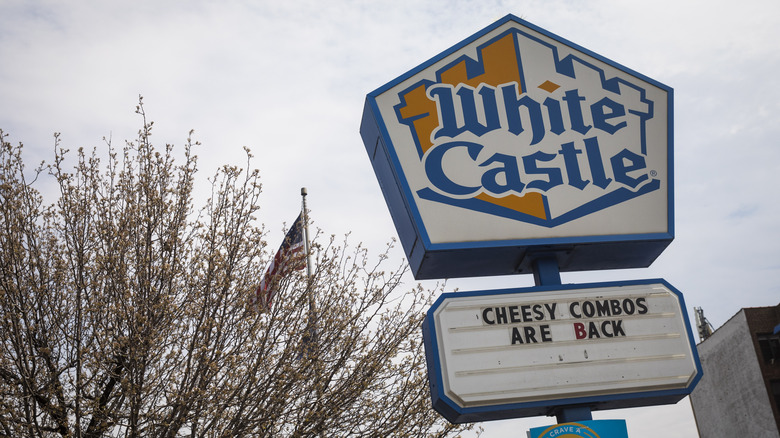 Drew Angerer/Getty Images
Start your own tradition this year by adding sliders to your Thanksgiving spread. White Castle may be perfect for those late-night fast food cravings, but for a last-minute Thanksgiving meal, it's just as delicious. The 24-hour fast food chain is always open whenever you need it the most, and Thanksgiving is no exception. White Castle always goes all out for the holiday and even once collaborated with rapper-turned-cooking show host Coolio for a special slider stuffing. But if you'd rather stick to White Castle's more classic menu items, it should be open for operation on Thanksgiving regardless.
Little Caesars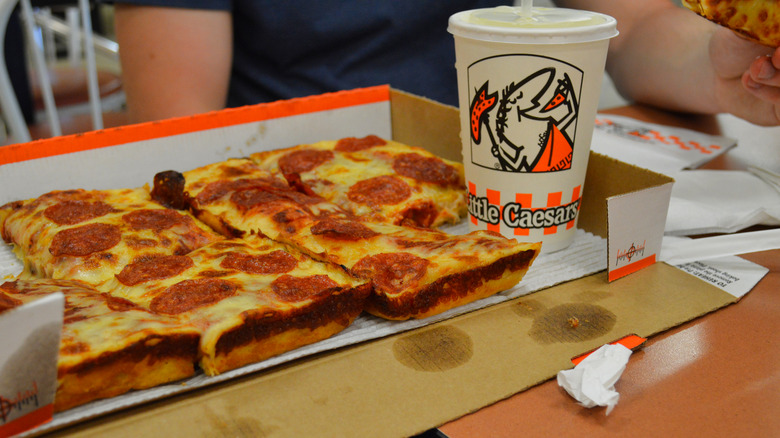 ScannableZebra/Shutterstock
Anyone who's planning to pull together a casual Thanksgiving menu on a tight budget won't be disappointed by Little Caesars. Most, though not all, Little Caesars locations will stay open on the holiday. Though the quick-service pizza chain recently raised the price of their Hot-N-Ready Pizza from $5 to $5.55 (via PopCulture), it's still a great bargain, especially compared to the cost of most Thanksgiving meals. And if you love pizza, you can't go wrong with the reliability of Little Caesars.
Boston Market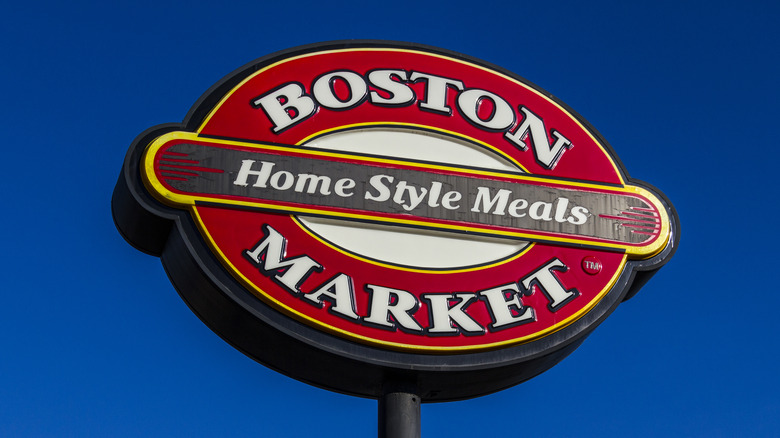 Jonathan Weiss/Shutterstock
If you want the convenience of fast food but are still hoping to get a more conventional Thanksgiving meal on the table, look no further than Boston Market. The restaurant is known for its homestyle meals, so it's as close to traditional as you can get from a fast food chain. Boston Market offers heat-and-serve Thanksgiving dinners that can be pre-ordered for pickup on Thanksgiving Day, as well as holiday catering in larger portion sizes, making it an ideal stress-free alternative to cooking up a storm in the kitchen.