How A David Letterman Appearance Saved Conan's Late Night Career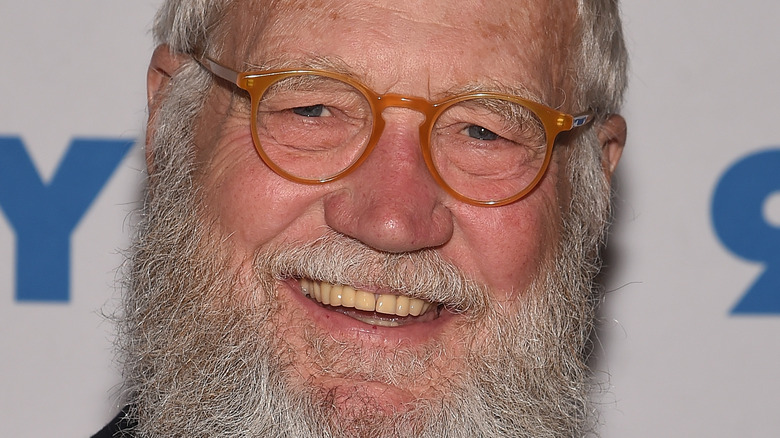 Dimitrios Kambouris/Getty Images
When David Letterman announced his retirement from "The Late Show" in 2014 (via The Hollywood Reporter), many of his fellow late night hosts took to their shows to pay tribute to the TV legend (via YouTube). One that had a major connection with Letterman was Conan O'Brien, who took over his reign on "Late Night" in 1993.
The franchise initially started with Letterman in 1982 (via Biography), which aired after Johnny Carson's "The Tonight Show." The comedian had been a regular guest host on Carson's iteration of the format and proved to be very popular with audiences. But when NBC decided to give "The Tonight Show" to Jay Leno instead of Letterman when Carson retired, the comedian decided to move to CBS for "The Late Show" which ran against Leno's "Tonight Show" (via Decider).
But "Late Night" continued on, this time with O'Brien as the new host. As a newcomer to the late night circuit, his first four months on the show sucked. "Critics despised me; the ratings were bad; my skin broke out," O'Brien explained on his TBS show "Conan" (via YouTube). NBC also made it clear that he "probably wouldn't be around for very long."
That was until David Letterman asked to be a guest on the show.
Conan says that David's appearance on The Late Show saved his career as a talk show host
Conan O'Brien was understandably surprised by the request, as David Letterman didn't go on talk shows as a guest. "It was like The Beatles asking Maury Povich if they could stop by and sing a couple of tunes," O'Brien remarked (via YouTube). Thinking it was a joke, O'Brien was pleasantly surprised when Letterman appeared on set in February 1994 to have his turn sitting beside the desk. "It's easily one of the happiest nights of my professional life."
During his appearance, Letterman complimented O'Brien and the staff for the wonderful job they'd done at carving out a "wonderful identity" for themselves and that there's "nothing like this show anywhere on television." He went on to say that he "really appreciates that" and that the team are doing a "really good job" (via YouTube).
O'Brien credits Letterman's appearance as the night that his version of "Late Night" turned everything around. "The morale of the staff shot through the ceiling; my producer, writers, Andy, we all thought that if David Letterman can come on our show and say a few kind words, then maybe, just maybe, we can earn the right to be here," the host explained. "And we survived." The comedian credits Letterman for saving him, for reasons he still doesn't understand. "I still believe that that simple act of kindness turned everything around and made all the difference."