This Is The Actress In The Old Navy Holiday 2021 Commercial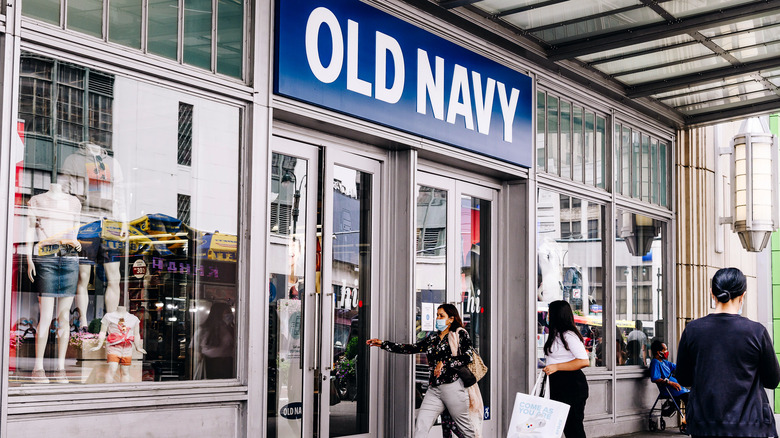 Bloomberg/Getty Images
It's finally that time of year again. The holidays bring so much joy with them, and everyone has their personal favorite element. Whether you love an excuse to listen to Mariah Carey on repeat, watching the lit up decorated houses as you drive home, or all the delicious treats you get to indulge in. Everyone has their holiday guilty pleasures, and a popular one is the corny, wholesome TV ads that come with it.
Sure, they're often oozing with cheese, but there's something often heartwarming or comforting about them. Old Navy is definitely an American household name, but even more so when it comes to Christmas. Who hasn't invested in their classic matching Christmas pajamas which are now on sale (via People)? Only one day after everyone's packing up the halloween decorations, Old Navy are kicking off the season on a high by releasing their appropriately named "ON Holiday Color Explosion" fun, colorful commercial featuring a popular often-viral actress that everyone is guaranteed to recognize...
Keke Palmer jingles her way through Old Navy's holiday ad
Old Navy decided to launch their 2021 holiday collection with the familiar face of Keke Palmer. The 28-year-old actress has been on our screens ever since her early Nickelodeon days. Palmer's career has come a long way since first starring in "True Jackson, VP" in 2008 all the way to starring in Cinderella on Broadway and hosting the 2020 MTV Video Music Awards (via US Weekly).
While Palmer has consistently been on TV screens, she's also infamous for her presence on our phones. Palmer has become a viral meme on many occasions, from her not being able to identify Dick Cheney to her greeting Megan The Stallion on the Met Gala 2021 red carpet (via Harper's Bazaar).
Today, she's on everyone's screens to bring some holiday cheer in Old Navy's vibrant and colorful "All-idays" ad. Palmer sat down with E! to discuss the partnership, she explained why she's drawn to Old Navy, "I think it's a very American brand in all the ways that I feel like I represent. It's inclusive, celebrating all the different cultures and denominations like. To me, that's what I feel when I think of being an American. I feel like Old Navy has always been a good representation of that and this year is no different when it comes to the holidays. We're celebrating all people in all traditions."
Palmer also shared that everybody that was in charge of the commercial off-camera was a woman. "To see women in these positions, it's definitely representative of the evolution that is happening and we're continuing to try to grow forward as a society," which just goes to make the joyful ad that much more wholesome.