The Real Reason Wicked Fans Just Started This Viral Petition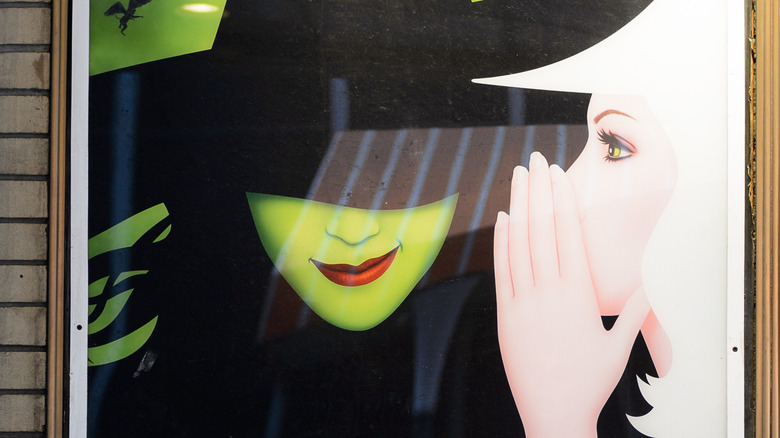 Anton_Ivanov/Shutterstock
These days, you don't have to travel to New York City or plunk down half your monthly paycheck in order to see a Broadway musical. Thanks to new film adaptations (like the upcoming version of "West Side Story" directed by Steven Spielberg, via its website) and televised live performances — including "The Sound of Music" and "Hairspray" via NBC — theater lovers can enjoy their favorite shows from the comfort of their own living rooms or movie theater seats. 
"Wicked" will be the next hit musical to be adapted to the big screen (via Variety). "Wicked" is a prequel to the events of "The Wizard of Oz," explaining that the two witches, Galinda and Elphaba, were actually best friends before circumstances caused Elphaba to get her bad rep. Ariana Grande will play Galinda, and Cynthia Erivo will take on the green-skinned Elphaba. 
Some fans are grumbling that Dove Cameron would have been a better choice to play Galinda because of her age (per Media Grande), but their gripes are being replaced by a greater outcry over another possible casting. A petition is currently circulating on Change.org to "Keep James Corden out of Wicked the movie." The unnamed petitioner explained on the site, "James Corden in no way shape or form should be in or near the production of Wicked the movie. [That's] pretty much it."
As of this writing, the petition had gotten over 69,000 votes.
James Corden has already played a cat and a mouse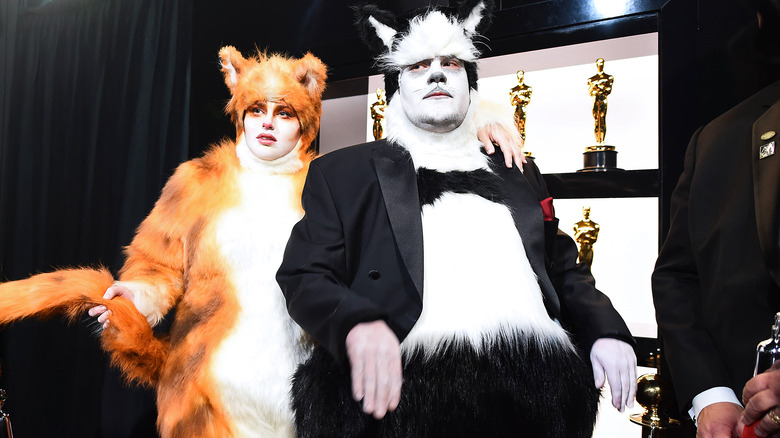 Handout/Getty Images
"Wicked" fans could be forgiven for signing the harsh petition. After all, it could be argued that it's getting a bit tedious to see James Corden in so many movie musicals. Following his turn in "Into the Woods," Corden went on to appear in "The Prom" as pompous actor Barry Glickman. This missed the mark on two counts: First, his stereotypical portrayal of a gay man bordered on offensive; second, critics accused him of getting the role over actual members of the LGBTQ+ community (via Buzzfeed). 
Corden went on from there to play the kitty gourmand Bustopher Jones in the universally panned "Cats." "One wonders if the actors are aware of what they have gotten themselves into," snarked the Guardian. The actor, however, defended the film by saying in one interview, "I had the loveliest time making that film ... I loved every second of it" (via CinemaBlend). Corden's most recent musical venture was 2021's "Cinderella," which he also produced. Corden lent his voice to one of the mice who befriend the heroine. The Roger Ebert review website called it "yet another reminder that ... the producer should not be in the movie."
Theater lovers didn't hold back in their demand that Corden be banned from appearing in "Wicked." Comments on the petition included "I'm just tired of him popping up everywhere," "The suffering has to stop," and "James C has fallen so in love with himself that he has completely lost his touch with reality."
This is the second anti-James Corden petition making the rounds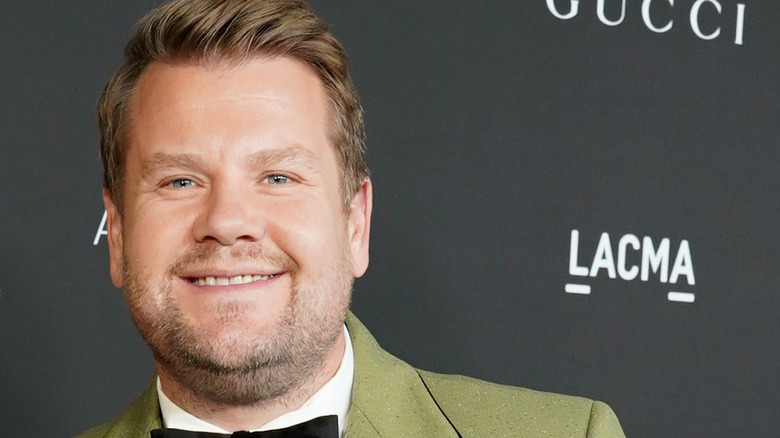 Presley Ann/Getty Images
Interestingly, this isn't the first time fans have raised their voices in protest over Corden's doings. In the summer of 2021, another petition circulated in opposition to a featured segment of his "Late Late Show." The segment, called "Spill Your Guts or Fill Your Guts," challenged his talk-show guests to either answer a highly personal question, or eat an unappetizing-looking food. Some of the items in the dare would never be found in any restaurant, like literal ants on a celery log and hot dog juice (as seen in this YouTube clip). Others, however, are commonly eaten in Asian cuisines, such as duck feet in China (see a recipe here) and balut, a cooked fertilized bird's egg often eaten in the Philippines (via CNN Travel). 
In light of the rise in hate crimes against Asian Americans, portraying their traditional foods as "revolting" came off as demeaning and borderline racist. TikTok creator Kim Saira made a video compilation of Corden insulting the cultural foods, then posted a petition calling for the host to stop using Asian dishes as a punishment. To his credit, Corden took the protest to heart; on a subsequent interview with Howard Stern, he declared that the "Spill Your Guts" segment would no longer feature any culture's native foods. "[Our] show is a show about joy and light and love, we don't want to make a show to upset anybody," he said (via Deadline).