How Donald Trump Let Joe Biden Have It During His Latest Speech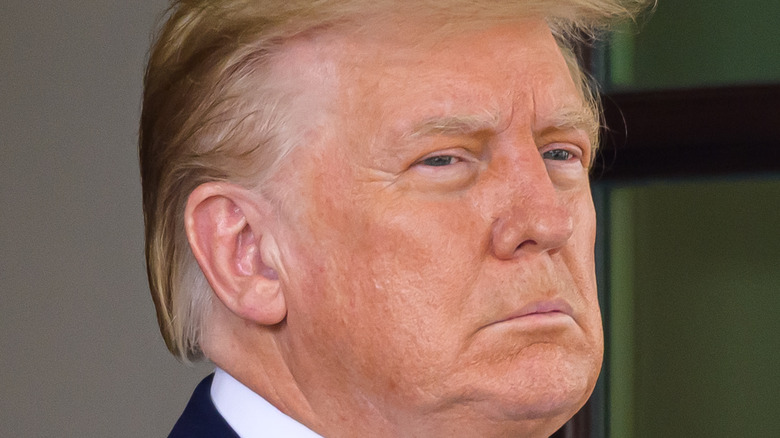 noamgalai/Shutterstock
While speaking at a policy summit, former president Donald Trump discussed President Joe Biden, calling it a "failed presidency" and giving his opinion on "Let's go, Brandon."
The America First Policy Institute (AFPI) is a non-profit, non-partisan research institute, and Brooke Rollins, who was Director of the Domestic Policy Council and Chief Strategist at the White House under the Trump Administration, is the institute's president and chief executive officer (via AFPI). AFPI recently hosted a summit at Mar-a-Largo, with Trump headlining, RealClearPolitics reported.
"We have great, great people in our party. But this is a much different party. They even call it the party of Trump and I said, 'It's not the party of Trump.' This is the party of all of you in this room, and this is going to long outlast Trump. This is a great thing that we've done in a very short period of time," the former president said (via Page Six).
'I still like the first phrase better,' Donald Trump said of the chant 'Let's go, Brandon'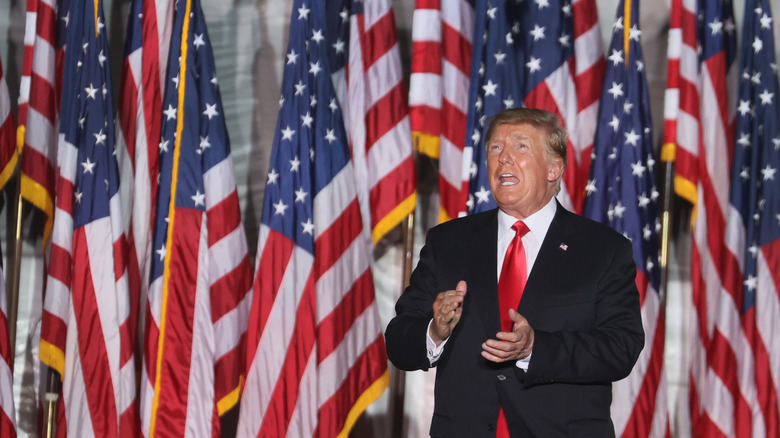 Scott Olson/Getty Images
As reported by Page Six, Trump's speech at the recent America First Policy Institute event went on for 45 minutes, and in it, when discussing the Biden Administration, he used the words "failed presidency."
During the event, the crowd started chanting "Let's go, Brandon." This chant arose in October, when NASCAR racing driver Brandon Brown won his first Xfinity Series. The reporter interviewing him stated that the crowd was saying, "Let's go, Brandon," when they were actually saying, "F*** Joe Biden."
As the crowd chanted, the former president said, "I still like the first phrase better, somehow more accurate. I still haven't figured out, was that young, attractive female reporter, was she trying to cover up? Or was she being nice? Did she not understand what was happening? She works for NBC. So it's about 94% sure that she knew exactly what she was doing. Anyway, well, Brandon has become a big star. Nobody ever heard of this guy. Now, he's one of the biggest stars."