Joe Amabile Reveals Why His Relationship With Serena Pitt Is So Special - Exclusive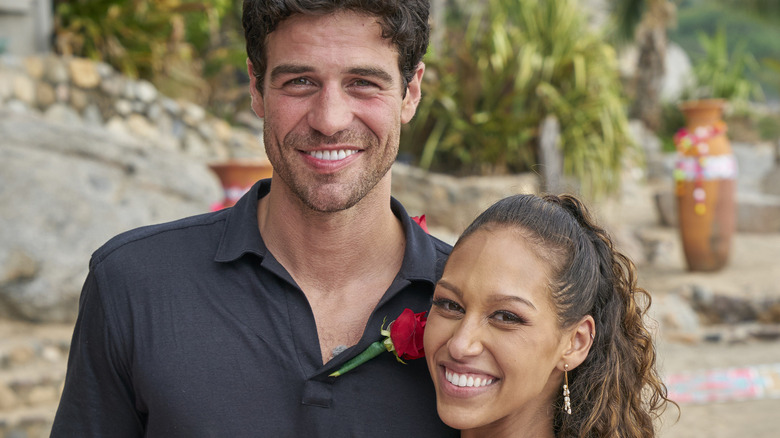 ABC/Craig Sjodin
From day one, literally, it was extremely clear that Joe Amabile and Serena Pitt shared palpable chemistry that would heat up Season 7 of "Bachelor in Paradise." Viewers could instantly tell that the pair was absolutely smitten with one another as they shared a flirty heart-to-heart and some passionate kisses during their very first night on the beach (via YouTube). This initial spark eventually led to "I love you's" and then an engagement for the lovebirds, who have been referred to as "BiP's" best couple for their swoon-worthy commitment to each other (via Elite Daily). And although they faced some obstacles — namely, their 12-year age difference, Pitt going on a date with Thomas Jacobs (via YouTube), and Amabile's ex, Kendall Long, appearing on set — their unbreakable bond of deep love prevailed. 
In an exclusive interview, The List sat down with the reality show veteran, who recently got nominated for a People's Choice Award for best reality TV star of 2021, to commemorate his partnership with Hotwire for the dating challenge Love at Last Minute. Serving as the judge of the contest, Amabile will send participating couples "he thinks have what it takes to go the distance" on a "Quickie" trip to one of his favorite cities — Charleston, Atlanta, and his hometown of Chicago. 
Of course, we also had to know what life has been like with his new fiancée now that they are away from all the cameras, and hear all about how their fairytale romance began. When we asked Amabile when he knew he would pursue Pitt, he replied, "Pretty quickly on. I think as soon as I met her." And as we know from the franchise, some strong first impressions lead to lasting unions (via Us Weekly)!
Joe Amabile says being with Serena Pitt 'gets better and better every day'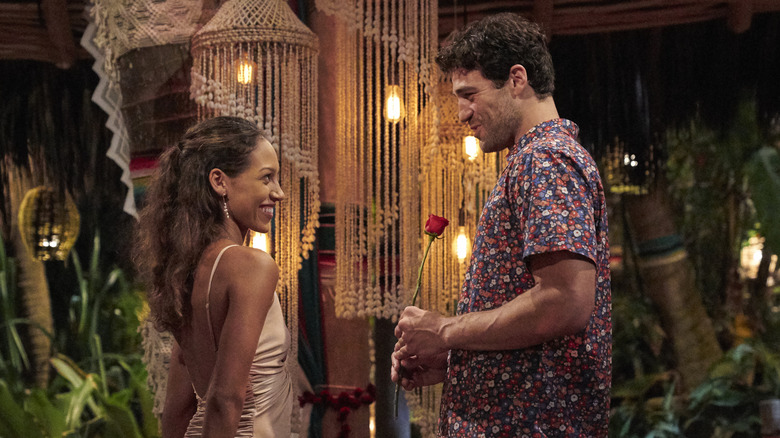 ABC/Craig Sjodin
They say that when it comes to relationships, "when you know, you know," and Joe Amabile can very much attest to that sentiment. Since he did find love once before on "Bachelor in Paradise," he came to the beach in Mexico in 2021 ready to do it all over again. As for Serena Pitt, the Canadian native was fresh off Matt James' season of "The Bachelor" when she rocked Bachelor Nation by her abrupt departure after her hometown date (via YouTube). This bold move illustrated the fact that she is a woman who knows what she wants and will do whatever it takes to find "her person." And as loyal "BiP" fans are well aware, she certainly found her perfect match in Amabile. 
And the feeling is definitely mutual. When asked what makes their relationship special, he gushed, "There were sparks right away. And the more we got to each other, the more real it felt. So it's just one of those things where you fall in love and it just gets better and better every day." And as for his ex, Amabile — who is known as "Grocery Store Joe" in Bachelor Nation because he owned one when he was first cast on "The Bachelorette" (via The Sun) — stressed that he is focusing on his new relationship, and wishes Kendall Long "nothing but the best."
According to the franchise veteran, he and Pitt are not making wedding plans just yet. "We're moving in together first," he said. And what was it like for the pair to watch their "BiP" season together? "I think rewatching the season with Serena was actually very, very nice because we knew at the end of the day it was a happy ending for us," he said.
Plan your next getaway at quickie.hotwire.com or download the Hotwire app.