Here's Why Fans Think 1000-Lb Sisters Season 3 Will Be The End Of The Show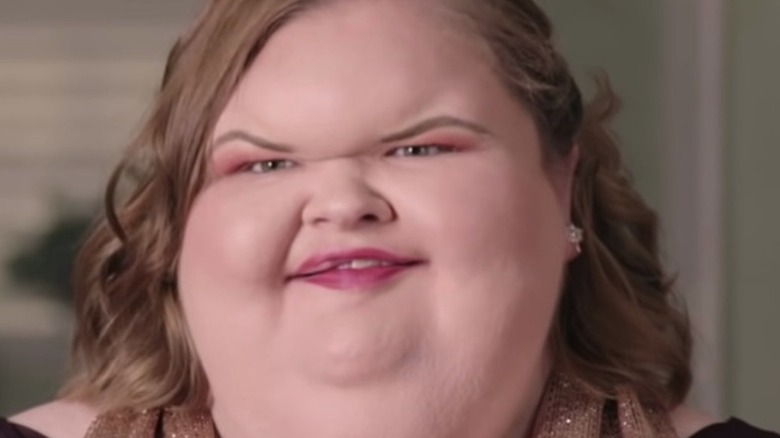 TLC
TLC is known for having cracked into a niche of reality TV shows that leave watchers completely hooked. "1000-Lb Sisters" is one of those captivating shows, and it follows the lives of sisters Tammy and Amy Slaton on their journey to lose weight.
Tammy began the show at 605 pounds and sister Amy weighed in at 406 pounds (via Yahoo!). The show has explored their doctor visits and battles with maintaining a healthy diet for two seasons now. Though they both struggled, Amy managed to lose enough weight to qualify for weight loss surgery, and the second season ended with her successfully having a baby and continuing to lose weight while Tammy unfortunately gained (via Showbiz Cheat Sheet).
While many viewers began to watch the show due to their desire to see the ladies hit their goals, fans stuck around for their hilarious banter and constant bickering. Regardless of what kept people around, fans grew attached emotionally to the Slatons, and here's why they believe the newly teased season three will be the end of the show, and why some actually hope it is.
Fans are concerned about Tammy Slaton's journey
On October 7th, 2021 TLC uploaded a sneak peak trailer for the upcoming season three of "1000-Lb Sisters"(via YouTube). The trailer video showed the sisters clashing, a toxic boyfriend for Tammy, and Amy moving out. It was drama filled two minutes so fans could only imagine the season to come. However, with where the storyline is headed, fans have expressed their concerns over the show ending.
Throughout a Reddit thread discussing season 3, fans expressed their concerns for Tammy, claiming that it appears her weight loss journey is not going anywhere and she is actually moving backwards. There's a growing concern for Tammy's wellbeing and health troubles amongst viewers, with one Reddit user commenting, "She may not make it through Season 3."
Fans worry that because Tammy has made no progress and Amy will be moving out, there's nowhere for the story to go. As one Reddit user put it, "It's getting to a point that unless Tammy decides to do something with her life this season, there's not much more story to tell." It remains unclear if this season will be the last, the decision is likely to be made based on ratings, and judging by that trailer, it may be a popular season.