Are Ivanka And Donald Trump Jr. Headed For Court Soon?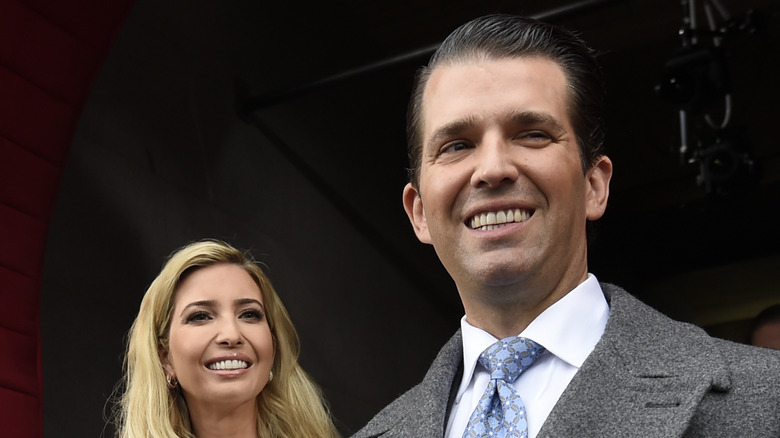 Pool/Getty Images
Since leaving the Oval Office in January, former President Donald Trump has faced an ever-increasing mountain of legal troubles. So much so, that it has become rather difficult to keep track of all of the legal woes faced by Trump and the Trump Organization. In fact, according to The Arizona Republic, Trump has faced over 4,000 lawsuits. On top of that, organizations have become penalizing Trump for his alleged involvement in the January 6 riots at the Capitol. The most recent legal case to highlight this post-January 6 snub is one that involves an 18-hole public golf course with views of the Manhattan skyline that the Trump Organization had hoped to license with New York City. However, in a report published by CNN earlier this week, it was revealed that New York City officials had terminated that licensing deal in order to avoid being associated with Trump in any way.
Other charges against Trump and the Trump Organization include 15 counts of fraud, conspiracy, and grand larceny that relate to allegations that the Trump Organization hid nearly $1.8 million worth of Trump Organization CFO Allen Weisselberg's compensation that included an apartment and two Mercedes-Benz cars, per Forbes. Currently, Trump himself is also involved in at least 10 civil court cases, including a case filed by journalist E. Jean Carroll, who is accusing Trump of defamation after he said that her sexual assault allegations against him were fabricated, according to NBC News.
Ivanka and Donald Trump Jr. are headed to court soon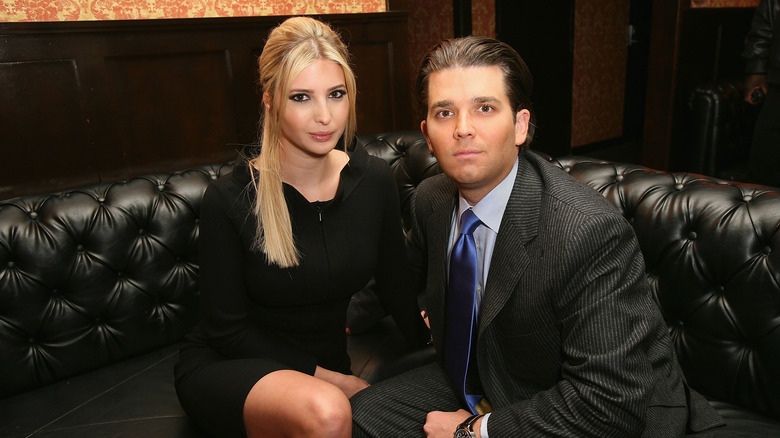 Chad Buchanan/Getty Images
Similar to their father, Ivanka Trump and Donald Trump Jr. have also gotten into a bit of legal trouble over the past few years. Most recently, the pair have been involved in a lawsuit filed by Karl Racine, the attorney general of Washington D.C., against the Trump Organization and the Presidential Inaugural Committee. According to Mother Jones, Racine alleges that Trump's inauguration committee misused charitable funds in order to further enrich the Trump family. Allegedly, this enrichment occurred when the Trump family used more than $1 million in charitable funds from the inauguration fund to "overpay" for a space in the Trump International Hotel and to throw a private party that cost several hundred thousand dollars.
As it turns out, Ivanka and Donald Jr. were involved in negotiations surrounding this misuse of funds. Filings show that Ivanka knew about and was involved in negotiations to use a space in the Trump International Hotel for a price that far exceeded the typical costs that the hotel charged (thus allegedly padding the Trump family's pockets with even more cash), per Mother Jones. Additionally, the final decision to go ahead with the private party using funds from the inauguration committee was ultimately up to Donald Jr. and other key members of the Trump Organization.
On Monday, according to CNN, a D.C. Superior Court ruled that these claims accusing the inauguration of overpaying for the event space at the hotel will move forward — meaning that Ivanka and Donald Jr. will soon be defending their actions in court.